Estimated read time: 5-6 minutes
PROVO — The Most Valuable Player of BYU's closer-than-expected 35-27 win over South Florida late Saturday night could've been Baylor Romney, and few would argue.
The junior completed 20-of-25 passes for 305 yards and three touchdowns, a clean game with a 222.1 passer rating in his first start of the season in relief of a banged-up Jaren Hall (ribs).
Or maybe it was Tyler Allgeier, who carried the rock 15 times for 81 yards and two touchdowns, including five carries and a recovered fumble on the final drive of the game to close out the win.
But with respect to both of those players — and several others (Gunner Romney, 119 yards and a touchdown? Puka Nacua, career-high 102 yards? Masen Wake, 24 yards, one touchdown, and a glorious hurdle that has been missing from 2021?) — the real MVP was only on the field when absolutely necessary, and found itself there far more than anybody likely expected.
It was the BYU medical staff.
One week after losing leading tackler Keenan Pili to a season-ending ACL tear, BYU's athletic training staff and small army of doctors and first responders reported to the triage unit of the Cougars' defense, shuffling players in and out of the white medical tent sponsored by Intermountain Healthcare as fast as they could get them to their feet. On a night where BYU admitted the late athletic training legend Gaye Merrill into the Cougars' Hall of Fame, the team's sports medicine staff put on a show.
In addition to Atunaisa Mahe and Tyler Batty — who were held out with quarterback Jaren Hall on Saturday, all three with non-season ending injuries, head coach Kalani Sitake said — the Cougars, at one point or another, lost more than 10 players for moments, including a a half-dozen on defense.
"We aren't going to play guys if they can't practice," Sitake said of Mahe and Batty, both of whom he expects back soon.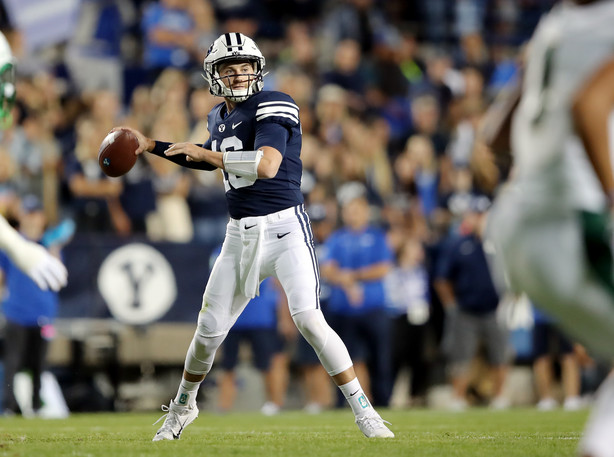 Kaleb Hayes went in and out of the tent, as did Caden Haws and Gabe Summers, who returned by the end of the second half.
Puka Nacua and Neil Pau'u were two receivers to receive treatment, but both came back to make significant plays down the stretch.
Harris LaChance was taken into the locker room for examination, and the offensive lineman returned on crutches, "but we think he can come back for next week," Sitake said. Perhaps the biggest concern is defensive back Caleb Christensen, who Sitake only said, "we'll see, but we're hopeful."
"There are a bunch of guys who are banged up," Sitake said. "Nobody's gone for the year that we know of right now.
"The guys are hurt and banged up, but I think they'll be OK. There may be some questionable guys for next Friday. But we'll have more information on Monday."
That doesn't excuse BYU's performance. It's always better to learn after a win, to fix the miscues found on tape with a zero in the loss column. The Cougars need to be better, whether or not they played like a top-15 team Saturday night (most would say they didn't).
"That's part of the game," Sitake told BYUtv. "Everybody's going through the same thing. What I'm more concerned with is the guys believing and doing their job, specifically on defense.
"We have a short week. We need to get a lot of things fixed before Friday against Utah State."
There were other players who went down with some injury or another, most more or less serious than others. We eventually lost track of them all, as did Sitake.
With that in mind, simply getting through the Cougars' 4-0 start to the season — the first time the program has started 4-0 in back-to-back seasons in program history — was the goal. Forget about trap games, point spreads, margin of victory, and style points.
BYU just needed to win. A lot of young players were thrown into the fire. The results were mixed. But the lessons come with a zero in the loss column.
"It was good for the younger guys to learn and get reps," Sitake said. "But we almost gave it away."
Replacing Pili was always going to be a challenge, but his direct replacement Ben Bywater did his job with a team-high eight tackles, including five solo stops. Pepe Tanuvasa and Haws added seven tackles to a defense that played 24 bodies and rotated across game stoppages, both long and short.
From Chaz Ah You, Payton Wilgar and D'Angelo Mandell to Mitchell Price, Nick Nethercott, Blake Mangelson and John Nelson, there are a lot of names to keep track and a lot of new faces to integrate.
So if the defense looked patchwork for long spurts as USF rolled up 367 yards of offense, including 181 on the ground and 35 minutes in time of possession, that may be why. Forget turnovers, which BYU collected just one, or interceptions, earned none.
Saturday was about surviving and keeping players healthy.
A growing experience, for both offense and defense.
"We trust our defense a lot. Knowing we were down a couple of guys, it was a chance for them to make plays," Nacua said. "It was a good learning opportunity for a lot of guys.
"I think our defense played really well, but they've got a lot of things to work on, too. That's why we play football, though."
If nothing else, it was a good learning experience, but not an easy one, either.
"It might be difficult, but we also see it as a strength," Tanuvasa said. "We have a lot of depth on defense, and we're able to reach into a deeper lineup. Bumps and bruises are going to happen, and I think it was a great opportunity for our younger guys to get some experience, and they really showed out today."
The end result was expected; BYU improved to 4-0 with their 15th win in the past 16 games, while South Florida fell to 1-3 as Jeff Scott tries to rebuild the program in his second season.
The Cougars will probably lose some style points, and perhaps even some luster off their top-15 ranking — whether it was merited or not — when the Associated Press releases their new poll Sunday morning.
But sometimes, those things are secondary to figuring out a win, to grinding out a victory, and to staying undefeated ahead of back-to-back regional rivalries against Utah State and Boise State.
×
Related Stories