Estimated read time: 6-7 minutes
PROVO — Former BYU star Jimmer Fredette is considering at least one more year in the Chinese Basketball Association, despite the league's uncertainty surrounding foreign players and the COVID-19 pandemic.
But the 32-year-old legend of the Cougar cagers' biggest accomplishment of the year came Wednesday when he was one of five inductees named to the BYU athletic department's Hall of Fame class of 2021.
Fredette will join former BYU baseball star Brian Banks, tracks and field jumper and All-American Amy Menlove Otis, golfer and current women's coach Carrie Summerhays Roberts, and legendary athletic trainer Gaye Merrill in the five-member class, which will be inducted during a ceremony hosted by the Cougar Club and honored at halftime of BYU's next football game Saturday against South Florida.
Since its inception in 1975, the BYU hall of fame has inducted nearly 250 athletes, coaches, administrators, teams and broadcasters most noted for their All-American status, university graduation, professional accomplishments and community service.
Here's a look at each of the latest inductees.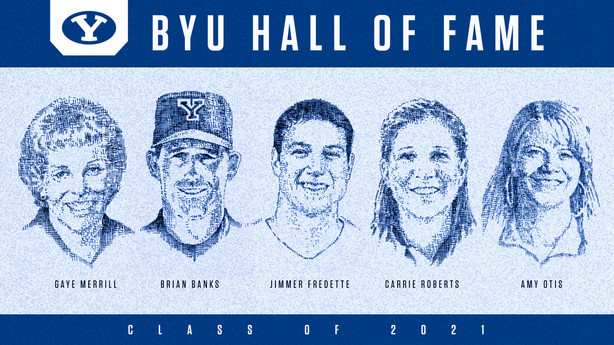 Jimmer Fredette, Men's Basketball (2007-2011)
Fredette rewrote the BYU record book during his four seasons in Provo, passing now-fellow Hall of Famer Danny Ainge as the Cougars' all-time leading scorer with 2,599 career points. He also finished atop the record books with most free throws in a game (23), season (252) and career (627); most field goals in a game (22) and season (346); most 3-pointers in a season (124) and career (296); and most 30-point (24) and 40-point (6) games in his career.
Given the green light essentially when he stepped off the bus, Fredette powered BYU to the Sweet 16 of the NCAA Tournament as a senior in 2010-11, the Cougars' deepest run since 1981 and still the deepest run since. The 6-foot-2 guard led the nation in scoring at 28.9 points per game, while averaging 3.4 rebounds, 4.3 assists and 1.3 steals as a senior en route to Naismith, John Wooden and Associated Press Player of the Year honors, among others.
Fredette was drafted No. 10 overall by the Sacramento Kings in 2011, beginning an NBA career that also included stops with the Chicago Bulls, New Orleans Pelicans, New York Knicks and Phoenix Suns, in addition to playing overseas in Greece and China.
Fredette and his wife Whitney, a former BYU cheerleader, are the parents of one son and one daughter.
Brian Banks, Baseball (1989-93)
A native of Mesa, Arizona, Banks was the Gatorade Arizona high school baseball player of the year in 1989, when the 6-foot-3 catcher and outfielder passed on a sixth-round selection by the Baltimore Orioles to play for BYU.
Banks played one season at BYU before serving a two-year mission for The Church of Jesus Christ of Latter-day Saints in Seattle from 1991-92, and returned to start all 57 games as a sophomore in 1993, batting .389 with 84 hits, 30 walks, 20 home runs and 73 RBI. His 20 homers ranked as the third-best mark in the NCAA at the time.
The American Baseball Coaches Association All-American was then drafted in the second round by the Milwaukee Brewers, where he debuted in September 1996 during a decade-long pro career that included six seasons with the Brewers and three with the Florida Marlins.
In 2003, Banks, who retired shortly thereafter and went on to a career as a dentist in Utah and Arizona, helped the Marlins win the 1993 World Series over the New York Yankees.
Banks and his wife Tarrah are the parents of four children.
Gaye Merrill, Athletic Training (1981-2010)
Merrill spent three decades in various capacities at her alma mater, including being named the school's director of sports medicine in 2005 until her death from cancer in 2010.
The 1981 BYU graduate served as the athletic trainer for several sports, most notably women's volleyball and gymnastics, while developing the undergraduate athletic training curriculum from 1995-2000. In 2009, then-BYU President Cecil O. Samuelson honored Merrill with the faculty rank of clinical professor.
In addition to her service at BYU, Merrill was also involved with the 2002 Winter Olympics in Salt Lake City, serving on the Salt Lake Organizing Committee as the athlete medical care coordinator. She was an active, award-winning member of several professional organizations, including the Utah Athletic Trainers Association, Rocky Mountain Athletic Trainers Association and National Athletic Trainers Association — where she was honored with the NATA Athletic Trainer Service Award in 2004.
The native of Blackfoot, Idaho, also worked professionally with several national athletic teams, including the U.S. national swimming team.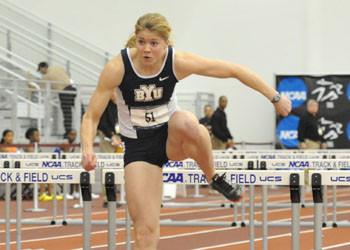 Amy Menlove Otis, Track and Field (2004-2010)
A seven-time All-American, Otis won the NCAA individual title in 2009 and was a nine-time Mountain West Conference champion and nine-time All-Mountain West honoree as a long jumper and multi-sport athlete.
The Alta High graduate opened her collegiate career as the 2004 Mountain West freshman of the year and never stopped, accumulating titles and All-American honors in the indoor long jump, pentathlon, outdoor long jump and heptathlon before interrupting her career after her sophomore season to serve as a missionary for The Church of Jesus Christ of Latter-day Saints in Cleveland, Ohio.
Following her return in 2005, Otis won the Mountain West pentathlon, indoor long jump and 60-meter hurdle titles in her reintroduced debut season, and set school records in the pentathlon, 400-meter relay and 800-meter relay that still stand today.
A native of Goodyear, Arizona, Otis and her husband Dave are the parents of five children.
Carrie Summerhays Roberts, Women's Golf (1998-2002)
Hailing from Utah's first family of golf and the daughter of PGA Senior Tour veteran Bruce Summerhays, Roberts was a four-sport athlete at Wasatch High School, lettering in basketball, golf, soccer and softball while starring on the Utah Junior Golf Association circuit before enrolling at BYU in 1998.
The four-time all-conference award winner was named back-to-back Mountain West golfer of the year in 2000 and 2001, a season that included a top 40 finish at the NCAA Championships and 28 top 20 finishes, 28 top 20 finishes — including 23 top 10s and six wins, a mark that ties her with Pam Miller Gietzen (1976-80) for the most victories in BYU golf history.
Following her BYU career, Roberts turned pro and became the first Utah native to earn status on the LPGA Tour. She played there from 2002-04, qualifying for two U.S. Women's Opens before returning to BYU as head coach of the women's golf team in 2010.
In nine seasons under Roberts, BYU has won 13 stroke play events, three match-play events, and West Coast Conference championships in 2016, 2017 and 2018. Roberts has three WCC Coach of the Year honors to her credit and coached three WCC Golfers of the Year. In 2016, the Cougars made their first team appearance at an NCAA championship event in nearly a decade.
Roberts and her husband Cory are the parents of three children.
×