Estimated read time: 7-8 minutes
PROVO — As the final seconds ticked off the clock Saturday night of Game 4 of the 2021 season, there was a significantly more measured response from BYU players and fans than the previous two home weeks, both wins over Pac-12 foes.
American Athletic Conference bottom-dweller South Florida nearly got the best of the 15th-ranked Cougars.
And while there is a lot of context to go with that statement, there's also a need to recognize that sometimes the most appropriate attitude is just to survive and advance.
BYU did that Saturday — and moved to 4-0 in consecutive seasons for the first time in program history.
It wasn't always pretty. But it was, at least, a win. That's more than BYU could say the last time they faced South Florida, a 27-23 loss in Tampa in 2019.
Down several starters and key role players, Tyler Allgeier ran for 81 yards and two touchdowns, and Baylor Romney completed 20-of-25 passes for 305 yards and three scores as BYU started fast and held off a spirited rally for a 35-27 win over South Florida in front of an announced crowd of 60,217 fans at LaVell Edwards Stadium.
"I wanted to remind them that winning is hard, and appreciate and respect the game by celebrating," BYU coach Kalani Sitake told the players in the locker room, reminding them that there are "no long faces" after a win. "I also reminded them that the celebration needs to be a little quicker, because the game is coming up quicker. We have to be ready to go to Logan next week.
"The guys expect a lot from themselves, and they can be hard on themselves. Sometimes it's OK that they have a high standard of expectations to perform. But I need to let them know that it's OK to make mistakes and that we had to grind out a win."
Gunner Romney caught three passes for 119 yards and a touchdown, including the longest Baylor-to-Gunner play in BYU history with a 49-yard catch on the first throw of the game. Puka Nacua added 102 yards on four catches, a career-high for the Washington transfer who prepped at Orem High that gave the Cougars two 100-yard receivers for the first time since — well, last year, when both Romney and Dax Milne topped the century mark in a 48-7 win over Troy.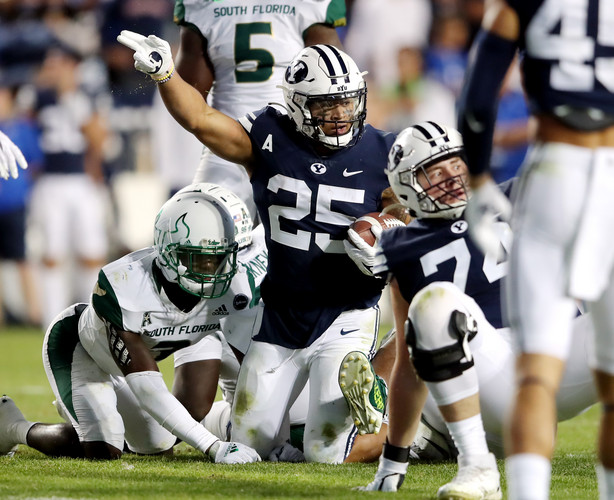 The two games are the only ones under sixth-year coach Kalani Sitake where multiple receivers topped 100 yards.
"That's been our objective since Week 1, to come out and start strong," said Nacua, adding that he felt the offense "on the verge" of breaking out after amassing 443 yards against the Bulls. "We made simple adjustments to our game plan, put some pressure on our receivers, and today was definitely a heyday for us."
If it was a trap game, like some feared, it didn't start out that way. The Cougars opened with 21 unanswered points, a pair of touchdowns by Allgeier and a 28-6 advantage on Romney's 9-yard strike to Neil Pau'u with 1:06 left in the half, but then the Cougars went cold. Or rather, South Florida just kept them off the field.
Sometimes the best defense is prevent defense, and USF prevented the BYU offense from seeing the field. It was a dream start for Romney, who began taking reps with the first-string offense Monday and before finding out he was going to start over Hall well before Saturday night's kickoff.
"We definitely came out real fast, had a couple of big plays, and got some momentum," he said. "It's easy to do when we have some of our backs.
"Overall, a solid day on offense. But we've got some things to work on, especially in the red zone."
If Hall isn't able to go against Friday at Utah State (7 p.m. MT, CBS Sports Network), Romney will be ready. But he isn't necessarily expecting to need to be the first quarterback called upon, either.
"I don't think anyone should ever lose their job due to injury," he said. "But that's in the coach's hands."
Still, Saturday was a dream start — followed by a deep slumber, at least on offense, as USF kept BYU's offensive playmakers off the field for much of the night.
The Bulls put together three drives with double-digit plays and at least 5:07 over the next four series, then pulled within 28-13 on Xavier Weaver's 3-yard TD plunge with 7:25 left in the third. Romney responded by hitting his brother four plays later with a 47-yard strike to push the lead back to 35-13, but South Florida added a 2-yard touchdown through Jaren Mangham with 3:03 on the clock in the third.
"I think it's pretty evident that the defense needs to do a better job getting off the field," Sitake said. "I'm definitely disappointed with the second-half defense. Our offense was clicking, doing good things with the ball.
"But give South Florida credit for taking the ball away from us. We had 3-4 possessions in the second half for our offense, which is not good. We need to find ways to get them off the field. I thought the offense came to play, and the defense looked good in the second half. Just need to find a way to make plays in the second half."
Suddenly, it was time to forget about depth and rotating younger players, to not pay attention to the 23-point spread — if that was in the Cougars' minds (probably not). Forget about style points and Associated Press Top 25 votes, if they mattered at all.
First and foremost was about the win.
"I don't know if it's hard to keep the momentum," Romney said. "It's obviously hard when you don't get as many possessions … but just being supportive of our defense. They had our backs through the first three games, and tonight we had to have their backs. Just stay warm on the sidelines and go out on the next possession the best you can."
The Cougars were without Atunaisa Mahe and Tyler Batty from the beginning, and saw other injuries to Caleb Christensen, Caden Haws and Gabe Summers, though the latter two eventually worked their way back into the rotation. In the end, some two dozen players saw snaps on defense, led by Ben Bywater's eight tackles and seven each from Haws and Pepe Tanuvasa.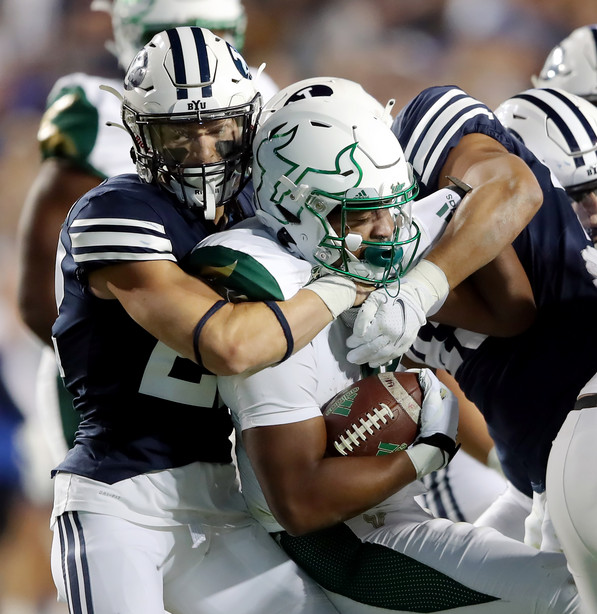 All of this was playing with the recent loss of linebacker Keenan Pilli, the team's leading tackler tore his anterior cruciate ligament a week ago and will miss the remainder of the season.
"We were just focused on playing assignment-sound football. In the second half, we really struggled to do that," Tanuvasa said. "We haven't played a full game of our best football, and so I'm really excited for next week to be able to show that, to our fans and to Utah State as well."
After opening the game with a punt and a fumble and setting up three consecutive touchdown drives for the Cougars, USF scored on five of its next six possessions — right down to a 1-yard rush by Mangham on fourth-and-1 with 5:41 left that pulled the Bulls within one possession, 35-27.
The Cougars put the game away in similar fashion, running through Allgeier on three consecutive plays and five times during an eight-play drive over the final 5:41 to end the game.
BYU out-gained the Bulls with 443 yards to 367, including 138 yards on the ground — but USF owned the second half, outscoring the Cougars 21-7 after the break.
Timmy McClain finished with 186 yards passing and 55 on the ground, and Mangham ran for 86 yards and two scores for the Bulls (1-3), who had 367 yards of offense with 181 on the ground, and earned 23 first downs — including converting 6-of-15 third downs and 4-of-5 fourth-down conversions — with just four penalties.
USF also gave up just one turnover, despite the pressure of six tackles for loss and a sack, led by Payton Wilgar's two backfield drops.
"He was really fast," Tanuvasa said of McClain. "It's a bit of blur, and I need to look back at the tape to see just how fast he was. But he was really fast."
The Cougars hit the road Friday to face Utah State before returning home to host Boise State.
×
Photos
Related Stories