Estimated read time: 5-6 minutes
SANDY — A group of over 50 residents gathered at the mouth of Little Cottonwood Canyon on Saturday to protest the proposal for building a gondola in the canyon to transport people to ski resorts. They stood along the road waving signs and multiple cars honked, joining the protest.
"It will change the landscape forever," Whitney Wilkinson said.
She said the movement started with neighbors reaching out out to each other and talking about the proposal. Various community members have used their skills and abilities to do something to take action including forming Friends of Little Cottonwood Canyon, building a website, knocking on doors, talking to neighbors, reaching out to politicians, and posting on social media.
"There's so much passion behind the movement and protecting the canyon, and it was interesting. Everyone wanted to do something," Wilkinson said. "People are very protective and passionate about preserving what we have here before it's ruined and you can't go back."
The Utah Department of Transportation asked Utahns to submit comments on two options for reducing congestion and traffic in Little Cottonwood Canyon: an 8-mile gondola with stations at Snowbird and Alta or a widened road and improved bus system. Both options are estimated to cost over $500 million, more than these residents think should be spent on the issue.
Joshua Van Jura, UDOT's Little Cottonwood Canyon project manager, explained earlier this year that an alternative transportation plan was needed because projections show that the use of the canyon will grow by 45% over the next 30 years. If that's the case, they estimate an 80- to 85-minute travel time by 2050. Some of the neighboring roads that lead to the mouth of the canyon would end up having lines miles long as motorists try to get up the canyon.
Related:
The public comment period for the project ended on Sept. 3 and UDOT was expected to release its final decision and the completed Environmental Impact Statement this winter. At the protest, Jim Bennett said because over 13,000 public comments were sent, the decision could be delayed into the spring.
"We've already done something remarkable by getting them to postpone, now we need to get them to change their minds. And I think the united power of you guys working together can make that happen," Bennett said.
The group of residents suggested that simpler options should be considered including tolling, requiring payment for parking at the resorts, and incentivizing carpooling. They argued that the gondola would cause permanent harm to the canyon and $500 million is a lot of money to spend on a problem that only occurs during the skiing season.
Fred Burton, who said he has lived near the canyon and used it for recreation for 35 years, said at the protest that he was involved in a committee for the 2002 Olympics and that an environmental study then found that Little Cottonwood Canyon was too fragile and valuable to be used for hosting the Olympic Games. He said that nothing has changed in the canyon since that time and that the canyon still needs to be protected.
Burton said that Utah is advertising and bringing more people to its national parks, and that he and others at the protest do not want a large increase of people coming into this canyon. If the gondola is built, he said, it would be the largest gondola in the world, and built for one of the closest resorts to an international airport.
"Do you want 20 million people in your canyon and your backyard? ... Let's stop this now," he said.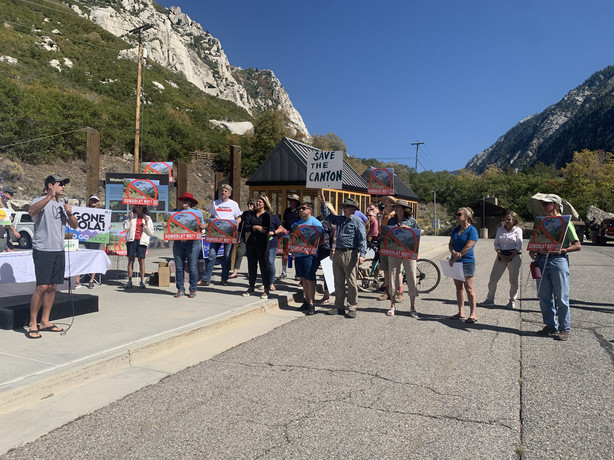 Brandon Sheranian, who lives at the mouth of the canyon, said traffic is bad and people are caught waiting only about 15 or 16 days each year, but most of the year the canyon is wide open for cars. He and his family enjoy the beauty of the canyon and going on hikes.
"Why should we have to spend half a billion dollars — it's probably going to be a billion dollars when all is said and done — to pay for two private resorts? And then, it doesn't just solve the problem; it destroys the aesthetic appeal of the canyon," Sheranian said.
He said that for each of the 22 towers along the gondola route, they would need to clear two acres at the bottom. He also said that the 270-foot towers will be what people see when they look at the canyon if UDOT chooses the gondola option. Sheranian said the gondola would not solve the traffic issue, but would just bring more people to the ski resorts and benefit those private businesses.
"They're trying to solve the problem by bringing more people up the canyon. People always take the path of least resistance. They're not going to pay a bunch of money, wait in line to take the gondola, take a 50-minute ride up the gondola when they could just drive right on up. So it's not going to solve the problem of the road; it's only going to solve getting more people up the canyon," Sheranian said.
He suggested implementing a tolling system before doing something costly and seeing if that makes a difference.
"We're not going to let big business and interests of a few destroy this canyon for many because this is our canyon. It's supposed to look like this another hundred years from now," he said.
×
Photos
Related Stories