Estimated read time: 6-7 minutes
This archived news story is available only for your personal, non-commercial use. Information in the story may be outdated or superseded by additional information. Reading or replaying the story in its archived form does not constitute a republication of the story.
SANDY — Nathaniel Coleman remembers first climbing in Little Cottonwood Canyon when he was about 12 years old.
Most of his experience climbing by that point had been indoors and he quickly found that the canyon was more challenging. It's something that changed his views of rock climbing and the outdoors.
"It gave me perspective on what outdoor climbing really means. It's not about climbing grades, not about chasing any subjective aspect of climbing. It's about finding a challenge and then rising to it," he said, standing in a parking lot not far from the Gate Buttress Boulders within the canyon.
Coleman took the difficulties head-on. He used the climbing routes in the canyon to strengthen his weaknesses and develop his career. A little more than a decade later, he won a silver medal in the men's sport climbing final. In doing so earlier this month, he became the first American to medal in the event because the sport made its Olympic debut with the 2020 Tokyo Games.
Now he's focused on a new challenge, a little closer to home — in Little Cottonwood Canyon.
Fresh off of winning an Olympic medal in Tokyo, Coleman joined former Salt Lake City Mayor Ted Wilson as well as representatives of various rock climbing groups Monday to protest against the Utah Department of Transportation's two options for future travel at Little Cottonwood Canyon. They argue there's no need for a gondola or expanded highway lanes up the canyon, and that both plans will change recreation in the nonresort areas of the canyon forever.
"There's a significant number of boulders that are in danger of being destroyed, but they won't be the only things that are affected if the gondola (is built) or the road is widened," Coleman said. "It'll be the whole experience of climbing the canyon."
UDOT started its Little Cottonwood Canyon future transportation project with the goal of reducing traffic by 30%. It whittled down possible alternatives from five to two back in June.
One option calls for a gondola base station at the mouth of the canyon in Sandy. In peak traffic times, gondola cars would run every two minutes with a maximum occupancy of about 20 people per car. It's an estimated 37-minute ride from the base station to Alta. When it unveiled the plan as a possible alternative on June 25, UDOT estimated it would cost about $592 million in capital and $7.6 million in annual operation and maintenance costs.
The other proposed option calls for the highway that cuts through the canyon to be expanded. A rapid bus system that would run every five minutes during peak times instead of a max of every 15 minutes and in a lane designated for buses only. The total travel time would be about 36 minutes. Joshua Van Jura, UDOT's Little Cottonwood Canyon project manager, said in June that the two options cost about the same when accounting for a 30-year lifespan.
Both plans have resulted in all sorts of wide-ranging feedback. Gov. Spencer Cox called the plans "fantastic" during a briefing with news organizations in July.
"There are pros and cons to both of them, and so I'm keeping an open mind and just waiting for those comments to come in," the governor said at the time. "And I look forward to sitting down with local officials and state officials, the Legislature and UDOT to help make that final decision."
The gondola option seems to have received the most attention likely due to its uniqueness. It would be the longest gondola in the world at about 8 miles in distance.
Gondola Works, a coalition composed of multiple Utah organizations and businesses, is the biggest advocate of UDOT's gondola option. Dave Fields, the general manager for Snowbird Resort and a representative of Gondola Works, told KSL.com in late June that he believes a gondola would better serve the growing traffic situation in the canyon because it can run even when roads are slick from weather and it can help reduce vehicle emissions.
Environmental lawyer Pat Shea, who served as the director of the Bureau of Land Management for a period in the 1990s, helped lead a protest against the gondola option over the weekend. Members of the environmental nonprofits Save Our Canyons and Friends of Alta participated in the event. They held up balloons tied with string to symbolize the height of a proposed tower along the path of a gondola.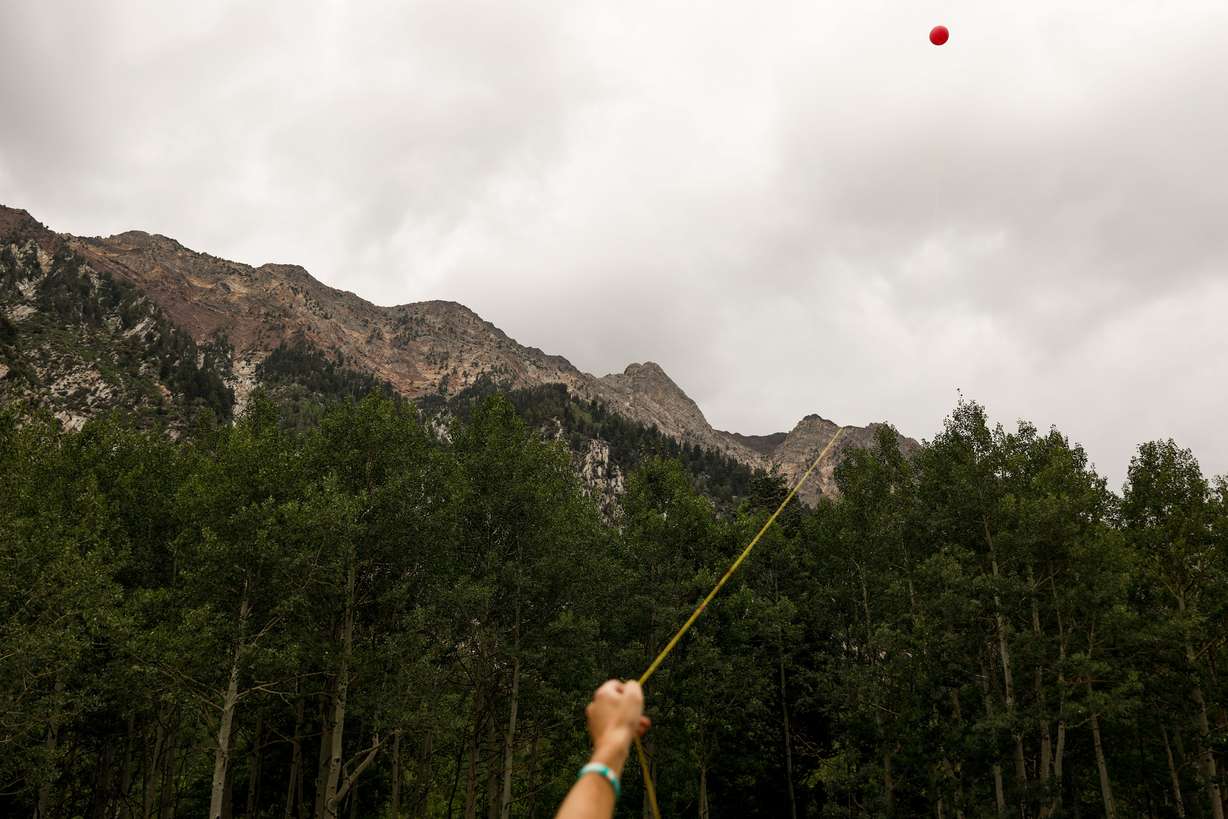 Both of those groups have been vocal against either project. For instance, Grace Tyler, the development director for Save Our Canyons, penned an open letter that urged residents to voice opinions against the plans. She argued that a better year-round bus system and better-enforced carpooling could solve the goal of reducing traffic without the massive cost of either proposed project.
Various climbing organizations agree. Julia Geisler, executive director of the Salt Lake Climbers Association, argues the options would add noise or destroy the scenic views of the canyon. She helped organize Monday's event because the association views the projects as "quite detrimental" to climbing and other recreation opportunities.
"Less destructive options do exist," she said. "Let's come up with something that's more equitable for all users. Let's put in more electric buses, let's look at traffic mitigation strategies before changing this canyon forever with additional lanes or a gondola."
The event Monday and the protest over the weekend happened just before the public comment period on UDOT's Little Cottonwood Canyon finally wraps up. It opened on June 25 and was originally scheduled to close on Aug. 9 but was extended through Sept. 3, giving people more than two full months to voice their opinions on the issue.
UDOT is expected to make its final decision — the rapid bus system or gondola — either by the end of this year or in early 2022. From there, project leaders will look to secure project funds before the selected project comes to fruition.
Geisler said that in addition to submitting public comments to UDOT, it is "even more important" for people to contact their local officials about the project.
Coleman is hanging onto a belief that some other solution or idea not yet presented for the canyon exists.
"When I come out here, sometimes alone, it's a healing experience," Coleman said. "It's something you can do to feel alone in the forest and come back into the city refreshed. And it's going to be impossible to get away from that (with) that view of the gondola or the smell of the brakes or the sound of the traffic, if some of these solutions are used."
×
Photos
Related stories
Most recent Outdoors stories