Estimated read time: 6-7 minutes
This archived news story is available only for your personal, non-commercial use. Information in the story may be outdated or superseded by additional information. Reading or replaying the story in its archived form does not constitute a republication of the story.
LITTLE COTTONWOOD CANYON — You may, sometime in the not-so-distant future, be able to take a rapid bus service or possibly even a gondola up Little Cottonwood Canyon.
Those are the alternative transportation options that state transportation officials selected as they move forward with a project aimed to reduce the number of vehicles on state Route 210. The highway is expected to only get more crowded over the next few decades.
The Utah Department of Transportation on Friday unveiled a draft version of its environmental impact statement for its Little Cottonwood Canyon transportation project. The document most notably narrowed down future alternative transportation items to a rapid bus system or a gondola to help reduce the number of vehicles on the roadway, while the idea of light rail service was scrapped.
People will still have the option to drive up the canyon no matter what. However, the bus option also calls for roadway widening while the gondola does not. UDOT may also look into a toll system that could also help reduce the number of vehicles on the roadway, officials added in the new report.
Joshua Van Jura, UDOT's Little Cottonwood Canyon project manager, explained that an alternative transportation plan was needed because projections show that the use of the canyon will grow by 45% over the next 30 years. If that's the case, they estimate an 80- to 85-minute travel time by 2050. Some of the neighboring roads that lead to the mouth of the canyon would end up having lines miles long as motorists try to get up the canyon.
That would not only create headaches for motorists but also pose safety concerns.
The project began with 124 concepts, which were then narrowed down to five draft alternatives in a report that the Central Wasatch Commission released last year. The five options were a light rail line up the canyon, as well as "A" and "B" options for bus or gondola services. The two options for bus or gondola services include either widening the road as well or not making any road adjustments.
Van Jura said a "data-driven" process analyzed over 6,500 public comments and environmental impacts of the five ideas to help to narrow the alternative transportation finalists to a rapid bus service with lane widening or a gondola service without any other adjustments to the road. UDOT will pick one of those two options by the time the final environmental impact statement is completed.
The preferred alternatives
UDOT officials say the bus option best meets the mobility goals while the gondola option best meets the reliability goals for the project. The ultimate goal, Van Jura said, is to get at least 30% of vehicles off the roads to achieve a "stable configuration" and remove unwanted congestion.
So, how would each project work?
The bus service wouldn't run quite the same way as Utah Transit Authority buses do now. That is, they would run every five minutes during peak times instead of a max of every 15 minutes. The total travel time would be about 36 minutes from a 1,500-stall parking lot near Big Cottonwood Canyon to Alta — with longer delays during inclement weather.
"The reason it's so much faster is the shoulder-running buses would remove roughly 30% of the cars from the roadway. With their own dedicated lane, they might actually be able to pass congestion in the general-purpose lanes," Van Jura said, adding that he believes people would eventually take the bus when they're stuck and traffic and watching buses pass them.
Meanwhile, the roadway would be widened all the way up the canyon. Drivers would be allowed to use the road's shoulders during peak times but those would become pedestrian or cyclist lanes when traffic is less of a concern. UDOT estimated the travel time to be about 37 minutes — again, not accounting for inclement weather.
The rapid bus option requires about $510 million in capital costs and $11 million in annual operation and maintenance costs.
The gondola option calls for a base station, also with 1,500 stalls, near La Caille restaurant in Sandy. During peak times, a gondola car would run every two minutes with a maximum occupancy of about 20 people per car. The estimated travel time for the gondola is 55 minutes from Fort Union Boulevard to Alta, which includes driving and a transfer involved. It's an estimated 37 minutes from La Caille to Alta.
The option calls for $592 million in capital costs and $7.6 million in annual operation and maintenance costs.
"Over the course of a 30-year life, the costs are roughly the same," Van Jura said.
Other preferred alternatives in the report include a five-lane alternative for Wasatch Boulevard that would include two lanes in either direction and a designated bike lane/shoulder and construction of snow sheds, which are tunnels built over a road to protect traffic from avalanches. A toll system for the canyon is also an option that's under consideration that would likely be activated during peak times of travel.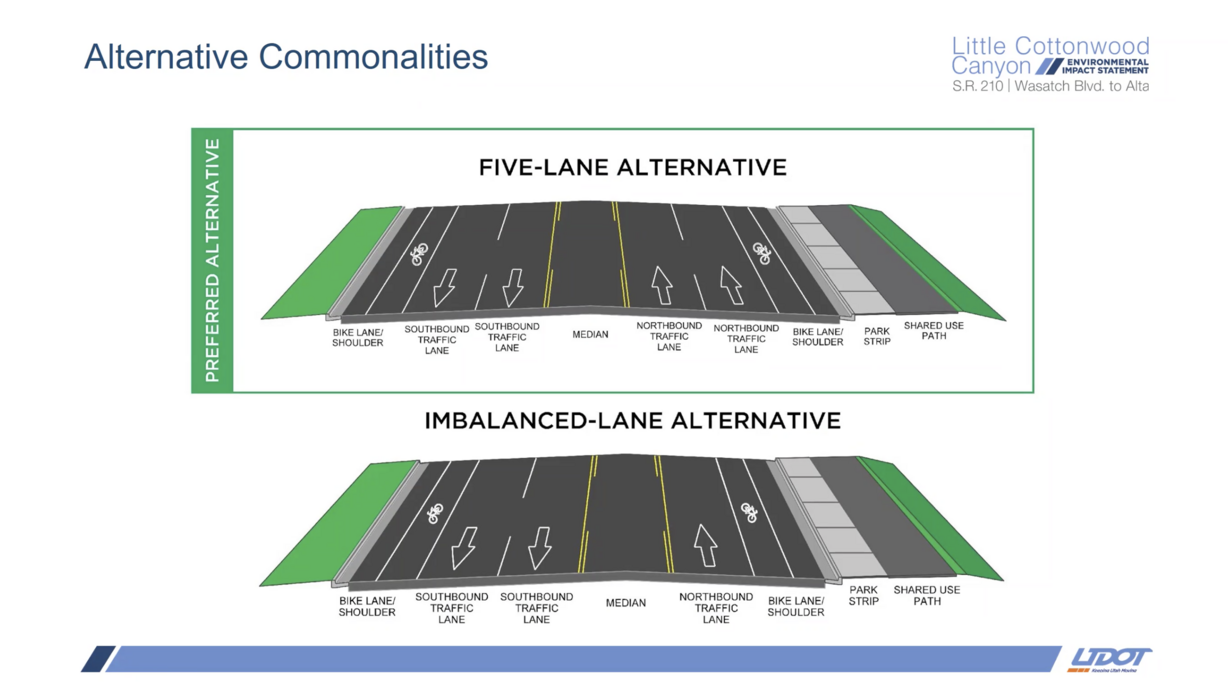 The plan would also include improvements to the Gate, Bridge, Lisa Falls and White Pine trailheads that are located along the road in Little Cottonwood Canyon. There will be no roadside parking with a quarter-mile of the trailheads.
Van Jura explained that it's important to provide different modes of transportation to help meet the needs of everyone traveling through the canyon.
"We understand that none of these transit modes will work for everybody," he said. "If you're a parent and you have a couple of little ones, any of these transit modes may be especially difficult to board."
As for why the light rail system didn't make the cut, experts said the train just wasn't fast enough to beat the bus option and wasn't reliable enough to beat the gondola idea.
"It just didn't meet the purpose and need as well as the two did," Van Jura added. "It was just right there in the middle of the road for both purpose and need criteria."
What happens next
Both options are still many years away from functioning, but UDOT officials hope to have a project selected in the next few months.
Public comment on the new document opened Friday and will remain open through Aug. 9. Comments can be made by going to the UDOT website, by emailing UDOT at littlecottonwoodEIS@utah.gov or by calling 801-200-3465. People can also mail their comments to Little Cottonwood Canyon EIS c/o HDR, 2825 E. Cottonwood Parkway Suite 200, Cottonwood Heights Utah, 84121.
The agency also plans to host a pair of meetings on the project next month. An open house is scheduled to begin at 4:30 p.m. July 13 at Butler Middle School, 7530 S. 2700 East in Cottonwood Heights. Experts will begin a presentation on the project at 6 p.m. and hold a hearing at 6:30 p.m.
There will also be a virtual public presentation at 6 p.m. July 20 with a hearing at 6:30 p.m.
A final environmental impact statement and record of decision, which will include the selected transportation project, is expected to be released either by the end of this year or in early 2022. From there, UDOT will look for funding to get the project done.
"At this point, we do not have funding identified," Van Jura said.
Once that funding is secured, whenever that may be, he anticipates it will take a few years to complete either the gondola or road widening.
×
Related stories
Most recent Utah stories