Estimated read time: 5-6 minutes
SALT LAKE CITY — The Utah Inland Port Authority on Monday postponed a vote on a $150 million bond proposal for a public infrastructure district after Salt Lake City leaders and protesters questioned the plan and its timing.
The Inland Port Authority was scheduled to vote on the plan Monday afternoon, but Jack Hedge, the executive director of Utah Inland Port Authority, called it off just before the meeting was supposed to begin.
"At this time as executive director, I've chosen to delay the vote in an attempt to bring this (public infrastructure district) discussion back to merit arguments, and not further fuel the political fires," Hedge said in a statement.
The decision to postpone the vote happened as a group of about two dozen protesters lined outside of the authority's headquarters, located at the 111 Main building in downtown Salt Lake City. The protesters, holding signs reading "Repeal the Port" and "SLC taxpayers don't want to pay for a polluting port," cheered as Deeda Seed, an organizer for Stop the Polluting Port Coalition, informed them that the meeting was canceled.
"The fight is not over but I think all of you, thank you for coming, you've made a difference," she told the crowd around her.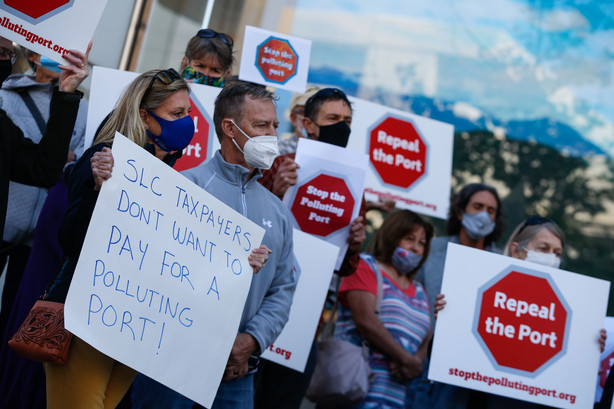 The Utah Inland Port Authority plan itself, which was first revealed on Sept. 8, calls for bonds to finance large public infrastructure projects. Hedge explained in that meeting that they would seek to "fill existing gaps" in Utah's importing and exporting logistics system. That includes rail improvements, a transloading facility and an alternative energy refueling station.
But the logistics of the plan garnered questions from city leaders. Salt Lake City Mayor Erin Mendenhall and Salt Lake City Council Chairwoman Amy Fowler co-signed a letter, dated Thursday, directed at Hedge and Jill Flygare, the Inland Port Authority's chief operating officer, asking them to delay their Monday vote until their questions could be answered.
"We have serious concerns about the speed and lack of detailed information with which the UIPA board is being asked to approve the creation of a public infrastructure district and the issuance of up to $150 (million) in debt, to be repaid by tax increment that would typically be controlled and appropriated by Salt Lake City's elected officials as property tax revenue," the letter states.
Mendenhall and Fowler pointed out that the interest rate for the debt could be up to 8.5%, which means it would cost taxpayers $255 million over a 35-year term of the loan. They said that rate is more than three times the interest rate Salt Lake City received when issuing municipal bonds.
"Without a defined list of the projects that will be funded through the PID, (Salt Lake City) is concerned about whether it will ultimately be required to own and maintain this infrastructure," they added.
In a statement to KSL.com on Monday, Mendenhall said she is pleased that the Inland Port Authority agreed to delay the vote.
"We appreciate having additional time to understand the implications of this proposal and look forward to more questions being answered in the days and weeks ahead," she said.
Seed credits the delay to a mixture of "public outrage" and the Salt Lake letter. She said she's pleasantly surprised with the delay, adding it was the first time the Inland Port Authority has "ever responded" to concerns over their plans.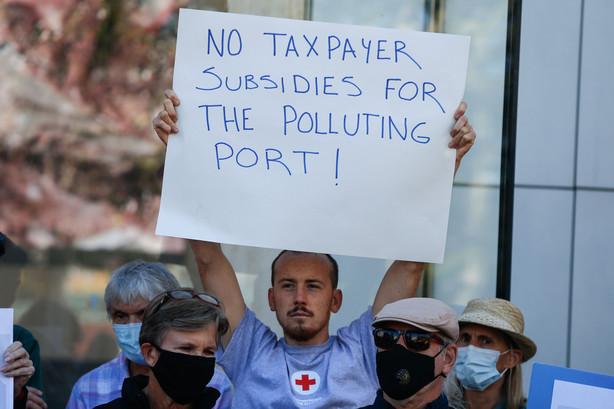 Throughout the course of the 25-minute protest, members of Stop the Polluting Port Coalition spoke out against the future of the state's inland port. They asserted that it is too expensive and will only worsen the state's air quality, which is already a concern.
"There are very legitimate questions that have not been answered at all about this and it's good that they responded and are postponing the vote," Seed said. "Although they can vote at any time. What we want to see is a full explanation of how they intend to use this money and the public has not had that information, nor has the city for that matter. That needs to happen. They need to be more transparent about what they intend to do."
Meanwhile, in addition to postponing a vote on the bond, Hedge and Flygare penned a response to Salt Lake leaders Monday. In it, they explained that the plan "fits well within" the law and that some of the projects proposed actually aren't planned for Salt Lake City. For instance, the alternative fueling facility is proposed to be located in West Valley City.
They also clarified that the current law allows the Inland Port Authority the ability to issue public infrastructure districts as municipalities can do. In both cases, landowner consent is required.
"In order to impose a PID property tax, the consent of the landowner taxpayer is also required," they wrote, adding that Inland Port Authority public infrastructure districts are different because they are a "separate governmental entity with its own board" once created.
While they didn't refute the 8.5% interest rate claim, they also argued that the current interest rates are the lowest they have been in over three decades. That's why they wanted to speed up the timing of the bond.
"Neither SLC nor any person can guarantee that the interest rates will remain low if the funding is delayed," Hedge and Flygare wrote. "The proposed resolutions do not require the issuance of any bonds by UIPA but do initiate a calendar runway to the potential issuance of the bonds while rates remain at historical lows."
The Inland Port Authority didn't provide a new date for when the bond will be voted on.
Seed said she would welcome any efforts by the agency to be more transparent about projects, including the proposed bond. She said that the Inland Port Authority has operated "behind closed doors" since its inception in 2018.
"When we ask for information, we don't get it," she said. "We want information so that a human health risk assessment can be conducted, you know, help us understand the health impacts of it. ... I've been in public policy for like 30 years, this is the worst example I've ever seen of public policymaking. It's terrible, frankly."
She's hopeful that Monday's postponed vote will end up as a turning point in her concerns with the agency.
×
Photos
Related Stories