Estimated read time: 7-8 minutes
Editor's note: This article is a part of a series reviewing Utah and U.S. history for KSL.com's Historic section.
SALT LAKE CITY — The walls within McKay Diamonds & Jewelry are brimming with reminders of the business' legacy in Utah.
There are scores of photos of happy couples posing after their engagement hanging inside the tiny Main Street fixture. Sandra Andrade, the store's owner, points to one corner of the store where there are three photos stacked in a row above a brightly lit neon sign. Two of the photos are in black and white, while the third is in color.
"This couple here was the third generation that came here," she says, smiling as she explains that the woman in the more recent photo was the daughter and granddaughter of men in the two other photos.
"The pictures help us to remember a lot of memories," Andrade continues, staring at the wall faces surrounding her.
Many of the customers — even ones that came before Andrade and her husband, Joe, took the reigns of the store from its long-time founder in 2010 — still return to the store to remember the time they picked up their engagement rings. One couple has even made it a tradition for over 60 years.
It's those memories and traditions that make their next venture so difficult. After 72 years, one of the longest-running businesses on downtown Main Street is moving out. The Andrades were informed they would have to move out earlier this year as their landlord needed the space for other uses. Their last day on Main Street will be Sept. 30 before they move to a new location on Regent Street.
While the couple is thankful they won't have to move far, it's still bittersweet moving away from a building that houses so many memories for them and their customers.
The story of McKay Diamonds
Robert McKay, the son of The Church of Jesus Christ of Latter-day Saints President David O. McKay, opened McKay Diamonds & Jewelry in 1949. Its first location was actually near ZCMI, elsewhere on Main Street, but McKay moved the business a block south to its current location, at 157 S. Main, in 1952. At one point, it was one of several diamond and jewelry stores on Main Street.
Digital newspaper archives show the business advertised rings, necklaces and elegant watches heavily within University of Utah student newspapers early in its existence. Its neon sign that still attracts customers has become an iconic piece of Main Street. To this day, many movie productions shooting in Salt Lake City like to use the exterior of the business because of the sign's retro and small-town aura, Sandra Andrade said.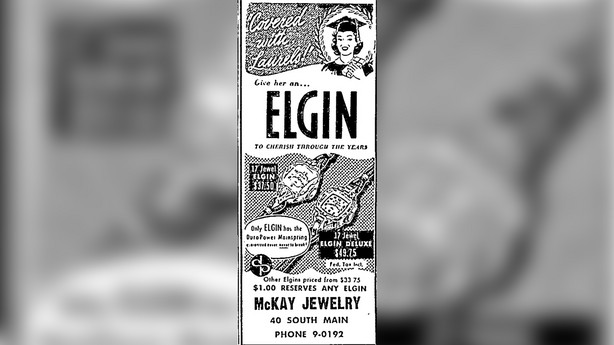 McKay also started the tradition of framing photos of couples — the ones you would see in a newspaper announcing an engagement or wedding — in the building, saying in one interview that he would like to be remembered as a friend to the people he sold diamonds to. He continued to run the store with his wife, Frances Ellen, until he retired in 2010 at the age of 90, and died in 2013.
"I've spent my life on Main Street," he told the Deseret News at the time he decided to step away from the business.
Since his children went on to pursue other careers, McKay made a deal to sell the store to the Andrades once he did retire because he felt comfortable that they would keep the store's family-owned spirit going.
Joe Andrade started out making watches when he was just 9 years old and living in Sao Paulo, Brazil, before he opened a jewelry store in his native country at the age of 17. He met Sandra and the two married a few years later. The couple emigrated to Utah together in 1999, where he worked in construction and as a janitor to help make ends meet and save enough money to open their own jewelry store in Taylorsville.
They continued the tradition of handmade jewelry, something that Joe Andrade still does himself at a desk right next to the store's counter. They continued to frame photos of couples that bought rings from them, even though they never had the space to frame them all. They also engage with customers who bought from McKay after they took over in 2010.
"We've been here for the past 11 years, keeping his legacy — trying to be as good as he was to customers back then," Joe Andrade said. "To have an opportunity to buy McKay's name, the legacy he had. He helped us a lot to help build our legacy, too, with his name."
Finding a new home
Like McKay, the Andrades intended on spending their lives on Main Street. That was until they learned earlier this year that they would have to move.
The space will be a part of an expansion to Eva's Bakery, which is located just next door, according to the Salt Lake City Downtown Alliance. The Andrades say they understand the decision because the bakery owns the building and the decision is tied to needing to spread out the bakery's space in an age of COVID-19.
---
I think the hard part is the feeling. ... As soon as we started here, it was like it was always ours. Sometimes it feels like the 72 years was always ours.
–Sandra Andrade
---
Still, it was difficult news to hear. While they themselves hadn't spent 72 years on Main Street, they believe their legacies are merged with the building. They thought of the couples who visit the store to remember where they picked up their engagement rings, and where the Andrades' own children have grown up.
"We felt like we lost our home," Joe Andrade said. "We feel like part of the families — the memories and pictures they share with us."
Sandra Andrade's eyes begin to well up as she recalls that moment, too.
"It was sad. ... It's not our choice but we'll be OK," she said. "I think the hard part is the feeling ... as soon as we started here, it was like it was always ours. Sometimes it feels like the 72 years was always ours."
What made the news easier to bear for them is the support they say they've received from customers and businesses right after they announced on July 27 they were moving off Main Street. To that end, just as they were talking about their future business plans with KSL.com, a customer walked in for an update on an item and wished them well on their upcoming move.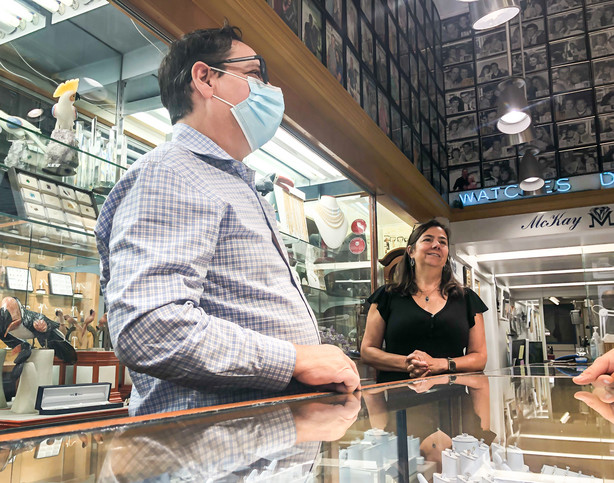 Some suggested they should move elsewhere in the city or state but the Andrades say they wanted to keep the business as close to "home" as possible. They are thrilled they were quickly able to secure a new location at 115 S. Regent Street, which is just around an alleyway from the location they are leaving.
One item that won't move with them is the iconic McKay Diamonds sign on Main Street. They said their old landlord wanted to keep it and promised to add new signage near it that will direct people to the store's new location around the corner from the sign. A similar but smaller sign will be placed outside their new store, too.
Keeping old traditions alive
Joe Andrade said he embraces change, which he views as one constant part of human existence. People — and businesses — come and go.
"Life goes on no matter what. We don't come here to stay forever," he said.
But one thing the Andrades don't expect to change is the store's warm, family-themed legacy. They plan to keep the same "cozy" atmosphere in their new location, which they hope to open in October. They also plan to continue to hang framed photos of happy couples on the walls of the new space, too.
They also plan on keeping it in the family as their children get older. One of their children has already started working part-time for them and two others have also expressed interest.
"We plan to keep almost the same as a family business," Sanda Andrade said, "but we'll have the new space for the tradition of 72 years."
×
Photos