Estimated read time: 6-7 minutes
PROVO — The last time Arizona State made a trip to play at BYU, a certain former big back had a run and a catch in the Cougars' win over the Sun Devils at then-Cougar Stadium.
But this isn't about Ronney Jenkins, one of the stars of the 1998 BYU team who piled up 171 yards and a touchdown in a 26-6 win over then-No. 14 ASU.
It's not even about Owen Pochman, the kicker who connected on four field goals Sept. 12, 1998.
BYU head coach Kalani Sitake was a sophomore fullback with the Cougars at the time, having recently changed the surname on his jersey from "Fifita." In 1998, Sitake was a sure-handed fullback running for 40 yards on 13 carries and catching 15 passes for 129 yards, a pass catcher who showed off those soft hands by hauling in one of Charlie Brewer's errant passes last week in the Cougars' 26-17 win over rival Utah.
"On the catch, I remember I had a big gain and maybe a touchdown but got tripped up from behind by a linebacker," Sitake recalled of his grab from quarterback Kevin Feterik earlier this week. "I was a blocking guy, and a blocking guy with hands to catch the ball.
"Back then, you couldn't play on offense for BYU if you couldn't catch the ball — and that probably went for the O-linemen, as well. I remember that game. It was a lot of fun. My stat line wasn't that great, but I had a lot of fun."
Another one of those pass catchers was a 5-foot-9, 165-pound senior from Bountiful who returned three punts for 26 yards, including a 14-yard return during the win sandwiched between losses to Alabama and Washington to open his senior year.
That's not what Aaron Roderick remembers most about that game, though.
"I remember we won, and it was a big deal to beat a good team," said Roderick, now in his first season as BYU's offensive coordinator. "I remember Kalani had that catch for 20 or 30 yards, and I think he got tackled near the goal line.
"I just remember we pulled out a win over a good team."
BYU and Arizona State once competed in the same conference, though ASU held a marked advantage as members of the Western Athletic Conference. Still, 20 years after leaving the WAC for the Pac-10 in 1978, the Sun Devils were back in Provo as a top 25 opponent.
And 20 years later, the return trip features two top 25 teams Saturday night, when the 23rd-ranked Cougars host No. 19 Arizona State (8:15 p.m. MT, ESPN).
The names change, as do the coaches — some of whom graduate from being players, even. But good teams like to face good teams, and after more than two decades, two of the top teams in the "Mormon Corridor" of I-15 between Salt Lake City and Phoenix are renewing their series.
And while the one-time rivalry in the old, old WAC may be cooler than an air conditioning unit in a Phoenix summer, there are still plenty of people who remember the series for what it once was.
With around 436,000 members of The Church of Jesus Christ of Latter-day Saints living in Arizona, and the bulk of them in the Valley of the Sun, how could there not be?
"There's a huge LDS presence in the Valley, and when there's an LDS presence, there's going to be a BYU presence. It kind of conflicts a bit with the ASU fan base," said BYU wide receiver Gunner Romney, who graduated from nearby Chandler High. "There's a little bit of conflict; I wouldn't say it's a rivalry, but I think there are a lot of people that are torn between this game.
"There are a lot of families that might even be split."
For Romney, that makes the game as personal as any other on the Cougars' schedule. Romney's old high school coach Shaun Agauno now coaches the running backs on Herm Edwards' staff in Tempe, and several of his old Wolves teammates now play for the Sun Devils.
"I'm excited for them to come up here and to compete against those dudes," Romney said.
"It's personal for me."
Another unique connection that binds the programs is ASU head coach Herm Edwards, who revealed during his weekly press conference with Phoenix-area media that he was recruited to BYU by legendary coach LaVell Edwards when he was coming out of high school in 1972.
That would've been about six years before the Sun Devils left the WAC to form what was then the Pacific-10 Conference, and while ASU was in the middle of winning 11 of 14 conference games against the Cougars.
"I've been there as a coach, a little earlier in my career," Edwards said. "I got recruited there, actually, by LaVell Edwards.
"I was one of the first Black athletes they recruited there in 1972 coming out of high school. It started a friendship with coach, actually. They've got a great fan base; it's going to be loud. You couldn't go into a better venue if you think about college football."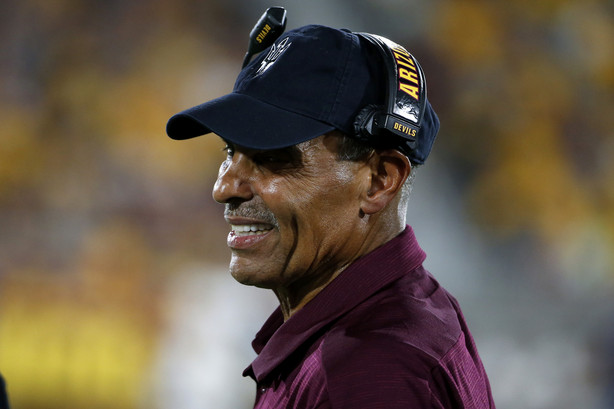 Ironic, then, that nearly 50 years later — and after an 18-year NFL coaching career, most notably with the New York Jets from 2001-05 — Edwards, who played at Cal and San Diego State, will lead the Sun Devils into the same stadium that now bears the name of the coach who tried to recruit him.
Their first road game against one of the more hostile crowds on the west coast, too.
"When you go on the road, you think differently. You just do," Edwards said Monday. "Because you're fighting two opponents. You're fighting the emotion of a crowd, the noise and you're fighting a good team on the field."
Perhaps it's that crowd, the friendship with a BYU legend, or maybe even the No. 23 hanging next to the Cougars' name in the Associated Press Top 25. But Edwards offered plenty of respect for BYU earlier this week.
Ditto for Sitake. After all, none of the players have ever faced the Sun Devils — most weren't even born when he was catching near-touchdowns against the foe.
But he remembers. And he'll try to make new memories to add to the series Saturday night.
"I liked the games against ASU," Sitake said. "They have a great fan base, and there are a lot of connections from the Phoenix area back in the day. I know there's a lot of connection with church members in that area. There are a lot of people we know on that team, and we have tons of respect for them and are looking forward to the game."
×
Photos
Related Stories