PROVO — While he's certainly climbing the ranks of notoriety and popularity on the coaching staff, perhaps the most underappreciated man on BYU's campus continues to be defensive coordinator Ilaisa Tuiaki.
And while the Cougars still have quite a ways to go in improving the overall defensive caliber of the 2021 season — open-field tackling remains one prominent issue two games into the season — there's little doubt that Tuiaki's biggest achievement is already bearing fruits in one area: pressure from the defensive line.
The Cougars' three sacks in wins over Arizona and then-No. 21 Utah ranks 31st in the nation, which has helped set up a 0.269 third-down conversion percentage, the 19th-best mark nationally.
The two stats aren't officially connected, but they are related. The more pressure a quarterback can feel, the more likely they are to face third-and-long situations — and less likely to completely them.
Even with his flaws, Tuiaki's defense continues to be underappreciated on campus. But here's the thing: none of them care. Not even the defensive play-caller himself.
"I feel like he is underappreciated from past years," BYU defensive end Lorenzo Fauatea said. "We all trust in him and in everything he calls. But Tuiaki is a guy who doesn't care if he's appreciated or underappreciated. He's just a guy who does his job.
"He's a player's coach. He listens to the players, and we listen to him. Our system has been working."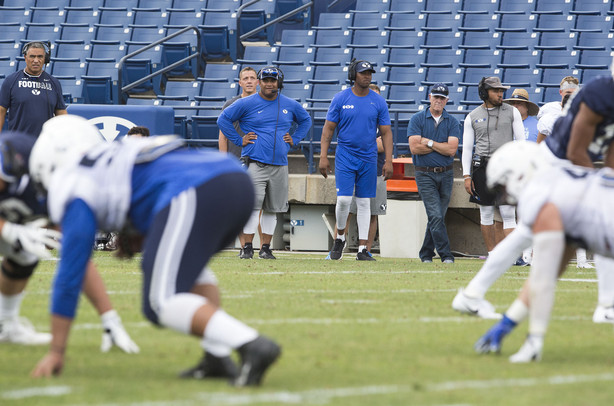 The first-time coordinator turned in one of his more remarkable coaching jobs a year ago, leading a BYU defense that ranked fourth in scoring defense (15.3 ppg) and top 25 against both the run and pass en route to the 10th-best total defense in college football, statistically. And while the Cougars have had dynamic pass rushers in the past, this year's crop of playmaking ends, tackles and linebackers features fewer star-studded names — but just just as much or more production.
In many ways — and against an upgraded schedule — Tuiaki's dudes have picked up where they left off, just 14 days into the 2021 season and after sending the likes of Khyiris Tonga, Isaiah Kaufusi and Chris Wilcox (among others) to the NFL.
Nowhere was that more evident than after Saturday night's 26-17 rivalry win where the Cougars stopped the Utes seven times on third downs and twice on fourth. Even if the BYU pass rush didn't always result in a sack or a tackle for loss, the defensive line was responsible for pushing around a notoriously strong Utah line, controlling the line of scrimmage and making quarterback Charlie Brewer as uncomfortable as he's been since he transferred from Baylor for his senior season.
It was the pressure that forced Brewer into an ill-timed throw that ended in the hands of Chaz Ah You less than five minutes into the game, and the same pressure that eventually led to two sacks, five tackles for loss and a fumble scooped up by cornerback Isaiah Herron.
"I love it," said defensive tackle Earl Tuioti-Mariner, the second cousin of Atlanta Falcons end Jacob Tuioti-Mariner after notching a team-high seven tackles against the Utes. "We've been getting sacks and pressures. Those are game-changers."
Yet Tuiaki hasn't done anything different to dial up the pressure. Neither have any of the other assistants, whose playbook has remained largely the same — just with better execution — since they took over six years ago.
"It's just a question of what the players can do, and how many guys are capable of covering," said safeties coach Ed Lamb, who has worked all over the staff as assistant head coach and special teams coordinator. "It's just determining who our best players are, and then doing the best we can with them. I think coach Tuiaki has been doing that for six years.
"There's not a blitz that we've run in the past two weeks that has not been in our playbook since we got here six years ago."
Slow to pass judgement and quicker to designate praise, Tuiaki isn't alone in the defensive emergence. When offensive line coach Eric Mateos followed offensive coordinator Jeff Grimes to Baylor, it opened up two spots on BYU's staff that only needed to replace one on offense.
That allowed the Cougars to do some defensive reshuffling, promoting Kevin Clune from defensive analyst to linebackers coach, moving Lamb from linebackers to safeties, and pushing safeties coach Preston Hadley to coach defensive ends, hybrids and edge rushers in Tuiaki's usual 4-3 front.
The changes allowed each coach to zero in on new or existing possibilities. It increased Hadley's ability to dial up pressure from the edges, while being cognizant of the backfield where he's coached at BYU since 2018.
With the ability to focus on coaching defensive tackles, BYU's interior run-stuffing has been as strong as ever, too. And the Cougars haven't made any major adjustments there, either.
If anything they're just healthier.
"I guess we're just trying to get after the quarterback," said Tuioti-Mariner, one of those defensive tackles who returned from surgery to repair a torn labrum a year ago and is finally healthy again. "We're able to trust our guys and do a little bit more with what we're doing. I wouldn't say there's anything different that we're doing — maybe we're just executing better and trusting more."
Through two games, Tuiaki's defense has limited two Pac-12 South schools to 246 yards, including an average of 136.5 yards on the ground. Through a pattern of stunts, twists and blitzes, the Cougars have taken a defense with 15 listed starters on the depth chart and blitzed more, at least anecdotally, than they have in six years.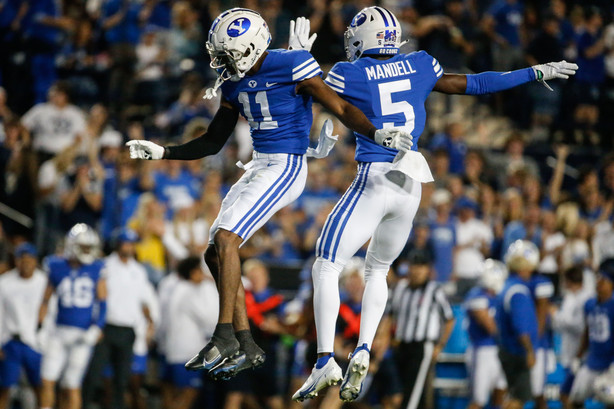 Much of the credit for those extra pressures — whether they lead to a sack or not — are helped by an experienced defensive backfield, led by junior safeties Ah You and Malik Moore, and experienced cornerbacks D'Angelo Mandell and Isaiah Herron, among others.
What happens at the front starts in the back.
"It's a good thing to be able to blitz," said BYU linebacker Payton Wilgar after posting four tackles, 1.5 tackles for loss and two pass breakups against the Utes, "and we are only able to if we trust our defensive backs. Kudos to our defensive backs for manning up, locking up and allowing us to get pressure on the quarterback."
The Cougars face an even bigger opponent and tougher matchup on Saturday in their third consecutive Pac-12 South opponent. No. 19 Arizona State visits LaVell Edwards Stadium for the first time since 1998, with BYU looking for its 32nd win over a ranked team since 1974.
The Cougars are 4-2 in the last six games against ranked opponents after Saturday night. But next Saturday presents a formidable challenge.
The Sun Devils (2-0) have the 44th-best offense in the country with 446 yards per game to add to their fifth-ranked defense that allows just 189.5 yards. Led by junior quarterback Jayden Daniels, who has 307 yards and two touchdowns in wins over Southern Utah and UNLV, ASU is a top-50 team with a pass efficiency rating of 148.96 for 187 yards per game.
Arizona State's pass defense ranks fourth in the Football Bowl Subdivision, allowing just 106.5 yards per game with a 75.78 pass efficiency.
It presents a challenge for a suddenly resurgent BYU defense. But one that, as Tuiaki tells his defensive tackles before a three-man rush, they should "relish."
"Players like to be challenged to play as much one-on-one as they can," Lamb said, "or to create as much havoc as they can."
×
Related Stories