PROVO — Coming off the most successful season in over a decade, BYU football has rewarded head coach Kalani Sitake with a new contract.
The Cougars have agreed to an extension for the sixth-year head coach through the 2025 season, athletic director Tom Holmoe announced Tuesday afternoon. Like most contracts at the private, religious university, terms of the deal were not released.
The new deal adds two years to Sitake's previous extension, which he signed in 2019 through the end of the 2023 season.
"We are happy to sign Kalani to an extension that keeps him connected to BYU for years to come," Holmoe said. "This is about setting our student-athletes up for success. Kalani's culture of love and learning has created an incredible environment for his student-athletes and Cougar Nation that we are all inspired by."
Sitake snuck out of Tuesday's practice early to start his weekly coach's show with BYUtv. But if he hadn't, the team would've "tackled him" and pounded his chest over a two-year extension that keeps the BYU graduate wanted in Provo.
The first time Sitake was extended, the Cougars celebrated with #ExtendKalani T-shirts and pouring soda in the locker room as Holmoe crowed "he's your coach, he's my coach" in the locker room.
Two years later, Sitake's extension came with metaphorical tackling and verbal fist-bumping.
"It's great news," Sitake's defensive coordinator Ilaisa Tuiaki told reporters after practice. "The boys were cheering when they heard, though. They love him as a head coach, we love him as coaches, and I know Cougar Nation loves him, too.
"It means a lot for us to have him for that long, and the administration's belief in him to have him for that long."
The extension is finalized at a unique time for BYU, and not just because it was announced while the head coach was running practice on a Tuesday afternoon. But the extension comes as the Cougars are preparing to kick off a pivotal follow-up season to their best campaign in nearly a dozen years.
Extending the coach through 2025 — the same year Texas and Oklahoma are scheduled to leave the Big 12 for the SEC, and the Big 12 is expected to add to its membership — is likely coincidental (maybe). Even if the Cougars are reportedly a strong candidate.
The total years is similar to the recent extension announced for men's basketball coach Mark Pope, who deferred compensation on his new contract through 2027 by a year due to the university's financial troubles related to the COVID-19 pandemic.
"I'd be jumping up and down if that were me," BYU safety Malik Moore said. "Five (more) years at a job? I can't speak for him, but I don't think there's anywhere he'd rather be than at BYU, coaching for us. Whatever achievements he has, I'm going to be there rooting for him."
Sitake led the Cougars to an 11-1 season in 2020, the program's winningest season since 2009. The Cougars finished ranked No. 11 nationally, their best ranking since the 1996 season, as Sitake was named a finalist for the Eddie Robinson National Coach of the Year Award.
BYU also sent five players to the NFL draft in April, led by No. 2 overall pick Zach Wilson, the highest-drafted player in BYU history to the New York Jets.
The season was "awesome," linebacker Peyton Wilgar said. But no more so than what it did for Sitake's career, and his family.
"Kalani's an amazing guy, an amazing coach, and he deserves every bit of it," Wilgar said. "I'm super excited for him and his family."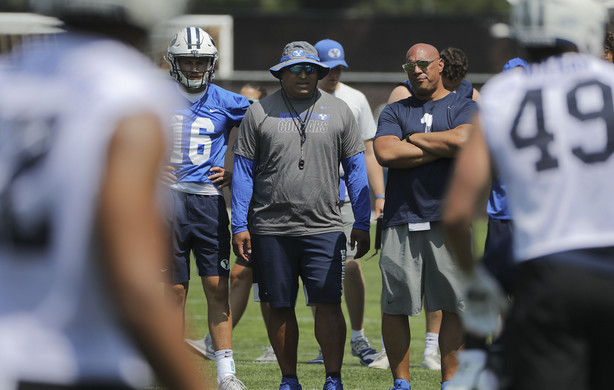 A fullback who played on legendary coach LaVell Edwards' final team at BYU, Sitake has reinvigorated a program that went had just one 10-win season in the FBS independence era in five seasons under Bronco Mendenhall prior to Sitake's arrival.
After a 4-9 campaign in 2017, the first-time head coach shook up his staff, firing his offensive coordinator and most of the offensive assistant coaches and brought in a new team — one that included current offensive coordinator Aaron Roderick and passing game coordinator Fesi Sitake, as well as former offensive coordinator Jeff Grimes, who recently accepted the same position at Baylor.
Since then, the Cougars have a 25-13 record with three bowl appearances, including last December's win over UCF in the Boca Raton Bowl.
Sitake is 38-26 in his career at BYU, his only head coaching job at the collegiate level. Notable victories in his tenure include Wisconsin, Michigan State, Mississippi State, Tennessee, USC and Boise State, among others.
The former defensive coach at Utah and defensive coordinator at Oregon State also helped launch several groundbreaking programs off the field, including the university's Built4Life career development program and a partnership with American Fork-based Built Brands that pays the tuition for every walk-on football player at the university, in addition to a salary of up to $1,000 to each scholarship player for marketing use of the player's name, image and likeness by the company.
"I really appreciate the support for BYU football from Tom Holmoe and President Worthen along with all of our administration at BYU," Sitake said in a statement from the university. "I am excited about the future of our program and committed to continue to do everything we can for the benefit of our great student-athletes, coaches, staff and fans."
BYU opens the 2021 season Saturday against Arizona at Allegiant Stadium in Las Vegas.
×
Related Stories