DRAPER — From No. 1 in Utah high school football to No. 2 on Southern California's depth chart.
In his first full season of college football, former Corner Canyon quarterback Jaxson Dart will open up as the primary backup to USC starter and Heisman Trophy hopeful Kedon Slovis when the Trojans open the 2021 season on Sept. 4 against San Jose State.
USC coach Clay Helton made the announcement Thursday, adding that a full two-deep depth chart for all positions won't be available until Monday. But he acknowledged the order of quarterbacks after he met with the three signal callers, including current third-stringer Miller Moss — a highly-touted freshman out of California's Bishop Alemany — and told them the order for the first game.
"You're talking about three elite quarterbacks in that room. I think they're three great quarterbacks, and guys who will develop fast," Helton told reporters Thursday. "I saw Miller really grow from practice 1 to where he is now, after not having a senior year. To be able to do that and get the work he is right now and be ready for college football."
Both freshmen graduated from high school early and enrolled at USC in time for spring practices, where Dart took control in a handful of scrimmages and never let go as the Trojans did more and more live work, Helton said.
"When the ball was put down in scrimmage-type atmosphere, that's where I needed to see," he added. "And he was a little more productive than Miller. Both guys are elite and both guys will continue to compete. Miller will have a chip on his shoulder, continue to compete, and Jaxson will fight like hell to hold it down. That's college football."
At this time last year, Dart was opening his first season at Corner Canyon, just a few months removed from transferring from Roy High ahead of his senior season of Utah high school football. He went on rewrite the Utah High School Activities Association record book, throwing for 4,683 yards and 67 touchdowns en route to the Chargers' third consecutive state championship.
Dart's 10,683 passing yards split between Roy and Corner Canyon ranks fifth all-time in UHSAA history, joining a list of names that include former Jordan quarterback Austin Kafentzis, Milford's Bryson Barnes, Lehi's Cammon Cooper and Mountain Crest's Alex Kuresa ahead of him.
He went on to win state honors from MaxPreps and the Deseret News, before earning MaxPreps national player of the year honors and the biggest one of all — the Gatorade National Player of the Year award, the first from the state of Utah in the history of the organization.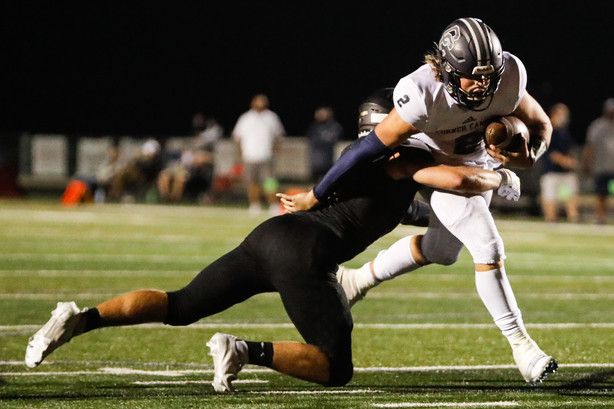 After graduating early, Dart committed to USC and put himself in the best position available to see early playing time, enrolling early, excelling in spring practices, and staying on campus through the summer as the Trojans prepare for a fall season that includes a pair of home games against local programs — Oct. 9 against Utah and Nov. 27 against BYU.
"This spring has been a dream come true," Dart told local reporters after receiving the honor from Gatorade. "USC for any quarterback in the west is the mecca of college football. It's an elite program with great people, and I've loved it so far.
"I think my biggest thing was just to learn the offense as fast as I can. I always had faith in myself that if I worked hard, things would work out."
Will Dart still be backing up Slovis by those dates? He might move down throughout the season, as the competition continues into the season, Helton said.
But he might even move up.
"The future is bright with those two kids," Helton said of his backups. "They made it a very respectful conversation, and will compete all the way through."
×
Related Stories