Estimated read time: 8-9 minutes
This archived news story is available only for your personal, non-commercial use. Information in the story may be outdated or superseded by additional information. Reading or replaying the story in its archived form does not constitute a republication of the story.
SALT LAKE CITY — For the second time in the calendar year, members of The Church of Jesus Christ of Latter-day Saints gathered virtually for "a conference unlike any other."
Welcome back to 2020, Latter-day Saints.
Church leaders from President Russell M. Nelson and down offered counsel and insight into dealing with the unique nature of 2020. And while some messages centered around universal and timeless themes like faith, hope and encouragement, others were uniquely 2020 — like race relations, COVID-19 and at-home church meetings.
Here are five of our biggest takeaways after watching 10 hours of church meetings during the weekend.
Race and church members
During a year that has focused on racial tensions and injustices, primarily in America, both President Nelson and President Dallin H. Oaks of the church's First Presidency issued strong statements denouncing racism and urging members and people of all faiths, creeds and organizations to come together.
President Nelson, who has decried racism and racial intolerance recently, said members of the church should "lead out" in dismantling racism.
"I assure you that your standing before God is not determined by the color of your skin," President Nelson said Sunday morning. "Favor or disfavor with God is dependent upon your devotion to God and His commandments, and not the color of your skin.
"I grieve that our Black brothers and sisters the world over are enduring the pains of racism and prejudice. Today, I call upon our members everywhere to lead out in abandoning attitudes and actions of prejudice. I plead with you to promote respect for all of God's children."
Likewise, President Oaks called on church members to eradicate racism in their respective families, communities and congregations. He also called on Latter-day Saints to "forego the anger and hatred with which political choices are debated or denounced in many settings."
"Anger is the way to division and enmity," President Oaks said. "We move toward loving our adversaries when we avoid anger and hostility toward those with whom we disagree. It also helps if we are even willing to learn from them."
He then urged church members to "do better to help root out racism," he added.
Members of the church come from all walks of life, said Elder William K. Jackson, a General Authority Seventy in the church. That means they come from different backgrounds, races, ethnicities, cultures, traditions — and even previous faiths prior to converting to Latter-day Saint Christianity.
"The Church of Jesus Christ of Latter-day Saints is hardly a Western society or an American cultural phenomenon," Elder Jackson said. "It is an international church, as it was always meant to be.
"New members from around the world bring richness, diversity and excitement into our ever-growing family. Latter-day Saints everywhere still celebrate and honor their own heritage and heroes, but now they are also part of something far grander."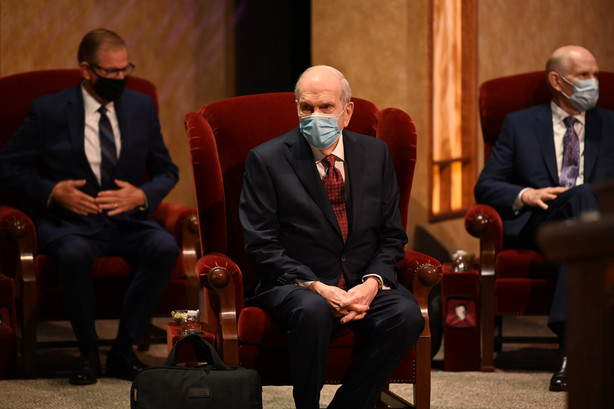 Thriving, not surviving, during a global pandemic
COVID-19 has hit a lot of people hard.
Whether it be physical, mental, social or financial, the challenge of living in a global pandemic that has infected more than 35 million people worldwide, including causing over a million deaths, has hit nearly every person on the planet.
But better days are ahead, church leaders promised — and until then, members can thrive while living in the "new normal" of coronavirus restrictions and regulations designed to curb the spread of a highly contagious virus.
"Let us not (just) endure this current season," President Nelson told women of the church on Saturday. "Let us embrace the future with faith. Turbulent times are opportunities for us to thrive spiritually."
Eventually, COVID-19 will be eradicated, and other ills of the world will end, too, said Elder Jeffrey R. Holland of the Quorum of Twelve Apostles.
The job right now is to learn, grow and be better because of them.
"COVID and cancer, doubt and dismay, financial trouble and family trials. When will these burdens be lifted? The answer is 'by and by,'" he said. "And whether that be a short period or a long one, it is not always ours to say — but by the grace of God, the blessings will come to those who hold fast to the gospel of Jesus Christ."
It's also important to remember to look ahead and see what we can do to prepare for difficult times to come, according to Bishop W. Christopher Waddell, first counselor in the church's Presiding Bishopric.
"In today's environment, with a pandemic that has devastated whole economies and individual lives, it would be inconsistent with a compassionate Savior to ignore the reality that many are struggling, and ask them to begin building a reserve of food and money for the future," Bishop Waddell said. "However, that does not mean that we should permanently ignore principles of preparation … only that these principles should be applied 'in wisdom and order,' so that in the future, we might say,' as did Joseph in Egypt, 'there was bread.'"
New temples, and a new approach to temples
President Nelson closed the conference by announcing six new temples, ranging from the island republic of Kiribati to a second temple in Sao Paulo, Brazil, to the Utah County suburban community of Lindon.
But in an age where temples have mostly closed down due to the coronavirus — 14 of Utah's temples remain in Phase 2 of the church's reopening plans after every temple was temporarily closed help mitigate the spread of the virus — church leaders were quick to point out that being unable to attend the temple does not prevent one from taking advantage of temple blessings.
"The Lord has called us to work in the temples with 'diligence … perseverance, and patience,'" said Elder Ronald A. Rasband of the Quorum of Twelve Apostles. "Being 'recommended to the Lord' requires those qualities. We must be diligent in living the commandments, persevere in our attention to our temple covenants and be grateful for what the Lord continues to teach about them, and be patient as we wait for temples to reopen in their fulness."
Love One Another
Breaking down barriers associated with racial and social injustice can only come through love. When members of all faith traditions and backgrounds love each other regardless of their differences, the human family will grow closer together, church leaders urged.
That love is a product of the gospel of Jesus Christ, said Elder Dale G. Renlund of the Quorum of Twelve Apostles.
"To do justly and walk humbly with God is to intentionally withdraw our hand from iniquity, walk in his statutes, and remain authentically faithful. A just person turns away from sin and toward God, makes covenants with Him, and keeps those covenants," Elder Renlund said. "A just person chooses to obey the commandments of God, repents when falling short, and keeps on trying.
"People who love mercy are not judgmental. They manifest compassion for others — especially those who are less fortunate … These individuals treat everyone with love and understanding, regardless of characteristics such as race, gender, religious affiliation, sexual orientation, socioeconomic status, and tribal, clan or national differences. These are superseded by Christlike love."
If that love isn't felt, church leaders invited members to change — or repent.
"Jesus Christ has given us a continuous pattern for change," said Sister Becky Craven, second counselor in the Young Women general presidency. "He invites us to exercise faith in Him which inspires us to repent, 'which faith and repentance bringeth a change of heart.' As we repent or change, we gain a greater desire to make and live sacred covenants and endure to the end. Enduring to the end means changing to the end."
"Small, but steady, deliberate changes will help us improve," she added.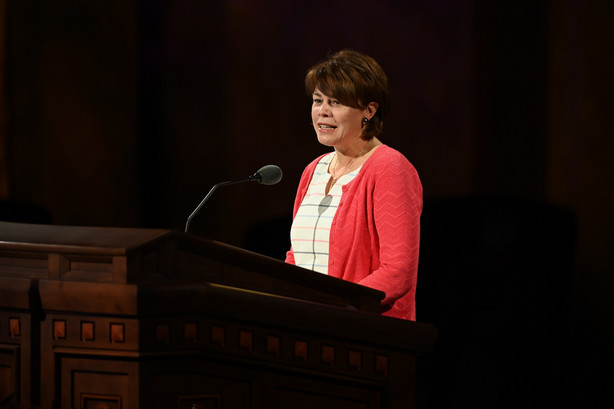 Everyone has a role to play
The responsibility to build up others, including dismantling racism and building bridges of unity and understanding, doesn't just fall on church leaders. It falls on every man, woman and child who calls themselves a Latter-day Saint.
Of particular worth are the women in the church, according to Sister Sharon Eubank, first counselor in the Relief Society general presidency.
"The women of this church have unlimited potential to change society," Sister Eubank said, adding that change will come "less by activism and more by actively trying every day to understand one another."
Everyone has a responsibility to be an example of Jesus Christ, whose name adorns the church and all of its buildings, said Elder Neil L. Andersen of the Quorum of Twelve Apostles.
"As the world speaks less of Jesus Christ, let us speak more of Him," he said. "As our true colors as His disciples are revealed, many around us will be prepared to listen.
"As we share the light we have received from Him, His light and His transcendent saving power will shine on those willing to open their hearts."
×
Related Links