SALT LAKE CITY — After a four-year career at Baylor, Charlie Brewer will get one last collegiate opportunity as a starter — this time with the Utes.
Utah head coach Kyle Whittingham declined to make the news official Monday night when he addressed media, but sources close to the program said Brewer was named QB1, with a decision made over the weekend following Utah's second and final scrimmage of fall camp.
"We'll have a depth chart on Thursday, and that's how we're gonna handle it," Whittingham said Monday. I guess somebody made some predictions or think they know what's up; I guess they have a 50-50 shot, so it might be right. But we'll have a depth chart for you — definitive depth chart — on Thursday."
Whittingham, however, said the team was made aware of the starter in their team meeting Monday.
"It was a fortunate thing we had two really good guys and they will support either one," he said. "Whichever one gets the call, they're going to rally behind and so that's what we expect."
Cameron Rising was technically the incumbent starter going into this year's competition after winning the job last season in a quarterback battle with senior Jake Bentley, and Whittingham said he was "owed" an opportunity to reclaim the spot.
The aforementioned injury, however, meant Rising had only six career passing attempts to his name as a starter and recovery in a year's time was never a guarantee, which is partially why Brewer was brought in from Baylor. But Rising entered camp fully recovered, according to coaches, and kept the competition "neck and neck."
In the end, Utah went with the experienced quarterback who was the perceived favorite to win the job when he joined the program — his 9,700 career passing yards and 65 touchdowns went a long way to establish that, too.
The competition between Rising and Brewer was stiff all fall camp, and both made it "tough the entire time," Whittingham said. But he added there was no "gamesmanship" about waiting to name Brewer the starter. "It's legitimate ... and it's been legitimately complete neck-and-neck competition, and both those guys have done an outstanding job," he added.
Offensive coordinator Andy Ludwig added last Monday that the coaching staff wanted to see a "larger body of work" from the two quarterbacks before settling on a starter.
"They were productive, so I'm fired up about that," Ludwig said. "They didn't make the decision any easier with being that efficient. ... That's a great situation to be in because that's, again, two highly motivated, two football junkies with high football intellect that are playing at a very high level."
And though it's unknown whether the job was won outright or the coaches had to go with who they felt was better to lead the offense, it was Brewer who gets the opportunity to lead the charge for his last hurrah.
"I'm naturally very competitive; I always have been," Brewer said. "I know I was very under recruited out of high school, and that kind of always pushed me and drove me, and I've still got a lot of work to do to get better."
But as Utah got to learn firsthand last season, having a good backup QB is often as valuable as the one named starter. Quality depth is something that can't be understated, so to have Rising, who rivaled a game-tested Brewer, is invaluable to Utah.
"We're gonna have one of the best backup quarterbacks in the country — that's all I know," wide receiver Britain Covey said following Utah's first scrimmage.
"I've said this many times before, but it's just wonderful knowing that it's not a competition where we're searching for a quarterback — you know, you're just desperate to find one," he added. "It's one where you've got two great guys and they are both performing at a high level."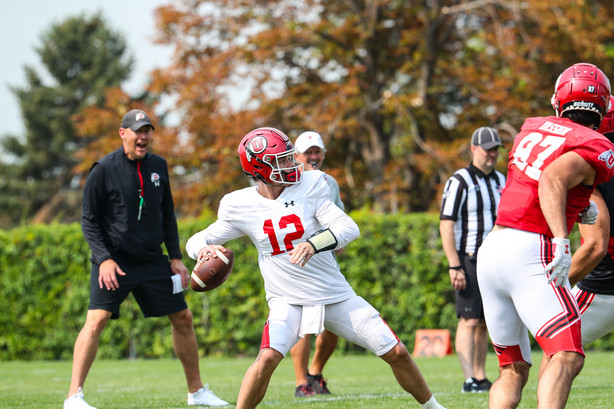 Should Brewer be sidelined for a short time or suffer a season-ending situation like Rising last season, Utah shouldn't miss a step in the team's ability to run the offense under Rising with the competition being so close.
Behind Brewer and Rising was a competition for the No. 3 spot, too, with Ja'Quinden Jackson and Peter Costelli battling it out for the second backup position in arguably Utah's deepest and most talented quarterback room. The QB3 honor, however, is unknown at this time, and Whittingham said Monday that the decision has not been made.
"That's still ongoing," Whittingham said. "We've had some health issues with one of the guys in the battle and so that's kind of slowed that down."
"What makes the third quarterback position so challenging is he's responsible to know everything, be able to do everything, but he's not getting any reps with the offense," Ludwig said.
Utah concluded fall camp Saturday and turned to in-season practices Monday ahead of the team's season opener at the newly expanded Rice-Eccles Stadium on Thursday, Sept 2 at 5:30 p.m. MT against Weber State. The stadium will be the first game setting with the expansion fully complete and with a full-capacity crowd allowed since the Pac-12 excluded fans from games last season due to the pandemic.
×