SALT LAKE CITY — A decision has been made.
After nearly three weeks of fall camp, Kyle Whittingham and his staff have identified a starting quarterback following the program's second and final scrimmage. But that's about as far as the public will know for about a week or longer.
Whittingham said the players, Charlie Brewer and Cam Rising, will be told of the decision any time between Saturday and Monday, with a public announcement likely being made to the media Thursday when Utah releases its preseason depth chart ahead of the season-opener against Weber State on Sept. 2.
"It'll be decided today. It'll be decided in house today," Whittingham said, while adding that he may still keep it private by putting an "or" next to Brewer and Rising on the depth chart. The decision to not publicly name a starter, though, may not be a situation "that serves any benefit for us," Whittingham said.
"On Thursday, you'll have a depth chart of our projected starters."
The competition has long been between Brewer and Rising, with the remaining quarterbacks, namely Texas transfer Ja'Quinden Jackson and true freshman Peter Costelli, battling for the No. 3 spot on the depth chart. Even that QB3 spot will be told to the players likely Saturday.
"It's being sorted out, and we have a pretty good idea," Whittingham said. "We don't want to say anything about that public right now until we tell them exactly what our plans are."
Coming into camp, Brewer was the perceived favorite to win the QB1 job after starting for three seasons at Baylor and amassing 9,700 career passing yards. But Rising didn't miss a beat after recovering from shoulder surgery on his throwing arm and has made it a legitimate competition.
"They've made it tough the entire time," Whittingham said. "It's gonna be a close call, but we feel like we've got enough body of work now to make the call, and they're both really good players. We've got a good situation in that regard where we're picking from two guys that are both very high-quality quarterbacks."
Whittingham added that Rising's return to the field and his high level of play "didn't surprise me," while noting that the coaching staff "owed it to him" to give him another chance since winning the starting job in 2020. In essence, he's still the incumbent quarterback.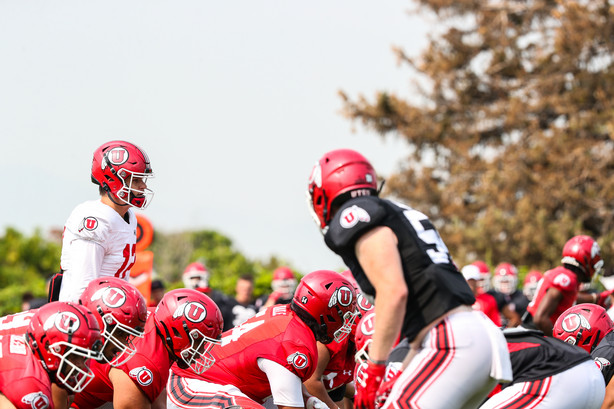 "He won the job last year and it wouldn't be intelligent to not give him every chance to see where he's at, and he's proven that he's back right where he left off last year," Whittingham said. "And then you've got Charlie Brewer who has thrown for 10,000 yards and won 40 something games at this level, or whatever it is, and so he's got his plus side of the ledger as well.
"It's legitimate and we have a guy that — we'll have a guy today that we are going to name and it's been legitimately complete neck-and-neck competition, and both those guys have done an outstanding job."
And though no formal announcement will be made public in the immediate future, Utah will shift to in-season mode with its practice schedule starting Monday. The program will simulate game week, which includes giving most of the practice reps to the first- and second-string players, before starting a true game-week scenario starting Friday with the season-opener the following Thursday.
End of scrimmage notes
Although the depth chart has not been released, Whittingham made mention that Washington transfer Brandon McKinney will be taking first-team reps at safety opposite of Vonte Davis. Kamo'i Latu and Cole Bishop will be the two players that will likely be the immediate backups.
At defensive end, freshman Van Fillinger is getting the early nod to start opposite of Mika Tafua, with freshman Xavier Carlton expected to be the backup role. Whittingham said "a switch has turned on" for Fillinger recently.
At running back, Utah will continue to give all four backs — Tavion Thomas, TJ Pledger, Chris Curry and Micah Bernard — reps. The decision for a starter, or starters, will come from game performance.
Approximately 95% of the team is vaccinated, according to Whittingham, and that's about where it will be for season. That could mean unvaccinated players may not be able to travel based on other state laws, but that's to be determined later.
×
Related Stories