SALT LAKE CITY — The top six of Utah high school football remain unchanged from Week 1 to Week 2 of the 2021 season.
But there was plenty of shakeup as teams started to jockey for position ahead of region play.
The biggest jump came from Syracuse, which used the spotlight of a Saturday morning kickoff at the Charger Kickoff Classic hosted by Corner Canyon to send a massive statement across the sport, steamrolling Brighton 31-7 and sending shockwaves across the Wasatch Front.
"Our D coordinator did a heck of a job and the kids executed the game plan and played hard. We weren't backing down and they were ready to go," Syracuse coach Mike Knight told the Deseret News. "That's a big win for us, that's a dang good football team over there."
Syracuse is the highest-ranked Region 1 team in the poll, moving from unranked to No. 10 in the latest KSL.com Top 20+1. But an equal statement was made by Region 4.
Thanks to a tie at the bottom of the poll, all six Region 4 teams have entered the Top 20+1 in Week 2. The region — often dubbed "the SEC of Utah high school football" is a combined 11-1 in non-region play.
Here's how the top-20 teams stack up ahead of Week 3 of the Utah high school football season.
1. Corner Canyon (2-0)
Devin Brown threw for three touchdowns and ran for another to help the Chargers to their 42nd consecutive victory with a 42-7 rout of East in a rematch of last year's 6A state semifinals at the Charger Kickoff Classic.
Only a thunderstorm could stop the three-time defending champions on offense, who got 109 all-purpose yards and two touchdowns from Trey Kofe for a Chargers' squad that hosts No. 6 Bingham on Friday.
Raw Highlights of Corner Canyon's 42nd straight win over East on Saturday. @HSFBamerica@Zack_Poff_MP@GNLRewind@kslsports@canyonsdistrict@PrepUtah@dbrownqb33@KofeTre@Micah_Wilson11@CarlsenDylan@_codyhagen_@M11Jett@BlazeDegracie@SuteraCasey@KjarEric@MooseB90@bcavi68pic.twitter.com/EBtRTJyfZC

— CornerCanyonFootball (@CCHSFOOTBALL_) August 23, 2021
2. American Fork (2-0)
Let's get this out of the way: The next 3-4 teams could probably be spelled out in any order, and the separation might not be clear until several of them meet in Region 4 play.
American Fork continues to get the runner-up nod after Maddux Madsen threw for five touchdowns and ran for another in a 45-14 win over then-No. 13 Weber in the KSL.com Game of the Week. The Cavemen travel to West on Friday.
T3. Lone Peak (2-0)
The Knights made a big statement with a 31-24 home win over Bishop Alemany, pegged as the No. 9-ranked team in California with seven players in 247Sports' top 50 in the California Class of 2022.
Lone Peak plays its first road game Friday at East.
T3. Skyridge (2-0)
There's a tie at No. 3, and for good reason. McCae Hillstead completed 21-of-30 passes for 284 yards and three touchdowns as the Falcons shutout Woods Cross 49-0.
Just another night of work for Skyridge, which plays Friday at Herriman.
5. Orem (2-0)
Still the team to beat in 5A, the Tigers used a 33-point second quarter to blow by rival Mountain View 68-0. Orem got creative in the scoring column, too, with Mack Hixson's 98-yard kickoff return for a touchdown in the third quarter, and a 12-yard scoop-and-score by River Matthews less than a minute later.
The Tigers travel to 6A Pleasant Grove on Friday.
6. Bingham (2-0)
Dallen Martinez ran for two touchdowns and threw for another as the Miners shutout visiting Bishop Manogue from northern Nevada to improve to 2-0.
Bingham will face its biggest test of the year Friday when it travels to top-ranked Corner Canyon.
7. Timpview (1-1)
The Thunderbirds rebounded from their opening-week loss at Lone Peak with a 54-0 pounding of Kearns. Freshman Zed Ambrosio scored two touchdowns for Timpview, which also took advantage of Taylor Malo's 30-yard pick six and a pair of scores by Teancum Atuaia.
Timpview heads south to face 4A Crimson Cliffs Friday before playing at Bingham a week later.
8. Sky View (2-0)
The two-time defending 4A champion Bobcats got all they could handle from host Bonneville, but rallied from a 12-7 third-quarter deficit to top the Lakers 28-18. Garrett Zollinger threw two touchdown passes and Reed Wilde ran for two more for Sky View, which travels to Rigby, Idaho, for Friday's kickoff.
9. Pine View (2-0)
Two 4A teams in the top 10? There's little argument who the top two teams in the classification are after the Panthers' 35-0 shutout at Highland. Keith Adams scored two touchdowns for Pine View, which also got a 24-yard pick six from Jacob Sersansie in the win.
The Panthers are back in St. George hosting Park City on Friday.
10. Syracuse (2-0)
Talk about a statement victory.
Syracuse went from unranked to the top 10 thanks to a 31-7 rout of then-No. 7 Brighton, scoring 21-unanswered points before allowing the Bengals' lone touchdown with 11 seconds left in the first half.
The Titans smothered the Bengals — who were coming off an impressive opening-week win over Pleasant Grove — by forcing three turnovers and recorded five sacks in the rout. Are they top-10 good? Syracuse can back it up with a win Friday at Westlake.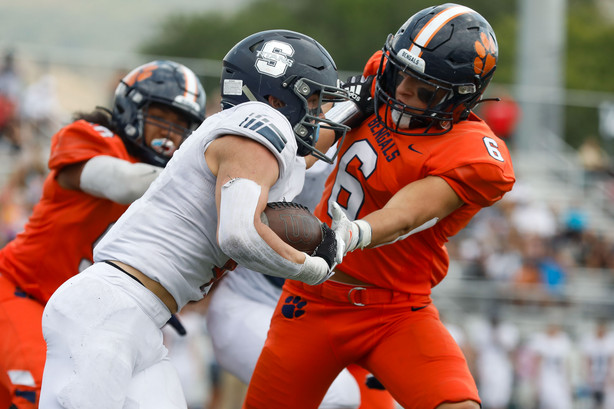 11. East (0-2)
The Leopards are still looking for their first win of the season, but that has much more to do with who they've played than how they've played. East has losses to Orem and Corner Canyon in Saturday's rain-soaked loss in the Charger Kickoff Classic — two teams currently in the midst of unprecedented dynasties — to start off the season.
Things don't get any easier this week, though, with the Leopards are set to host No. 3 Lone Peak.
12. Brighton (1-1)
The Bengals offense was exposed a bit in a surprising loss to Syracuse. Still, QB Jack Johnson was decent when he had time, going 26-of-43 for 215 yards. The problem was he didn't often have a lot of time to throw; Johnson was sacked five times and was hurried plenty more than that.
Brighton will look to bounce back Friday when it hosts Wood Cross.
13. Pleasant Grove (1-1)
The Vikings came back from a 13-0 deficit to edge Maple Mountain and get its first victory of the season. Jaeden Wright rushed for 101 yards and three touchdowns in the much-needed win for Pleasant Grove, which has the only loss in Region 4 play through the first two weeks of the season.
They'll need Wright to step up again in the Vikings' next challenge on Friday against Orem.
14. Weber (0-2)
Like East, the Warriors are winless through the first two weeks of the season. Also like East, they've played a brutal schedule, with losses to American Fork and Bingham — both on the road.
BYU commit Cannon DeVries is a special athlete and he scored his second touchdown of the year last week. The Warriors will want more from him as they host Bonneville on Friday.
15. Fremont (1-1)
It turns out, Fremont's defense doesn't look too bad when they aren't lining up against a top-3 team. The Silverwolves bounced back from a Week 1 loss to Skyridge and limited Roy to just 211 yards en route to a 14-3 win. Wide receiver Kyler Kotter had seven catches for 102 yards and scored two touchdowns for the Silverwolves.
Fremont will look to build on the win Friday against Highland.
16. Springville (2-0)
The Red Devils are beginning to look like a 5A contender after trouncing Skyline 36-7 behind three touchdown runs from Seth Rigtrup. While Springville's defense won't get credit for a shutout, they got pretty close. The Eagles didn't score until there was just 1:18 left in the game, after a thunderstorm drenched the field.
The Red Devils host Bountiful on Friday.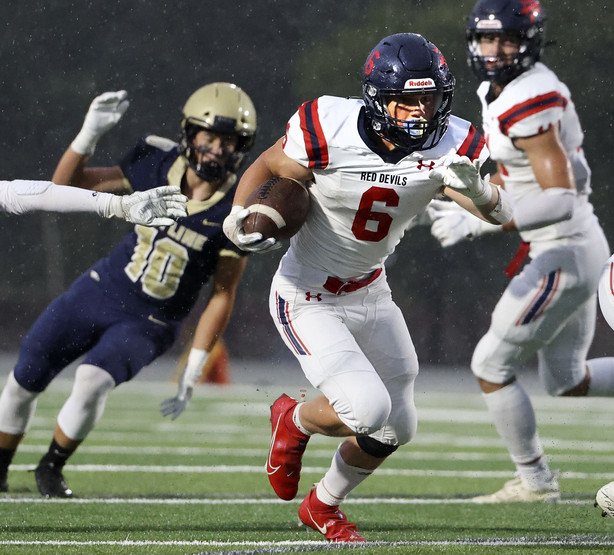 17. Kearns (1-1)
The Cougars were shutout by Timpview 54-0 at the Charger Kickoff Classic. They'll get a chance to bounce back on Friday against Olympus.
18. Ridgeline (2-0)
Kaden Cox threw for four touchdowns to help Ridgeline carve up Stansbury, 42-14. The Riverhawks are looking like Sky View's biggest challenger in Region 11, and maybe one of the top contenders in all of 4A.
Ridgeline can make a North-vs-South statement Friday when it hosts Snow Canyon.
19. Mountain Ridge (2-0)
We might not be able to say this often, so we will now: The Sentinels have the same record as Region 3 rival Bingham.
Ayden Helm threw four touchdowns and ran for another as the Sentinels dominated a visiting Granger team 56-12 to improve to 2-0 on the season. Mountain Ridge's next big test: a road trip to fellow unbeaten Wasatch.
T-20. Westlake (2-0), West (1-1), Herriman (1-1)
The Thunder rolled to 2-0 thanks to a backup quarterback from Hawaii who led four consecutive touchdown drives en route to a 27-13 win over Alta. Meanwhile, West took its first loss of the year from Herriman, which rallied from a Week 1 loss to Sky View on the arm of quarterback Jack White.
The Mustangs host Skyridge on Friday, the Panthers draw American Fork, and Westlake gets Syracuse at home.
---
Plus-1. South Summit (2-0)
Kyler Sudweeks opened the fourth quarter with his second touchdown run to break a 6-6 tie and help the Wildcats to 19-6 with a rivalry win over North Summit.
A year after a disappointing 4-6 season, South Summit has a chance to start 3-0 — and perhaps look like the class of the 2A North again — Friday with a home win over South Sevier.
×
Related Stories