SALT LAKE CITY — Moments after Seth Rigtrup spun into the end zone on a 2-yard run on the first play of the second quarter to give Springville an early 7-0 lead, a thunderstorm enveloped the east end of the Salt Lake Valley and Skyline's brand new campus and football stadium.
So, too, did the Red Devils' leading rusher on the Eagles' defense.
Rigtrup ran for three touchdowns in the first half — including two in a blinding rainstorm — to power Springville to a 36-8 road win Thursday night to open the second week of the 2021 Utah high school football season.
"Tonight was fun. I've never played in rain like that, but it was fun," said Rigtrup, who also had a touchdown in the Red Devils' 41-10 rout of Dixie. "It started off slow. But then we started picking it up, and it was fun. I wasn't expecting that tonight."
Tevita Valeti added a rushing touchdown for the Red Devils, who improved to 2-0 behind a dominant offensive line that didn't care about weather reports or forecasts.
"We do the same thing we always do: play Red Devil football," Rigtrup said. "We've got a good offensive line working hard for us to run the ball, but we've also got some good receivers, too. We're just getting started."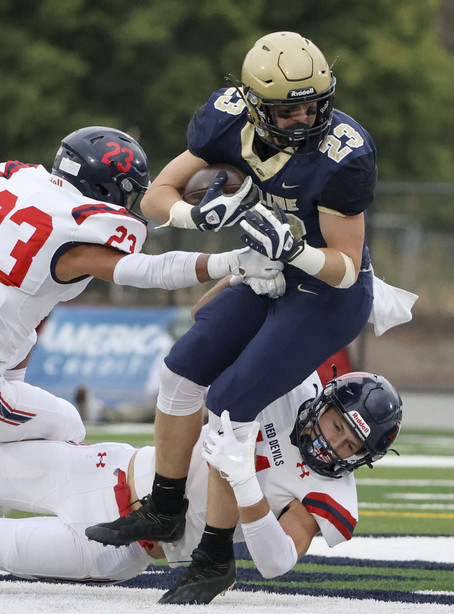 Rigtrup did all his scoring in the second quarter. After opening the quarter with a 2-yard score, the senior tailback converted an onside kick return into an 11-yard touchdown run with 9:45 left in the half.
Less than a minute later, Rigtrup found the end zone after a turnover deep in Skyline territory, a 5-yard score that put the Red Devils up 21-0.
Cole Clement capped the first half with a 20-yard interception return for a touchdown that put Springville up 29-0 after the 2-point conversion.
That conversion? Rigtrup, of course.
"He's a special player," Springville coach Willie Child said of his all-state running back. "He works hard, he's humble, he's a great teammate. He probably wishes the last two games we played him all four quarters. But he's happy for his teammates, too."
Skyline High School of @GraniteSchools dedicates the newly remodeled football stadium, named in honor of legendary former coach Roger Dupaix, ahead of the Eagles' home opener tonight against Springville.

Kickoff is at 7 p.m. MT. #kslpreps | #UTHSFBpic.twitter.com/4CSOYkOiOH

— KSL.com Sports (@KSLcomSports) August 20, 2021
Valeti capped off a run-heavy opening drive for the Red Devils to go up 36-0 in the third, and the rest was history.
Springville also benefitted from turnovers in holding punt-free Skyline behind the 50-yard line until the latter stages of the game, including Ryder Poulson's interception to help salt away a running clock in the second half.
Andrew Rasmussen found Garrett Adams for a 23-yard touchdown with 1:20 remaining, breaking the shutout and to give the Eagles their first touchdown in the newly refurbished stadium named in honor of legendary former coach Roger DuPaix.
Springville returns home to host Bountiful next Friday at 7 p.m. MT. Skyline travels to Orem to face Mountain View.
×
Photos
Related Links
Related Stories