HIGHLAND — Games aren't played on paper, but it was tough not to wonder if the Lone Peak Knights could beat a team like the Bishop Alemany Warriors.
The Warriors' roster is littered with three- and four-star athletes, including seven players in 247Sports' top 50 class of 2022 California state rankings. But that is why games aren't played on paper.
Alemany made the trip out to Utah from Mission Hills, California, and looked jet lagged early on. The Warriors' first snap on offense was a penalty, and that set the tone for the rest of the night.
The Warriors quickly feel behind 14-0 as Knights running back Luke Durfey went right through the secondary of the Warriors defense to haul in a 50-yard pass from quarterback Easton Comer for the first score with 9:50 left in the first quarter. Only 13 seconds later, an ill-timed snap lead to a fumble in the Warriors end zone that was recovered by Knights linebacker Jaxon Tom.
The Warriors responded again with a long drive that concluded when future USC receiver Kevin Green Jr. fought through tough coverage for a 20-yard score with 5:19 remaining in the first quarter.
In the second quarter, Bishop Alemany would again shoot themselves in the foot with another errant snap that led to a safety for Lone Peak with 10:17 left in the first half. The Knights cashed in on the great field position from the safety a few minutes later when Durfey ran in for his second score of the game to give Lone Peak a 23-10 lead they'd hold for the remainder of the half.
Lone Peak head coach Bart Brockbank said Durfey, who also starts at middle linebacker for the Knights, means "everything" to the team. "He's our Swiss army knife. We ask him to do a lot on both sides of the ball and he brings leadership to those units as well."
The third quarter got off to a slow start with neither team finding their footing early. Comer had gone without a touchdown in the second half of last weeks game against Timpview but was determined not to leave his second start in same fashion. He led the team on an 89-yard drive that included several third down pickups before he connected with Tyler Bilbro for the 30-yard score to give Lone Peak a 31-10 lead.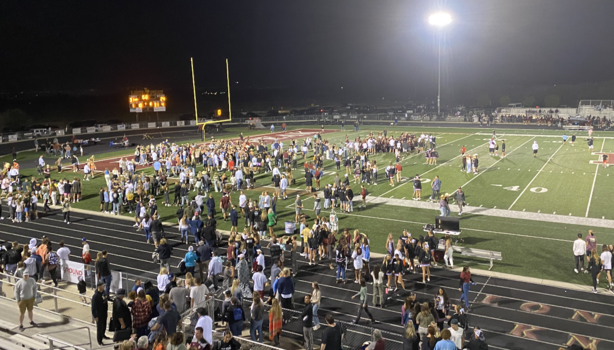 The Warriors made a change at quarterback at the half and brought in sophomore Anthony Wolter to lead the offense. It took him some time to settle in, he led his team on a 14-0 run that included two passing touchdowns in the process. His second TD pass went to four-star corner Ephesians Prysock, who also plays receiver, to put the Warriors in striking distance, 31-24, with 6:43 left in regulation.
The Warriors defense held strong and allowed their offense one last chance to tie or win the game. Their chances looked bleak as they faced a fourth-and-30 situation at midfield but Green Jr. came up clutch and was able to convert on a big catch and run. With the game on the line, it was up to the Knights defense to make one last stand.
With some sticky coverage in the secondary and a big-time sack by defensive end Conner Kelley, the Knights held on to the victory. Once Comer took his final knee, the students rushed the field to celebrate the monumental win.
"It feels good," Dufey said. "Any chance we get to play an out-of-state team and show them how Utah ball is played, we love these opportunities."
Brockbank said he was proud of his team but not pleased they allowed the Warriors to get back in the game.
"Overall, I thought we played a good game and I liked the energy we came out with early," he said "We got a little complacent after we got up by 20, but we did what it took late to keep them out of the end zone."
Watching the students erupt as the clock hit zero was a moment Comer said he won't soon forget. "It was incredible. We knew that everyone was doubting us so to see our offense and defense step up in big moments was amazing."
Lone Peak will travel to East to take on the Leopards next week.
×