SALT LAKE CITY — One week into the 2021 high school football season and a familiar team is back on top.
Or a familiar group of teams, at least.
Not much shake up occurred in the top half of the KSL.com High School Football Top 20+1 preseason edition, but Region 4 rose to the top of the heap.
The 6A region that includes most of the north end of Utah County, as well as three-time defending state champion Corner Canyon, mostly won out in Week 1. The only loss came from Pleasant Grove's 49-24 loss at Brighton — another top-10 team that should contend in Class 5A.
Even Westlake won its season opener, albeit courtesy of Satchiel Hepwroth's 26-yard field goal to lift the Thunder to a 3-0 win over Hunter.
Perhaps the Thunder will debut in a future version of the Top 20+1. but it won't be today.
Here's where the top teams in the state stand ahead of the second week of the season.
1. Corner Canyon (1-0)
USC commit Devin Brown threw for a school-record eight touchdowns — all in the first half — of the Chargers' 72-21 win over Farmington.
It's the most touchdown passes in a game since 2016, and the fourth-most in Utah High School Activities Association history, and helped lead Corner Canyon to its 41st consecutive victory.
Cody Hagen caught four of those touchdown passes, and Jett Meine added two for the three-time defending champion Chargers, who open the home schedule at 7 p.m. MT Saturday against East.
Game 1 Highlights - 8 TD passes by @dbrownqb33, 4 TD rec. by @_codyhagen_, 3 TD rec. by Jett Meine, & 1 apiece for @BlazeDegracie & Jon King. @HSFBamerica@Zack_Poff_MP@GNLRewind@kslsports@KjarEric@sports_audible@MooseB90@bangulo@AirShowWRSkills@PrepUtah@slcoprepspic.twitter.com/eRyA6tsJa0

— CornerCanyonFootball (@CCHSFOOTBALL_) August 16, 2021
2. American Fork (1-0)
Not far behind are the Cavemen, who laid 60 in a shutout win over Granger to open the season.
Boise State commit Maddux Madsen threw five touchdown passes, including a pair to two-way standouts Fisher Ingersoll and Noah Moeaki who helped preserve the shutout on defense.
American Fork hosts Weber in a top-20 showdown at 7 p.m. MT Friday.
3. Lone Peak (1-0)
The Knights jumped in front of 5A challenger Timpview 35-13 on the first drive of the second half, but the Thunderbirds came back before Takeao Hansen's 50-yard onside kick return for a touchdown put the game away for good.
Lone Peak hosts California's Alemany in a nonregion game Friday
4. Skyridge (1-0)
McCae Hillstead threw a pair of touchdown passes and the Falcons shutout Fremont to open the 2021 season across the state Thursday night at home.
Skyridge travels to Woods Cross on Friday.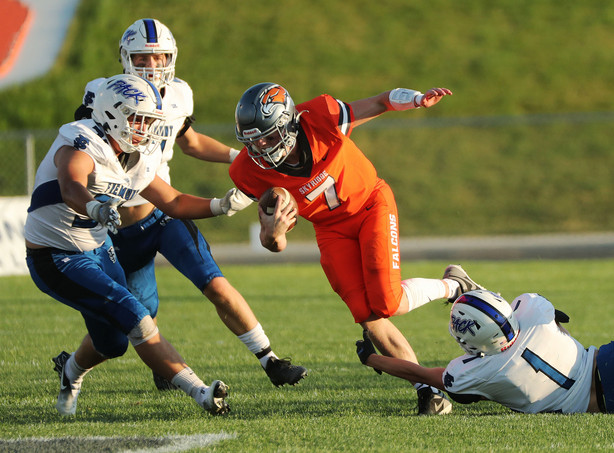 5. Orem (1-0)
The Tigers proved they're still the team to beat in 5A, rolling up 27 first-half points en route to a 27-14 win over East in the KSL.com Game of the Week.
Orem hosts intracity rival Mountain View Friday.
6. Bingham (1-0)
Dallen Martinez helped the Miners jump out to a 35-7 lead early before getting all the could handle out of Weber en route to a 55-35 win.
Bingham hosts Nevada's Bishop Manogue on Friday.
7. Brighton (1-0)
Lander Barton scored on a 95-yard interception return to turn a 10-7 deficit into a 14-10 advantage en route to the Bengals' 49-24 win over 6A Pleasant Grove.
8. Timpview (0-1)
There were plenty of positives to take from the Thunderbirds' road loss to Lone Peak, including Liu Aumavae's two touchdowns to Pokai Haunga and a late one to sophomore Tei Nacua that kept Timpview in the game until the end.
The Thunderbirds continue their four-game road trip to open the season Saturday at 3 p.m. MT against Kearns at Corner Canyon.
9. East (0-1)
Life doesn't get any easier for the Leopards, who face top-ranked Corner Canyon in the Charger Classic at 7 p.m. MT Saturday. East's first four games also include Lone Peak and Park City before traveling to Henderson, Nevada, to face Liberty prior to region play.
10. Kearns (1-0)
Iosepa Toia'ivao threw two touchdowns and ran for two more as the Cougars showed they aren't going anywhere in Region 2 with a 50-21 rout of Box Elder.
The test with Timpview will say a lot about both teams.
11. Pleasant Grove (0-1)
The lone team in Region 4 to lose on opening weekend, Pleasant Grove travels to Maple Mountain to try to get back on track after the Golden Eagles' 55-22 win over Mountain View.
12. West (1-0)
The Panthers took care of business with a 24-7 home win over Clearfield, showing that the defending Region 2 champions aren't going anywhere — even if that region got more crowded with Roy moving over from Region 1.
The Royals will form quite a triumvirate with West and Kearns at the top of the league. But first, a road trip for the Panthers to Herriman on Friday.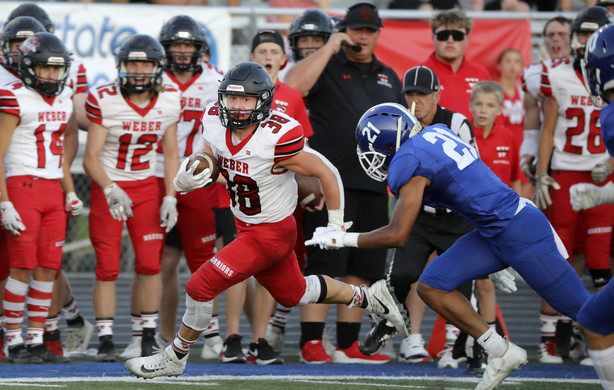 13. Weber (0-1)
The Warriors face a daunting first month of the season but showed a lot of heart in their Week 1 loss. Coming off a 20-point loss at Bingham, Weber next travels to No. 2 American Fork before hosting Bonneville and Farmington as the calendar turns to September.
Will the early slate help prepare the Warriors for a run in the playoffs where they won a game for the first time in eight years last season?
14. Pine View (1-0)
There's no denying that 4A looks a lot different in 2021, with the classification shrinking back to two divisions — a south and north, labeled Region 10 and Region 11, respectively.
And of that group, Pine View continues to look like the class of the south after pulling away from 5A Salem Hills on the road. Can they do it again Friday night at Highland?
15. Sky View (1-0)
If Pine View classes up the south, then Sky View is the same in the north. But with a 21-10 win over 6A Herriman in their collection, the two-time defending champion Bobcats may have plenty left in the tank as they head to Bonneville in Week 2.
16. Fremont (0-1)
Being shut out by Skyridge may not be the worst result by the end of the season. But how Fremont responds against former region rival Roy this week will say a lot about the Silverwolves in 2021.
17. Alta (1-0)
Class 5A might have another contender in Alta, just as the Hawks have another star in BYU commit Maika Kaufusi after he caught three touchdown passes in a 34-27 win at Layton.
But how will the Hawks handle a bigger Westlake squad in their home opener Friday?
18. Davis (1-0)
Trey Talbot's 7-yard touchdown run in overtime said a lot about the Darts, who made a statement in Week 1 with a 21-14 win over Lehi and took their spot in the Top 20.
Can Davis follow it up at home against West Jordan?
19. Roy (1-0)
Parker Kingston threw four touchdown passes and ran for two more scores as the Royals ran all over the Beetdiggers in style. Next up is a former Region 1 rivalry in Fremont.
20. Olympus (0-1)
The Titans also lost to Mountain Ridge last year before sputtering to a 6-5 season. How they respond with three-straight home games against Hunter, Kearns and Murray will determine if 2021 is any different.
Great win with the team last night!! Glad to start the season off with a BANG!!! @mtridge_FBpic.twitter.com/UZtm7fy5AU

— Cade Uluave (@CadeUluave) August 14, 2021
Plus-1. Mountain Ridge (1-0)
The third-year Sentinels opened their second-straight season with a win over Olympus, this one courtesy of two touchdowns from Cade Uluave and a 100-yard kick return on the first touch of the game.
We're not sure how good Mountain Ridge will be by the end of the season, but the 6-foot-1, 215-pound Uluave who has offers from Utah State and Weber State should be appointment viewing for anyone in Herriman.
×
Related Stories