Estimated read time: 4-5 minutes
MURRAY — His Murray auto shop is open as usual, but a sleepless Samiullah Sharifi says he can't help customers.
He stays up all night scrolling Facebook and watching the Taliban's rapid takeover of his homeland on television. In the daytime, he's crafting long-shot plans to help his siblings and parents find a way out of Afghanistan.
"My mind is not working right now," said Sharifi, 29. "I'm always thinking about my family."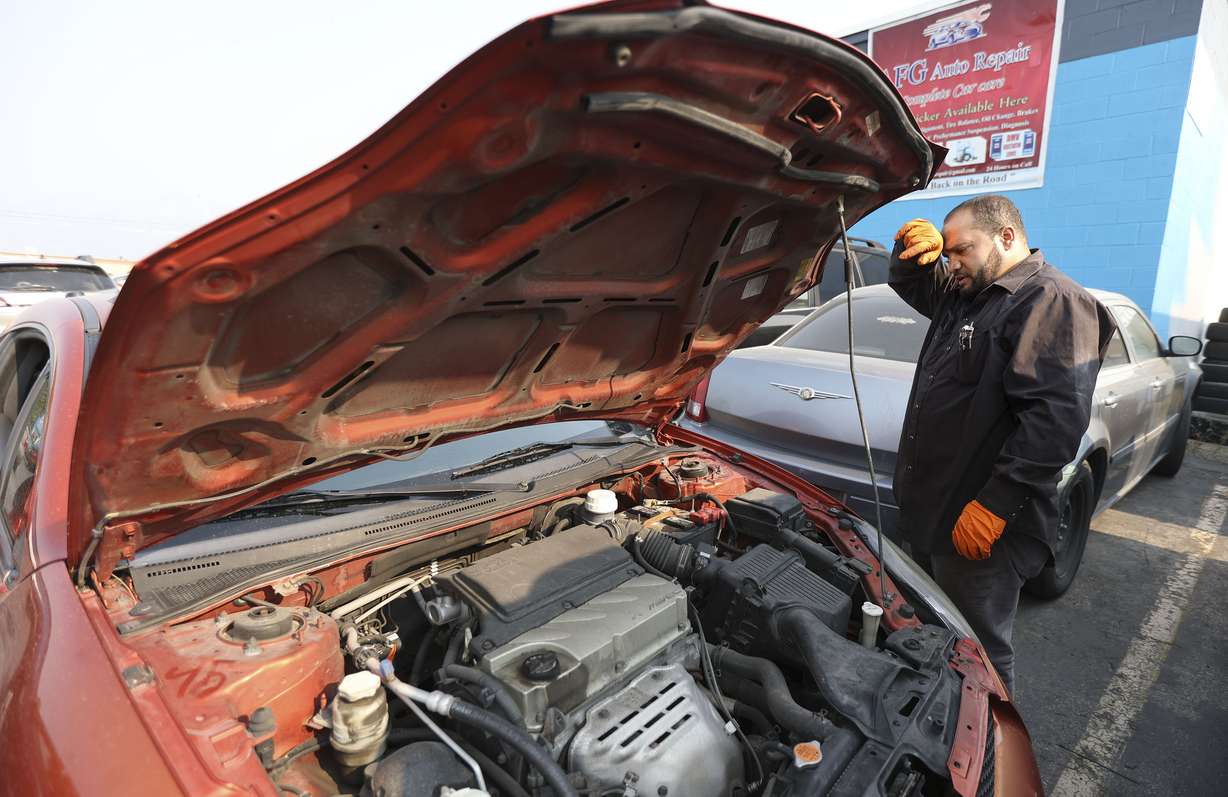 Sharifi, a former interpreter for the U.S. Army, is also thinking about his onetime colleagues as American troops are scrambling to evacuate people from the country.
About 200 translators and their families touched down in Virginia last month, and the Pentagon said Monday it is planning to bring thousands more who have helped the military to the United States. But many remain after President Ashraf Ghani fled the country and the United Nations warned of "chilling reports of severe restrictions on human rights," especially for women and girls.
"We don't know what's going to happen tomorrow, or in five minutes," said Sharifi, who lives in West Valley City with his wife. "I'm thinking no human being in the world cares about the Afghan life. If we're human, we should help each other."
He knew the risks that came with the interpreter job but felt compelled to take it in 2010. He spent four years in the Kandahar and Helmand provinces, he said, under fire most of the time.
Sharifi moved to the United States in 2014 after receiving a special visa for Afghans vulnerable to reprisal for helping American forces. He'll be sworn in as a U.S. citizen at ceremony this Wednesday, but isn't in any mood to celebrate.
While fear is a constant, his frustration is all-consuming as America's longest war comes to a close, he said.
"I put my life at risk, and I have friends that got killed next to me, and I feel bad for my friends that they got killed for nothing," Sharifi said. "We fight for our freedom of our country, but it didn't happen. We were wrong because the people we worked with, they were wrong. And they didn't make the right decision."
Sharifi's friend, Wisal Kamyar, of Heber City, gets a bit more sleep. He wakes up two or three times each night to check Facebook, sometimes venting in his own posts. He's worried about women he knows — including journalists and politicians — who likely won't be able to work again under new Taliban rule.
"At the end, we just went back three decades," said Kamyar, 27. "I just don't know why we lost a lot of lives there. Americans spent a lot of money. But in the end, everything just got destroyed."
As a child, Kamyar stayed in a Kabul orphanage for several years after his father died. He looked forward to weekly visits from American soldiers who brought gifts like notebooks, pencils and chocolates for hundreds of kids there, he said.
"I was thinking, 'Hey, if I learn English, I can work with these guys," he recalled. He also liked the idea of a steady job and good pay.
Kamyar studied English on a scholarship from the U.S. Embassy and by watching every episode — at least twice — of the TV show, "How I met Your Mother." He joined U.S. troops in battle, and for conversations with elders in tiny villages, while working as an interpreter and cultural advisor alongside Sharifi for three years.
Like Sharifi, he moved to Utah on a Special Immigrant Visa. Kamyar now lives in Heber City with his wife and two kids, working at a motel front desk.
He likes Utah's culture of friendliness, he said, and is relieved after doctors at University of Utah Hospital removed shrapnel in his knee from a pair of improvised explosives.
But trying to find a way to bring his mother and siblings to the Beehive State has been difficult. Kamyar has a green card, but he's not U.S. citizen yet.
Several of his friends in Utah, also former military translators, recently returned to Afghanistan for a visit and are still there as most flights are cancelled, he said. They've been sending him updates through the messaging service WhatsApp.
"I really appreciate that we are safe here and everything is very good," he said. "But there's still people there, left behind."
×
Photos
Related Stories