Estimated read time: 5-6 minutes
WEST VALLEY CITY — Angelica "Jelly" Jimenez had waited a year to marry her high school sweetheart, due to COVID-19 restrictions.
On Friday, Jimenez, 26, and Tenzing Dhondup were married. A few hours later, a little after 1 a.m. Saturday as Jimenez and her niece were getting food and heading to her sister's house after the wedding reception, they were hit by a suspected impaired driver going the wrong way on I-15.
"What was supposed to be one of the happiest days of her life was also the worst day of her life," Jimenez's sister, Rachel Vigil, said Monday.
"She was only married about seven hours before her life was taken."
Jimenez's death was one of six resulting from five fatal crashes on Utah's freeways over the weekend.
"It would seem like the weekend just wouldn't stop," a frustrated Utah Highway Patrol Col. Michael Rapich said Monday during a press conference to discuss what they called an "incredibly deadly weekend."
Rapich said the number of fatal crashes and the number of people killed on the state's highways are up more than 50% from 2020. And last year's numbers were up from the year before that, he said.
As of Monday, 188 people have been killed in 2021 in Utah in 164 crashes. That is up 63% from last year, the UHP stated.
But those deaths are more than just statistics, the colonel emphasized. Each of those crashes has left a family without a loved one and a community in mourning.
"I think we get numb to the idea when we hear these things that 'it's just another traffic collision, it's just another fatal highway statistic.' It's not. Fatal crashes are horrible. They're devastating. They're violent. And they result in devastating impacts and consequences for family members to victims and communities throughout the state," he said.
At Monday's press conference, members of Jimenez's family were invited to speak about how Jelly's loss has impacted them. About 10 friends and family members were in tears as they remembered the mother of two, who was a few weeks away from adopting a third child.
"She was the most loving person that we've known," Vigil said. "She was loved by many, many people. … She's going to be deeply, deeply missed by many."
Dhondup became very emotional when it was his turn to speak, managing only to say a few words.
"She was everything to me, and they took her. I want to know why," he cried.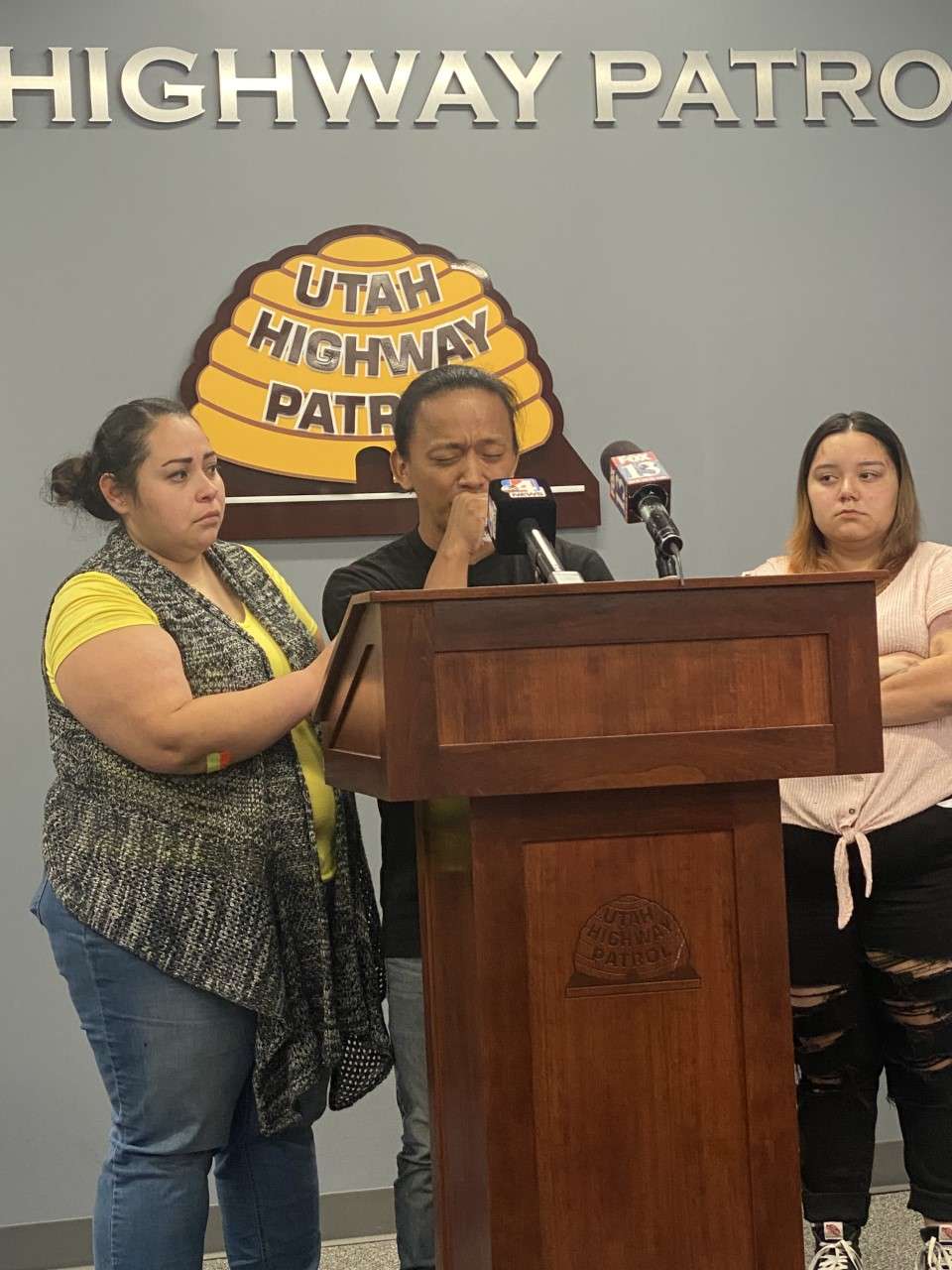 Following the wedding reception, Jimenez and her niece, Marisol Demorst, were driving to get something to eat and drop off Jimenez's wedding dress and gifts at her house before going to her sister's place. After they got food, Jimenez, who had been in the passenger seat, switched to the driver's seat. Both women were wearing their seat belts.
Near 2250 South on I-15, Jimenez's Toyota Corolla was hit head-on by a Toyota Tacoma going the wrong way.
"We were just talking, and before we realized it, it was too late. We were hit," Demorst said. "It happened so fast."
Before succumbing to her injuries, Vigil said Jelly was able to call a family member on her phone.
"She called for help. Said she was in severe pain. … She was only on the phone for two to three minutes. She started having an asthma attack," Vigil recalled.
Demorst was initially unconscious and doesn't remember much about the crash. When she came to, Jimenez was not responding. She was in tears as she recalled trying to wake up her aunt.
Now, Demorst said, she has been unable to sleep because every time she closes her eyes she sees the truck that hit them.
"Every bright light I see turns into a headlight," she said.
The driver of the pickup, Manaure Gonzalez-Rea, stole another person's vehicle after the crash, according to a police booking affidavit. He was stopped on the Redwood Road off-ramp from I-80 and arrested. Gonzalez-Rea was booked into the Salt Lake County Jail for investigation of automobile homicide, theft, failing to remain at the scene of an accident involving death, DUI and reckless driving.
Before she was killed, Jimenez spent the night talking about how much she loved her siblings.
"Jelly spent her last living hours talking about her family," Dermorst said. "What was such a sweet night filled with laughter and joy was cut short by a driver who had got on the freeway the wrong way and hit us."
Other fatal crashes over the weekend:
A 37-year-old woman from Colorado, whose vehicle left the road for an unknown reason on I-70 in Sevier County and rolled several times, was killed. That crash happened Saturday about the same time Jimenez was hit.
A 67-year-old motorcyclist failed to negotiate a curve on I-84 in Morgan County and hit a cable on Saturday and was killed.
Saturday night on U.S. 6 in Spanish Fork Canyon, a Mazda-3 crossed into oncoming traffic for an unknown reason and struck an Audi A5 head on. Both the driver and passenger of the Mazda, two women ages 28 and 27, were killed.
Sunday morning, a Chevrolet Cruze hit a semitruck after the driver of the Cruze fell asleep at the wheel, the UHP stated. Both vehicles either slowed or came to a stop. A Nissan Rogue failed to slow down for the semi and crashed into the back of the rig. The 77-year-old man driving the Nissan was killed.
Rapich said the problems associated with impaired driving, extreme speeds, distracted driving and people "pushing the limits" on how long they are driving during road trips and later experiencing fatigue, are all getting worse.
"As a driving culture, we have become way too comfortable in how safe our vehicles are. We have vehicles that can drive very, very fast, and can do so very comfortably," he said. "When people are making decisions to be out on the roadway, especially if they're making the very stupid decision to get behind the wheel after they've been drinking and impaired — especially if they're impaired to the point they can't tell they're driving the wrong way on the freeway — is unacceptable, it's bad behavior and has horrible consequences. And we're trying to bring as much attention to that as we can.
"In the state of Utah, we're seeing more high speeds. We're seeing more intoxicated drivers. We're seeing more distracted driving … and we need to change the curb on that. It's important. Driving is serious business and it needs our attention."
×