Estimated read time: 3-4 minutes
This archived news story is available only for your personal, non-commercial use. Information in the story may be outdated or superseded by additional information. Reading or replaying the story in its archived form does not constitute a republication of the story.
SALT LAKE CITY — A 26-year-old woman was killed in a wrong-way crash after 1 a.m. Saturday on Interstate 15, just hours after her wedding.
Family members held a vigil Saturday night in her honor.
Angelica Dhondup's family said she was heading home with her cousin to drop off some presents, but she never made it back to her new husband.
"Purple is her favorite color, it always has been," said Tayler Craft, Dhondup's best friend.
The family released purple balloons into the sky for the "forever bride."
Purple balloons for a forever bride: Family members gather to mourn the death of 26yo Angelica "Jelly" Dhondup, the day after her wedding. @UTHighwayPatrol troopers say Dhondup was killed by a drunk wrong-way driver. Her cousins tell me she died in her wedding dress 💔 . @KSL5TVpic.twitter.com/9mHAK8N5dY

— Garna Mejia KSL (@GarnaMejiaKSL) August 8, 2021
"I remember when we would play Barbies, she would always tell me how she was going to have this beautiful wedding," Craft said.
But instead of celebrating her wedding, family and friends are mourning her untimely death.
"She can't even go to her honeymoon. She can't even come home to her kids," said Craft. "To think about what he did to somebody on their wedding night, when she just got married five hours ago."
Dhondup was at her own wedding reception late Friday night, but on the way home, she was hit by a wrong-way driver near 1700 South on I-15.
The driver was traveling southbound in the northbound lanes.
"She went to go drop her wedding gifts off and she was on her way back to the party. She was not even a mile away," said Craft.
Dhondup was traveling with her 20-year-old cousin, who was released from the hospital on Saturday afternoon.
Family members said the cousin was the driver and Dhondup was in the passenger seat.
After the crash, the 26-year-old made one last call to her sister.
"She called her and told her that she got into a wreck and she was hurt bad and she couldn't breathe," Craft said.
Her friends said Dhondup died shortly after the call. She was still wearing her purple wedding dress.
"I love her so much and it makes me so sad. She's such a good person, she's such a good mom," said Craft.
As for the wrong-way driver, troopers allege that he stole a good Samaritan's truck and fled the scene.
"He didn't even think, 'Oh, is this person OK? I did something.' He literally injured and murdered somebody," said Larissa Torrez, another one of Dhondup's friends.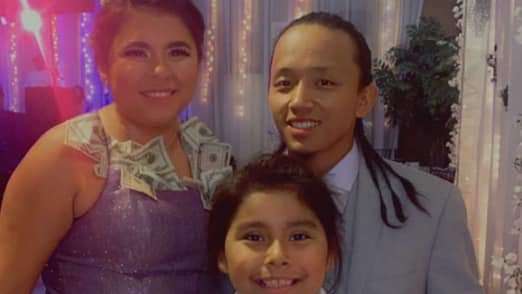 "They got to say their 'I Dos,' but they didn't get to live on for everything else," said Craft. "They had a whole life planned out together and he just cut it short."
There was also a passenger with the alleged drunk driver who fled on foot, but later returned to the scene, police said.
Troopers said the alleged drunk driver suffered only minor injuries in the crash.
The drunk driver could face several charges, including vehicular homicide, driving under the influence and vehicle theft.
Dhondup's family is pleading with drivers not to drive drunk and always wear a seatbelt. They're not sure if their loved one was wearing one.
"Anything could come at any time. Hold your family members close," said Craft.
A GoFundMe* account has been set up for the victim's family to help cover funeral costs.
*KSL.com does not assure that the money deposited to the account will be applied for the benefit of the persons named as beneficiaries. If you are considering a deposit to the account, you should consult your own advisers and otherwise proceed at your own risk.
×
Most recent Utah stories