PROVO — Puka Nacua walked off the practice field at BYU and took a moment to soak it in.
Wearing a blue jersey with the nameplate "P. Nacua" on the back, he turned to look at the fellow wide receiver next to him — with the nameplate "S. Nacua."
For Puka and Samson Nacua, they were home.
So, too, was the rest of the BYU football team as the team opened fall camp Thursday morning. For the first time since 2019, the team was together — players, coaches and support staff — with a small group of volunteers and media allowed to watch the final moments of practice.
And for a player like Puka Nacua, the former Orem High star who made waves this offseason by announcing he would transfer from Washington to play out his career with his older brother in the duo's hometown, the feeling was as clear as the broad smile spread across his face.
"This is my favorite time of the year, honestly," Nacua told KSL.com. "I know everybody likes to talk about fall camp, and it definitely can become a dread. But this is what I signed up for: every day, nonstop football, nothing but football.
"We're here by 7 a.m., and it's football the rest of the day. My dream job is to go play in the NFL and to make a living with it."
After last year, the Cougars know they can't take a day for granted.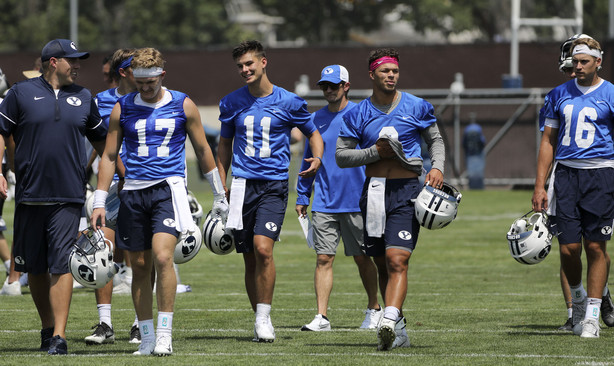 Sure, they went on to a wildly successful 2020 campaign, an 11-1 record and top-15 national ranking in each major poll. It was a season that propelled former quarterback Zach Wilson to the No. 2 pick in the NFL draft, left tackle Brady Christensen into the third round, and a host of other former BYU players into the league.
But it was also a year that started without a schedule, as one-by-one nearly every other opponent fell off the Cougars' planned template for the 2020 season due to the COVID-19 pandemic.
When BYU met at this time last year, they didn't have an opening day opponent — or most of the schedule. They were just playing "for the love of the game," quarterback Jaren Hall remembered.
"We didn't know if every day was going to get canceled," said Hall, one of three quarterbacks vying for the starting job along with fellow sophomore Baylor Romney and freshman Jacob Conover. "In that aspect, knowing who you are going to play, to scheme, to think about them, it's different.
"It's the same mindset of getting better every day."
It's why the smiles were clear on the opening day of camp. Sure, it can be a grind. But it's the right kind of grinding, with vaccines being more available and life reopening, both on campus and off it around Utah County.
It's also why players and coaches were fully cognizant — and appreciative — of what they had when they got together Thursday.
"We're going to keep talking about that, too," BYU offensive coordinator Aaron Roderick said. "We need to make sure we keep appreciating it. A year ago, it was a tough year for a lot of people. We made the most of it, but we don't want to lose sight of how precious every opportunity is, every rep, every day.
"It's a gift, and we've got to make the most of it."
For me, it's appreciating the little things that keep the Cougars going. From newcomers like Boise State transfer quarterback Cade Fennegan, who was wearing the No. 11 jersey Thursday, to old-timers like Hall, who has spent four seasons with the program but still retains his sophomore season of eligibility.
About those quarterbacks, Roderick knows the questions about the starter will come. He's still hoping to make that decision midway through camp, with 7-10 days left of preparation for the Sept. 4 opener against Arizona in Las Vegas.
But he also wasn't prepared to get into those decisions Thursday. The Cougars are still installing their offense under the first-year offensive coordinator, and Day 1 was "good, but not great," by his own admission.
"For day one, we did a lot of good things," Roderick said. "Since the install is kind of limited, some of your best plays aren't in yet.
"We have a really good defense; our good defense is good."
Even in struggles, though, it was good to be back.
"It's great to be back, but we're trying to keep that same edge that we had a year ago when we were just practicing for days not knowing who we were playing," Roderick said. "That's our theme this year, to keep that same edge and that same love for the game, when we were just trying to get better."
×
Photos
Related Stories