PROVO — Yes, the schedule was watered down as a result of the COVID-19 pandemic.
While BYU had every intention of playing a loaded schedule filled with Power Five teams, Pac-12 powers, and a handful of others in 2020, the rest of the country didn't have the same intention.
At one point, the Cougars were the only program west of Texas playing any form of a season at all. Putting together a schedule that ended up including the likes of Navy, Troy, Houston, Western Kentucky, Boise State and Coastal Carolina should be considered a success — yet alone going 11-1 against such a schedule. The Cougars averaged a 29 point margin of victory against that scheduled, with an average of 204 more yards of offense.
In 2021, BYU won't have the same excuse of a light schedule.
The Cougars are scheduled to play seven Power Five programs, including five from the Pac-12, as well as regional rivals Boise State and Utah State. It all starts Sept. 4 against Arizona in Las Vegas.
"All the work we've done during the summer is going to pay off," BYU coach Kalani Sitake told BYUtv. "Focusing in on Arizona gives us a little more feel of normalcy. We're just hoping to have similar results, to performance at our best.
"I'm really looking forward to starting fall camp in much more normal circumstances than last year."
It's likely that BYU will take a step back, at least in its record. Optimistically, the Cougars are looking to reload rather than rebuild, of course. But how much of a step back will still be considered a success at the end of the year?
That will be a key question the Cougars will need to answer all season, and it starts Thursday with the advent of fall training camp. Here are four other things to keep an eye on.
Who's the quarterback?
You'll probably hear this one every time head coach Kalani Sitake meets with the media between now and Sept. 4, so get used to it.
But between returning vets Jaren Hall and Baylor Romney, as well as four-star freshman Jacob Conover, the answer might not matter too much. BYU returns seven starters on offense, adds a pair of dynamic wide receivers in brothers Puka and Samson Nacua, and has the ability to rely on Doak Walker Award candidate Tyler Allgeier in the backfield.
So whether the final answer is Hall, Romney or Conover, the result should be the same. And as previous seasons have shown at BYU, the Cougars may need all three quarterbacks — and beyond — to navigate this schedule.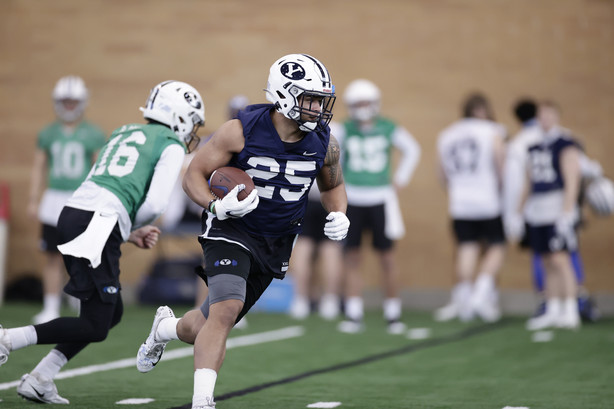 What will Tyler Allgeier do for an encore?
Were it not for Wilson's meteoric rise to No. 2 pick in the NFL draft, Allgeier likely would've been the biggest breakout star of BYU's 2020 season.
The bruising sophomore tailback whose career started as a walk-on before moving to linebacker and back to running back ran for 1,130 yards and 13 touchdowns — including five 100-yard games — in what was BYU's first 1,000-yard season since Jamaal Williams in 2016.
What can he do next, with a group that is replacing three key members of the offensive line and a new signal caller? At least Allgeier will be able to rely on co-starter Lopini Katoa, who had 451 yards and five touchdowns a year ago.
What's with the defense?
As noted, the Cougars return just four defensive starters in 2021, a group largely in the defensive backfield.
Perhaps the biggest changes will come up front, where former standout Khyiris Tonga is off to Chicago Bears preseason camp. In his place, the Cougars were look to Lorenzo Fauatea, Earl Tuioti-Mariner and returning lineman Uriah Leiataua, who is one of three "Super Seniors" taking advantage of the NCAA's free year of eligibility on the roster.
High-upside freshman Tyler Batty gives the Cougars a pass rusher, but the former Payson High standout played in just four games (and made four sacks) as a true freshman before limping to the finish line. Pepe Tanuvasa, Keenan Pili, Payton Wilgar and Max Tooley will need to take on much larger roles to fill several shoes at linebacker.
Quarterback gets all the clicks. But how BYU replaces much of its departed defense will be a constant question untl the Cougars line up against Arizona.
Who was calling the plays?
Aaron Roderick gets the chance to prove just how good of a full-time play-caller he can be in his first season since being promoted to offensive coordinator.
The former Utah offensive coordinator was heavily involved as quarterbacks coach and passing game coordinator under Jeff Grimes, who left for the same job at Baylor after three years with the Cougars. But fans have debated endlessly over which plays were called by which coordinator for over a year.
Now, the buck stops with Roderick, who will receive all the credit — and also the blame — of a new offense, new quarterback and more difficult schedule in 2021.
BYU's players aren't the only ones who will need to rise to the occasion this year. Its coaching staff will, too.
Will conference realignment cast shadow over 2021?
When Texas and Oklahoma announced their intentions to leave the Big 12 and bolt for the SEC in 2025, the college football world was thrown into the same conference realignment frenzy of a dozen years ago.
Any time the Big 12 has an opening — and it would presumably have several, with only eight institutions left to fend for themselves — BYU's name will be brought up. This time, however, the Cougars are in a unique spot: Is the Big 12 the Power Five conference that BYU has sought to join since eschewing the Mountain West for an independent schedule in 2011? Or is the shell of its former self on its final legs?
These questions will have nothing to do with the 2021 season, on the field, at least. But you can bet they'll be talked about on ESPN every time the Cougars kick off.
×
Related Stories