Estimated read time: 6-7 minutes
PROVO — There were several reasons for Washington wide receiver Puka Nacua to transfer and be closer to home at BYU.
The same went for Utah wide receiver Samson Nacua, the elder brother sandwiched between Puka, former BYU safety Kai Nacua, and former BYU defensive lineman Isaiah Nacua.
Almost none of them had anything to do with football. Most of the reasons, in fact, were about family.
"We were just talking this year, and something in the conversation brought us to never having the opportunity to play with each other," Puka Nacua recalled. "That was what kind of sparked the conversation that BYU would be the place to do it, to come back home and play in front of mom."
The brothers decided that after Puka, who starred at nearby Orem High, and Samson, who went to Timpview shortly after the family moved from the Las Vegas area while their eldest brother was at BYU, were able to complete the transfer, they were going to do it. That they grew up a few miles away from BYU's campus — just off the same 900 East that borders BYU's campus, and close enough to walk to LaVell Edwards Stadium on game day — made Provo the perfect setting.
They only needed one more signature to make it happen. And that wasn't head coach Kalani Sitake or anyone from the university's admissions office.
"Once mom cleared it, we were good to go," said Samson Nacua, who said on social media that his transfer was related to his late father Lionel's wishes.
With the Nacua brothers enrolled — including Samson in graduate school — and on campus for player-run practices, the Cougars' wide receiving corps received a serious shot of talent. A position with some depth but a few question marks got even deeper in 2021.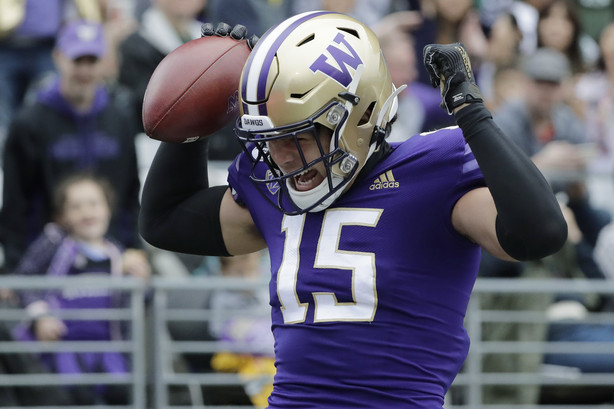 BYU already returned one of its top wide receiving targets from a breakout 2020 season in Gunner Romney, the 6-foot-3 junior who caught 39 passes for 767 yards and two touchdowns during a COVID-impacted first-junior season.
That ranked second on the team, only behind seventh-round NFL draft pick Dax Milne, who had 1,188 yards and eight touchdowns. But the Cougars also returned the next eight pass catchers on the list, including wideout Neil Pau'u, tight end Isaac Rex, and running backs Lopini Katoa and Tyler Allgeier.
But adding two Pac-12 receivers to the fold isn't a bad thing, either.
Puka Nacua was a first-team All-American and Utah player of the year as a senior at Orem in 2018 before playing two seasons at Washington, where he averaged 19.9 yards per catch for 319 yards and three touchdowns.
His older brother Samson Nacua played 45 games at Utah, including eight starts, totaling 1,016 yards and 11 touchdowns between 2017 and 2020 in a less-than-wide-open offense. He also led all Utes receivers in touchdowns in 2018 and 2019 with nine total.
Add it to Romney, Pau'u and the twin tight ends of Rex and recently returned missionary Dallin Holker from Lehi, and the Cougars are sure to have plenty of skill position talent — no matter who among the contestants of Jaren Hall, Baylor Romney and freshman Jacob Conover finally win out in the three-way quarterback derby during training camp.
"Rarely do you see two slot receivers who are both 6-4," Puka Nacua said. "It'll be hard; I know we have great tight ends, as well, but I think Neil, Gunner on the outside and Samson running down the middle — well, watch out, tight ends."
The only regret — if you can call it that — is that Puka Nacua played two seasons at Washington before opting to transfer home to BYU. The Cougars recruited him heavily in high school, before the top skill position player in Utah in his class committed to former Washington coach Chris Peterson on live television in the middle of a snowstorm.
Nacua doesn't fully regret his choices, but he voices some frustrations to wide receivers coach Fesi Sitake after completing his transfer to BYU. And Sitake responded that there was no reason or need for remorse.
"To be honest, I'm glad I get them at this time," Sitake said of the Nacua brothers. "I'm getting more polished, experienced, mature versions of who they are.
"I just told him, it was meant to be. He was meant to go to Washington, and now he's meant to be here. He could've just come here because his brother did, and when adversity strikes — and it does and it will — I would rather have him be glad he is here. I'm glad I get both of them where they are at right now in their lives. They've been unbelievable for our group."
Having that early connection also helped the younger Nacua when it came time to leave Seattle.
"I was always at the games, especially when (running backs coach Harvey Unga) was coming in. We played basketball with him all the time," Puka Nacua said. "It made it a lot smoother, knowing that the coaches who recruited me are the same coaches still here. It made it way easier to come back home to familiar faces."
Samson Nacua also returns home to Provo after a standout career on the Hill — but he's not entirely complete. The graduate senior was free of his trademark flowing long hair — locks that were often accompanied by pink, red or rainbow dye during his time with the Utes — which is still something he admits to missing.
"I didn't realize it until I committed," Samson Nacua said. "And then people DM'd me and said, 'bro, but the Honor Code. Your hair!' I had no idea.
"You know the story of Samson, that once he cut his hair, he lost all his power and stuff?"
Such concerns beg the question: did Samson Nacua get the name of his barber?
"It was Delilah," he responded, smiling, without missing a beat. "She got me good."
Regardless of haircuts and the Honor Code, Samson Nacua is also happy to be in Provo — alongside his brother, down the road from his mother and grandmother, and close to his siblings — including Tei Nacua, a rising sophomore wide receiver at Timpview who already holds offers from both BYU and Utah.
Both Nacuas are more than happy with their decision. Sure, BYU doesn't officially carry the designation of "Power Five program" like their previous schools did.
But Samson Nacua offers a challenge who thinks the Cougar wideouts won't be up to snuff this year.
"I would tell them to come to practice and see if it's a step down," he said. "I don't think it's a step down; it's definitely run differently, like every program. But there's no step down here.
"You saw what happened last year; that doesn't come as a fluke."
Top BYU wide receivers entering 2021
Name, 2020 receiving stats
Puka Nacua, 319 yards
*Gunner Romney, 767 yards, 2 TD
*Neil Pau'u, 603 yards, 4 TD
Samson Nacua, 29 yards, 1 TD
Keanu Hill, 70 yards, 1 TD
*returning starter
×
Photos
Related Stories