Estimated read time: 5-6 minutes
This archived news story is available only for your personal, non-commercial use. Information in the story may be outdated or superseded by additional information. Reading or replaying the story in its archived form does not constitute a republication of the story.
SALT LAKE CITY — Utah climate experts are praising Utah Sen. Mitt Romney for his role in the $1 trillion infrastructure bill saying that the bill is an important — but certainly not the last — step in addressing climate change locally and nationally.
The Infrastructure Investment and Job Act is a bipartisan effort backed by President Joe Biden that allocates funds to upgrade roads, bridges, mass transit, waterworks, electric grid and broadband services.
Romney called the bill a "historic investment that delivers for Utah." The bill includes investments into Utah's highways and roads; funding for wildland mitigation and recovery; funds that provide water for municipal use, mitigation, hydroelectric power, fish and wildlife and conservation. It also addresses and allocates funding toward droughts, grants toward Utah's airports, and broadband services to Utah's underserved communities.
Republican and Democratic senators clashed over amendments throughout the week as the bill's progress through the Senate was slow. Romney addressed his colleagues on the Senate floor stating that while the bill isn't perfect, it is the result of months of negotiation.
"I want to note that if the Democrats were to have written the bill entirely on their own, Utah would probably have ended up with the short end of the stick. Because of our involvement in this effort, some of our rural states like mine have been able to have a seat at the table. This means limiting the spending on bad policy that only benefits the rich, coastal cities in the East and the far West," Romney said.
"So I'm proud of this bill because it benefits Americans across the country."
Talks were underway Thursday in the Senate to expedite consideration of the nearly $1 trillion proposal, with votes expected in the days ahead.
Utah Clean Energy Executive Director Sarah Wright said the bipartisan effort was important and that the step acknowledges the nonpartisanship of climate change.
"Climate change, it doesn't pick winners and losers, it just impacts different states differently," Wright said. "There's no partisanship in science and in what we're facing. It's not a Republican issue, it's not a Democrat issue. Sometimes there's differences of how we think we should address the problem, but we all need to come to the table and decide that we do need to address the problem."
That difference in addressing the problem can be seen between Romney and fellow Utah Sen. Mike Lee, who sit on opposite sides of the bill. Lee put forth an alternative to the Infrastructure bill, a combination of the Transportation Empowerment Act, the UNSHACKLE Act, and the Davis-Bacon Repeal Act. Lee said the bill would allow more federal infrastructure projects to be built quicker and more affordably.
The amendment was defeated with a 20-78 vote from senators on both sides of the aisle.
Lee has been a vocal critic of the bill, saying that government spending has led to an increase in inflation and the price tag "risks our children's future."
Wright acknowledged Lee's and others' concerns regarding the cost.
"Yes there is a cost to address climate change, undeniably, but the cost of not addressing climate change will be more, and we'll be leaving those costs and those headaches with our kids. The drought that we're seeing today — and I'm not one that likes to be a fear-monger — but you know, that's just the tip of the iceberg," Wright said.
Utah State University physics professor and Utah Climate Center associate Robert Davies pointed to extreme climate events that Utah has faced over the years.
Utah has experienced warming at about twice the global average over the last 40 years with some areas experiencing that warning at a rate of nearly three times the global average, according to Davies. Among temperature extremes are changes in Utah's precipitation patterns and the movement from snow-driven hydrology to rain-driven hydrology.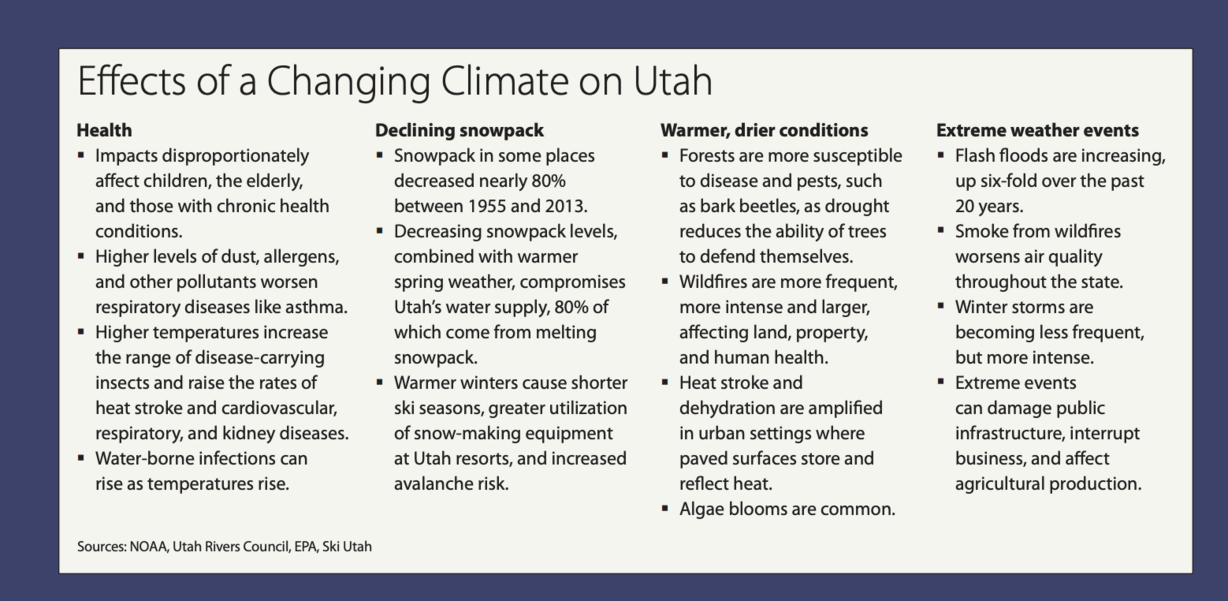 Climate change and extreme weather events such as flash flooding, an increase in wildfires and droughts have had high impacts on things such as air quality, food systems, access to water and infrastructure. The infrastructure bill has elements of what Wright and Davies call mitigation and adaptation, addressing climate change and adapting to conditions brought on.
"What does it cost to take the steps necessary to preserve a climate that is survivable by human civilization? And let's follow that question by another question which is what does it cost, not to do it," Davies continued, "We're in a crisis. We're in a crisis that is existential, meaning that you really don't survive if you don't rise to meet the crisis. What it costs you not to meet the crisis is everything."
Davies emphasized that there is a way of addressing the crisis that is economically responsible and beneficial. The climate researcher acknowledged the challenges different places will face as the nation attempts to mitigate climate change. He pointed to Utah's reliance on burning fossil fuels, principally coal, and the communities built around that need.
Part of the government's roadmap and infrastructure spending should be focused on communities disproportionately affected, Davies said.
"The cost of inaction is going to be a lot more expensive than the cost of action," Wright echoed. "We have a once-in-a-lifetime opportunity to do the right thing to leave a livable planet for our kids and our grandkids here and around the world."
×
Related stories
Most recent Utah stories