Estimated read time: 10-11 minutes
This archived news story is available only for your personal, non-commercial use. Information in the story may be outdated or superseded by additional information. Reading or replaying the story in its archived form does not constitute a republication of the story.
SALT LAKE CITY — Utah's ongoing drought situation has gotten severe enough that Gov. Spencer Cox has issued multiple drought-related executive orders regarding it as communities across the state have also warned about overconsumption.
There are also signs of how dry it's gotten in Utah. Just last week, the Great Salt Lake temporarily reached its lowest levels on record.
Cox has, throughout the past few months, referred to Utah's situation as the worst drought Utah has experienced since 1956, if not ever. So is this really the worst drought in Utah's history?
Yes and no.
It's complicated and the answer may depend on what you consider drought and how far back you go in history. Regardless, experts say the conditions do paint a bleak picture of the current conditions and possible future for Utah.
The ways to measure drought
The reason the question isn't easy to answer is that droughts can be measured and even defined in many ways. First, droughts can be measured through precipitation records, streamflow and, especially recently, soil moisture levels.
Then there are different types of drought that exist. There are meteorological, agricultural, hydrological, socioeconomic and ecological droughts, according to the University of Nebraska's National Drought Mitigation Center. The center is perhaps best known for publishing weekly United States Drought Monitor maps along with a few federal agencies.
All of the ways to measure droughts and the five types evidently link together. That is, low precipitation leads to agricultural and hydrological droughts, which then have the potential to create socioeconomic and ecological constraints, depending on how long that low precipitation lasts.
The other difficulty with the question is that concrete weather data only goes back to 1895 statewide and as far back as 1874 in Salt Lake City. Researchers have used vegetation and other clues to try and fill in history gaps before the late 1800s but that's a difficult task.
With that in mind, here's where Utah's current situation compares with its own history.
Historic precipitation lows
All droughts start with low precipitation. Unfortunately, this information has limitations because it only offers a window into the past 126 years.
The National Centers for Environmental Information hold statewide precipitation data dating back to 1895. Per the federal agency, Utah averaged about 13.56 inches throughout the 20th century. That average is based on extreme highs and lows that end with a normal somewhere in between.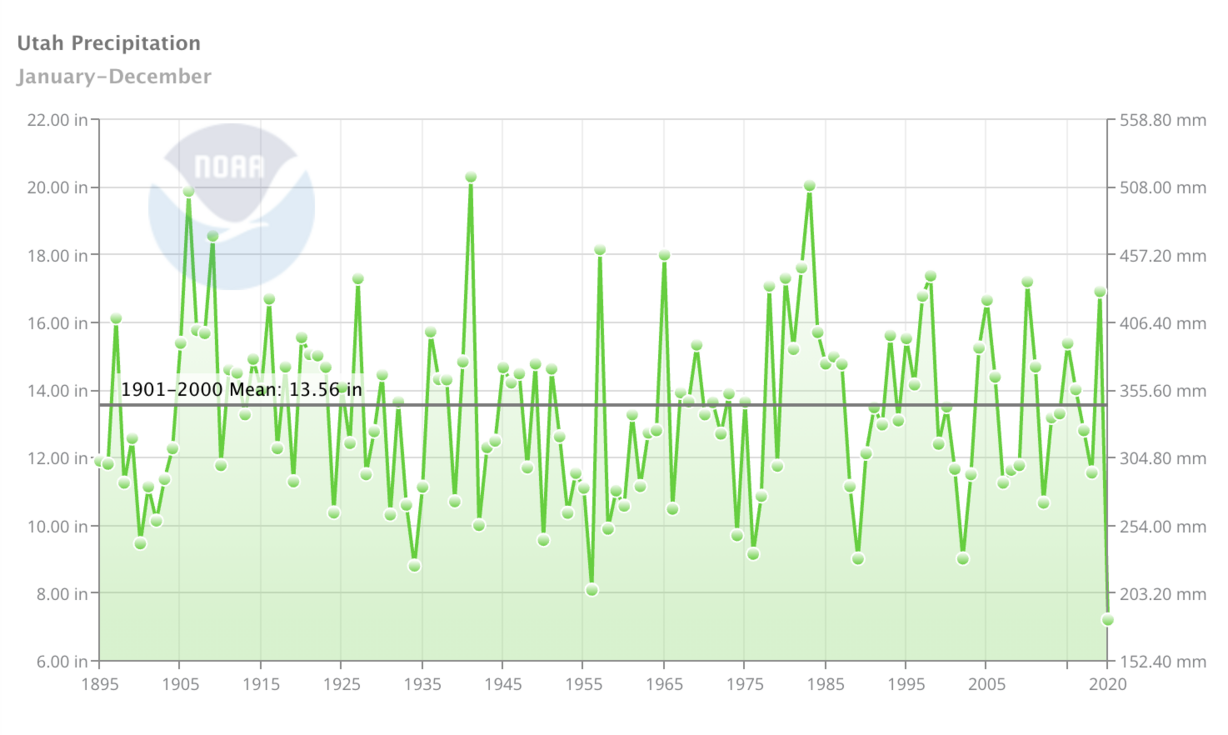 The data points to three trying times in state history: the 1930s, 1950s and now. Here's how those eras compare and contrast.
It's easiest to say the current situation is the worst because, with an average of 7.24 inches statewide, 2020 was the driest year since at least 1895; however, it's not that simple because drought trends go beyond just one calendar year.
In 1934, Utah averaged about 8.83 inches of precipitation statewide, which remains the third-driest on record today. Meteorologically speaking, that year also remains memorable because it was at the beginning of the Dust Bowl and it is still Utah's hottest year on record.
The Beehive State averaged about 10.9 inches every year between 1931 and 1935 — an average of about 2.5 inches below the 20th-century normal every year — before the streak ended in 1936. It was then followed by above-average precipitation totals in four of the next five years, including 20.33 inches in 1941, which remains Utah's wettest year on record.
Utah received an average of about 11.7 inches of rain in the 1950s leading up to 8.12 inches in 1956. What was then the driest year in state history was followed by a wet one. At 18.2 inches that year, 1957 remains the fifth-wettest year in the data.
Utah's current drought dates back to about the end of spring 2020 and hasn't improved since.
The situation now differs from the 1930s and 1950s in a couple of ways. Utah had statewide precipitation totals above average in 2015, 2016 and 2019, but still entered 2020 within what's called a "megadrought" over the past two decades.
In addition, federal data shows 2021 is on pace to be another one of the driest on record. It was listed as the eighth driest on record through June. The Utah Division of Water Resources reported Thursday that Utah's water year precipitation levels are 38% below normal.
Since 1895, Utah hasn't experienced back-to-back years of precipitation levels low enough that both land in the top 10 driest on record. That certainly puts the current situation on track as the worst on record.
Soil and streams
The U.S. Drought Monitor is arguably the best tool to determine drought conditions today. As of this week, 99.9% of Utah is considered in at least severe drought, 98.2% in at least extreme drought and 65.2% is listed as in an exceptional drought, which is the driest category.
Utah's current conditions are the worst soil moisture levels recorded in the monitor's history, but that only dates back to the late 1990s so it doesn't really offer the best historic perspective.
Streamflow data, alternately known as runoff efficiency or water yield, goes back a little further in time. It's a calculation of how much water flows in every river and stream across the state. Like soil moisture levels, it provides insight into severe drought trends because low streamflow is generally a result of low precipitation.
The data here signals that the current drought conditions are at least the worst in 90 years if not ever, said Paul Brooks, a professor specializing in hydrology at the University of Utah.
"We're about as bad as we've ever seen. The worst years that we have on record for streamflow occurred in the 1930s. ... There were a series of bad years in the 1930s," he told KSL.com. "The streams may vary in what was the absolute worst year but the 1930s were really bad and we are about at that point, perhaps even worse."
Utah Division of Water Resources' Thursday report listed 65 of 96 streams in the state currently have levels below average, and 28 streams — nearly 30% — are at new record lows.
"We can't predict the future but the trends for the summer look like we're going to have the driest year in recorded history in terms of low streamflow and very low water yield or efficiency," Brooks added.
He also pointed out that dry soil is part of the issue in addition to low precipitation. After a stretch of dry conditions, new rain or even snowmelt tends to go into the soil and groundwater before it enters streams that help fill Utah's reservoirs. That's why it could take some time before stream levels recover.
Meanwhile, there are ways researchers have tried to understand droughts prior to the late 1800s. For example, experts can look at tree rings to determine droughts. It's through these studies that researchers found the West's megadrought over the past 20 years is believed to be the worst since the late 1500s if not the past 1,200 years, according to Smithsonian Magazine.
Socioeconomic and ecology
Dry land and low water levels eventually lead to greater issues.
And Utah's current drought situation balances two extremes in its differences with drought impacts of the 1930s and 1950s. On one hand, water conservation technology, the knowledge of how Utah's ecosystem works and water storage from reservoirs have greatly improved. On the other, Utah's population has quadrupled since the mid-1950s and sextupled from the mid-1930s. That means hundreds and thousands of more people consuming water than during the previous droughts.
The declining water levels in the Great Salt Lake, often seen as a gauge of Utah water trends, and various other bodies of water across the state might best illustrate the ecological toll from the current drought.
John Horel, chairman of University of Utah's Department of Atmospheric Sciences, said he and fellow researchers used to have to ride boats to place weather stations all around the Great Salt Lake. The lake's islands were completely isolated. That's not the case anymore. There are many land bridges that essentially connect the islands to the mainland.
Like precipitation records, there is good data on the Great Salt Lake's water levels also dating back to 1895. Its levels, much like streams, suffered from low levels in the 1930s but even lower levels from the 1950s into the 1960s.
The flooding and extreme precipitation propelled the lake to its highest levels on record in the 1980s, but it ended 2020 with levels last seen at its worst in the early 1960s. This year's continued drought pushed levels close to all-time lows.
Horel says there are contributing factors beyond just the drought this time around. Some of the water from rivers that would normally dump into the Great Salt Lake is diverted for consumption, especially as the state's population skyrockets. But its declining levels pose possible threats to shorebirds for which the lake is a critical habitat.
Brooks points out another potential issue is that many of the reservoir systems were created based on old average precipitation and temperature figures but, recently, new normals are getting warmer and drier.
"So we get less water to fill those reservoirs," he said, adding that it's also "really scary" to view groundwater storage levels, which he described as nature's reservoir.
The socioeconomic impacts from the current situation may not be as bad as the 1930s only because the drought then also came during the Great Depression. It meant that farmers struggled whether or not they were able to grow anything.
"Season after season individual farmers suffered from the miserably low prices they received for their products, and it made little difference what they grew or raised; they considered themselves lucky to sell their products for enough to meet their costs of production," wrote historian John McCormick, in a piece about the Great Depression in Utah for Utah History Encyclopedia.
That's not to say there aren't impacts for farmers now. Ron Gibson, president of the Utah Farm Bureau, said in June that he was "really concerned" about the current drought and what it could mean for the state's food supply. Some Utah farmers have also been forced to abandon portions of their crop fields because they simply don't have the water for them.
The Utah Department of Agriculture and Food extended a program this year that helps Utah farmers pay for equipment updates that can help them thrive while also using less water. Even as early as April, agency officials expected that farmers will likely produce fewer crop yields this year due to the drought.
Only time will tell if the current drought will result in the worst impacts in the final two drought categories.
How long will it last?
The good news is that the data from the past 126 years shows a pattern of extremes. That is, dry and wet years still seem to fluctuate.
It's not at all like warming trends, which really started to rise in the 1990s and continue to remain higher than average annually. Utah's last average temperature below the 20th-century average was in 1993 while Utah's last above-average precipitation year was 2019.
"There hasn't been any discernable trends in precipitation yet," Horel said.
The bad news is that there isn't really any way to predict when Utah's current dry streak will end. It doesn't help that droughts of the 1930s and 1950s show strings of below-average years are possible.
"Precipitation is much harder to both be able to simulate in our climate models and there's just many, many physical processes that are going on," Horel added. "In a warming climate, you could actually have more precipitation. It has to do with shifts in the position of the jet stream and other factors that could impact what could actually happen in Utah."
Experts say it's this uncertainty that makes it important to follow measures aimed to reduce water waste. Brooks said there are "an awful amount of people working really hard" to ensure Utahns have access to water during droughts.
"Help those folks out and think about your water use," he said.
×
Related stories
Most recent Historic stories