SANDY — Albert Rusnak stood at midfield Saturday night following Real Salt Lake's 1-0 home loss to Los Angeles FC in dismay.
The converted wing midfielder and team captain had just put in an active shift where his team had scraped together more possession, more shots and more chances at goal than the visitors from the City of Angels.
And it led to a 1-0 loss, the club's second home loss in the first seven matches of the season — matching their number of wins at home early in the 2021 season.
It would be easy to write off RSL as a club unworthy of competing with Major League Soccer's top clubs. After all, Salt Lake has just one win in its last eight matches — including six of them at home.
It would be easy to simply categorize the club as "rebuilding" or "an off year" or make excuses about how a club that currently doesn't have an owner could possibly compete in the North America's top league.
But those conclusions would be too easy, too quick-jumping, and, really, too untrue. Because RSL has competed with the top teams in MLS, including dominating much of possession, chances and offensive firepower during much of its current run of misfortune.
They just haven't scored goals. And ultimately, that's lead them to missed opportunities, dropped points, and an early deficit that will make climbing above the Western Conference playoff line in mid- to late-summer that much harder.
But is it because Real Salt Lake isn't a good team? Hardly. Anyone with eyes — and maybe a stat sheet — has seen that isn't the case. At least, not always.
"We're frustrated, especially when we felt we were in control of that game," quipped midfielder Nick Besler, who has often been the spokesperson for his club after a heavy loss. "And it's been a similar story the last couple of games, like the Houston game, where we've had chances but haven't put them away and then it felt like they had that one chance and they scored it.
"We're disappointed. It feels like if we can take care of our chances and put them away then we can be on the forefront and unfortunately that didn't happen tonight."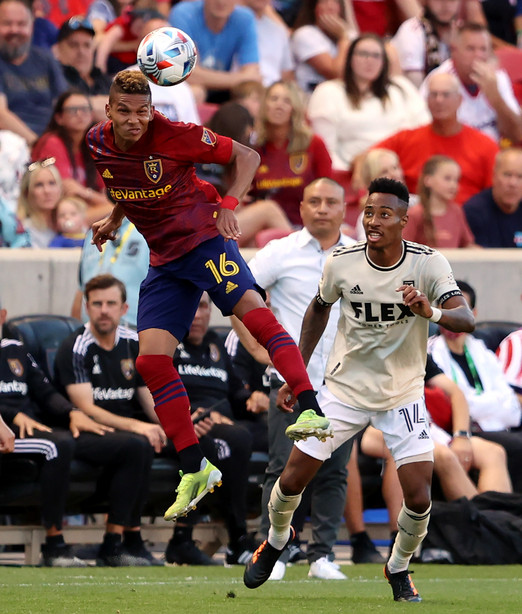 Still, the easy conclusion would be to write off RSL as a team that isn't very good. But that wouldn't be the right one.
For large stretches of Saturday's match — from the first 15 minutes to the last 20 to even parts of stretches in between, when LAFC's Jose Cifuentes converted the Angelenos' lone shot on goal of the night — RSL were the better side. They passed better, completing 83% of their passes to LAFC's 76%.
They shot better, lobbing 14 shots to LAFC's nine, including a 4-1 margin in shots on frame.
RSL connected more passes, produced more crosses, and put forward more corner kicks — nearly twice as many, even. But like in previous appearances, the team struggled to finish its chances or kill off a game to capture all three points from a single fixture.
"It was a cruel game," RSL coach Freddy Juarez lamented. "I thought our guys deserved a lot more than the result we got."
A cruel game, but an honest game. Real Salt Lake was good Saturday night, but not good enough in front of goal.
RSL is in a slump, and they aren't getting any help pulling themselves out of it — whether by officiating (less likely) or downright bad luck (more likely). There's been plenty of good play.
But results trump play. And RSL hasn't had the results.
"The performance on the field was positive," Besler said. "If we can be in control of the home games, we still have a long season left and hopefully we can turn those kinds of games that we had tonight into wins."
The players are there, for the most part. The club's new striker tandem of Anderson Julio and Rubio Rubin were on fire to start the season, but goals have been hard to come by for more than just their front-facing forwards.
New signee Bobby Wood is still getting his feet under him as he moves to Salt Lake City — and MLS — for the first time in a professional career spent mostly in Germany. And for all that players like Rusnak, Damir Kreilach and Pablo Ruiz have done well, the midfield is still struggling to adapt to RSL's post-Kyle Beckerman reality (to say nothing of the search for Nick Rimando's replacement in goal).
Is it time for a change in tactics? Probably not, Rusnak says, because the plays, formations and attempts have been there.
"If we were getting dominated for 90 minutes, then maybe you could look at the tactics," Rusnak said. "But I can't think of a game that we have been dominated for most of the game. So therefore, the tactics are right.
"We are playing well and we are creating chances. The only way to change this around is by hard work and commitment and to keep doing the good things over and over again. There's not much that we have to change other than putting the ball in the back of the net when we create a good chance."
Fortunately for RSL, the biggest antidote may be time — the timing of the club's schedule. Salt Lake needs a win, and they'll turn right around to "visit" Vancouver in a road match at Rio Tinto Stadium hosted by the Whitecaps, Rio Tinto Stadium's secondary tenant for the start of the 2021 season.
That one win in the past eight matches? It came against those Whitecaps. Three points has scarcely been more valuable than for Real Salt Lake at the moment.
The season is still young; there's no time to panic. Frustration is a rationale response during the current slide, but not negativity.
"I don't think it's hard to stay positive," Rusnak said. "The games are coming fast one after another. We have another game Wednesday. I feel like we should be frustrated after tonight.
"As far as the play and creating chances and defending and the commitment and the hard work, I think all of that was there tonight. All of that has been there in the past few games. The most important thing is the results and those haven't been coming our way so we have to change that around."
×
Related Stories