SANDY — Justen Glad's emotions after scoring his first goal of the season to put Real Salt Lake up 1-0 at home against the Houston Dynamo were flipped upside down.
In the 52nd minute, the seventh-year RSL defender scampered back to try to prevent Maxi Urruti from breaking free on a counter attack. But Glad — like the rest of his squad — could only watch as Urruti's right-footed shot from the edge of the penalty area nestled itself inside the far post to pull the visiting Dynamo even at 1-1 inside Rio Tinto Stadium.
And while Glad didn't use these exact words to describe his frustrations after ending the match with the same scoreline, the allusion was there: not again.
For the third time in four home matches — and fifth in seven matches — RSL watched its lead evaporate. An early shot of adrenaline, even a goal to put Salt Lake ahead.
And then — poof — gone. Just like that. Back to square one.
It's getting a bit repetitive, if nothing else.
"We've been in the situation before and I feel like we were on top of them the whole game, but then they get one half-chance and put it away," Glad said. "It's just kind of soft. We'll have to figure it out.
"We can't keep dropping points at home."
Real Salt Lake (3-2-3) dropped points at home for the fourth time this season, and while the club's overall record and 13 points has it tied with Portland on top of the playoff line at the moment, it doesn't diminish the frustrations anymore.
So what's wrong? Why have RSL's leads been left so unprotected, or at least less protected, to the extent where it feels like no lead is safe — on which the other team can come back?
Players and coaches alike have commented on the team's inability to "kill off" a game, to pass the aways the remainder of time in a way that keeps up aggression while also punishing clubs for attempting to come back.
That's been the case for Real Salt Lake since May 1 — save for a pair of stoppage-time goals a week ago at home against Vancouver, that was the last win for RSL — as its navigated the past two months aimless and mostly winless.
Soft goals. Unlucky goals. Even a little bit "stupid" goals, to borrow a word from new striker Bobby Wood.
"We've got to work on that," said Wood, who made his home debut Saturday in the 66th minute, with Salt Lake tied at 1-1 and finished with two shots (one on target) in 24 minutes. "I think it's just mental right now. It's in our heads, maybe.
"It's something we have to work on. We are working on it. And we've just got to stay concentrated. We've got to keep that energy up."
While recognizing the problem is critical to solving it — head coach Freddy Juarez and his players insist they are working on killing off games — it's easier said than done.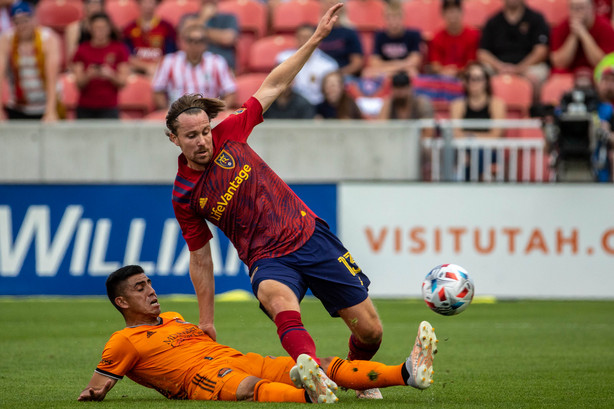 After all, in four of the Salt Lake's last seven matches, the club has led for at least part of it. If there's more than one way to skin a cat, then there are also multiple ways to kill off a game.
Sometimes it's not as simple as "score more goals" — although converting one or two more of the 21 chances, 13 corner kicks and numerous point-blank opportunities RSL had Saturday against Houston would've helped, Juarez admits.
Other times, it's simply a matter of slowing down the game — extending a defensive play instead of an offensive one.
"When you watch the first half, you're just like, 'how do we not have the second one?' And that's definitely something that we'll get better at," Juarez added. "But there are other ways to do it. You've got to foul in transition sometimes — and really foul — not allow him to continue to push through, and not get casual on the other end."
Of course, different players are going to want to kill the game in different ways. That's where the coach and his preferred style and tactics — the things teams work on every day in training — comes in.
While the attacking players may believe in "scoring more goals" — never a bad thing, but not always the most prudent, either — the defense or midfield may opt for more possession or slower play. Both can be right or wrong — it's simply a matter of timing.
"When I say 'kill the game,' today for example, I mean we have to finish our chances," Wood said. "We had some good chances. But we didn't finish it off and we kind of just played soft.
"In these types of 1-0 games, anything can happen when you don't finish it up, when you don't score that second goal. You get scored on out of nothing — that's what happened today. I think we just have to make better decisions going forward."
No player or coach wanted to use the excuse, but Real Salt Lake was also playing its third game in eight days, shortly after having a three-week layoff due to the FIFA international break.
Most MLS clubs were in the same position, but that doesn't make the run any easier.
Of the eight games played Saturday, four of them ended in a draw. That includes Chicago's come-from-ahead tie that seesawed with Philadelphia, Nashville's stunning stoppage-time 1-1 equalizer with Montreal, and Vancouver's wild 2-2 draw with league-leading Seattle.
So while Real Salt Lake didn't do itself any favors with Saturday's draw — or any of other four in the last six games — there's still time to figure themselves out. The season, after all, is still young.
It won't remain that way forever. But eventually, it stands to reason, they'll have to figure out a way to kill off a game.
Maybe.
"The team will grow," Juarez said. "It's tough to play three times in a week, especially after being off for three weeks. It's a tough league. We have to learn how to kill the games. We definitely could have the opportunity to score two more goals, but the group knows there's still some goals that we can not concede and some of them have been a little too innocent."
×
Related Stories