Estimated read time: 9-10 minutes
This archived news story is available only for your personal, non-commercial use. Information in the story may be outdated or superseded by additional information. Reading or replaying the story in its archived form does not constitute a republication of the story.
SANDY — Just under 1,000 soccer fans from various states trickled into Rio Tinto Stadium for a mid-week kickoff Wednesday night in Sandy.
But none of them were Real Salt Lake fans — at least, not directly.
With RSL playing several miles to the northwest in Seattle, these fans were here for a different brand of MLS: it was the visiting stadium guests Vancouver's first match allowing fans during the Whitecaps' temporary stay in Sandy during the COVID-19 pandemic.
The Whitecaps (2-5-1, 8 points) have been moved to a different type of whitecaps — the ones at the top of the Wasatch Front — to start the 2021 season, where they've trained at America First Field, played at Rio Tinto Stadium, and took up residence in the empty locker rooms of the now-defunct Utah Royals FC of the National Women's Soccer League.
It's been a lonely four months for the 'Caps, who played a road-heavy schedule and empty-stadium home matches before Wednesday's 2-1 late loss to the Galaxy, the club's second-straight loss at Rio Tinto Stadium on late goals. But Wednesday's match brought a little bit of normalcy to Vancouver players and supporters when they kicked off against the Los Angeles Galaxy.
For Brett Graham, it was a much-needed in-person visit to a place he's never been before.
"I was at the last game before COVID hit, the season opener in Vancouver in 2020, and it was the last true 'home' game the Whitecaps opened to the public," said Graham, a Vancouver native who works in Seattle as a software developer. "Last year, I didn't feel comfortable traveling, either. But I live in the states for work, and when this opportunity opened up, I had to come down here."
Graham didn't think much about the trip. He had never been to Utah, but he immediately purchased tickets to meet up with some friends, and hopped on a short plane ride. His flight arrived at Salt Lake International earlier Wednesday afternoon, and he flew back to the Pacific Northwest at 8 a.m. Thursday morning.
But as he pulled up to Rio Tinto Stadium and saw the backdrop of the Wasatch Mountains that parallels the stadium's curved awning, he felt a little bit at home — at least, as much at home as the home team playing on the road for the past 18 months can be.
"It kind of feels like Vancouver coming in, with the sun coming off the snow-topped mountains," said Graham, a Whitecaps season ticket holder from before the team's move to MLS in 2010. "The Whitecaps (name) come from the North Shore Mountains, and this seems like a good omen."
The crowd during Vancouver's loss wasn't loud, nor was it overly large. But the 850 fans who showed up at Rio Tinto Stadium for a mid-week match involving two teams not from the Salt Lake area must've sounded like an army for the Whitecaps.
Wednesday's match was also a unique experience for Mack Alderson, a Venice Beach native who now lives in Ogden and has been a supporter of the LA Galaxy since the club's inaugural season in 1996.
Alderson's children are RSL fans, and he has season tickets near the club's supporters' section — he sits with them for every game but two each year, when the Galaxy are in town. But when LA was announced as Vancouver's first opponent with fans during the Caps' stay, he immediately bought tickets.
"I'm supposed to be at a dance recital right now," he said. "But my wife knows that I've been a diehard Galaxy fan, and the fact that I get to see the Galaxy here without RSL fans, it's just really cool to see things from a different experience.
"I really like it."
Alderson was in the majority in the stadium Wednesday night, a group consisting of mostly LA Galaxy jerseys with a handful of Whitecaps shirts scattered among the masses. Perhaps that's to be expected, with travel between California and Utah more common than Salt Lake City and British Columbia.
But just having some fans — any fans — was a relieving sight for the hosts-away-from-home.
Real Salt Lake opened Rio Tinto Stadium to nearly full capacity for the first time with a 3-1 win over the Whitecaps. Vancouver didn't open up the stadium to capacity, though, for a variety of reasons; the team capped attendance to the west side, sold 850 tickets before the match, and limited stadium personnel by closing down all but two concessions stand and only one parking lot.
But the feel was more normal than anything the Whitecaps have had all season. And the fans? They loved it — just a bunch of soccer fans, hanging out on a Wednesday night, whether it was to see Mexico star Javier "Chicharito" Hernandez with LA, or a Whitecaps squad in dire need of a pick-me-up.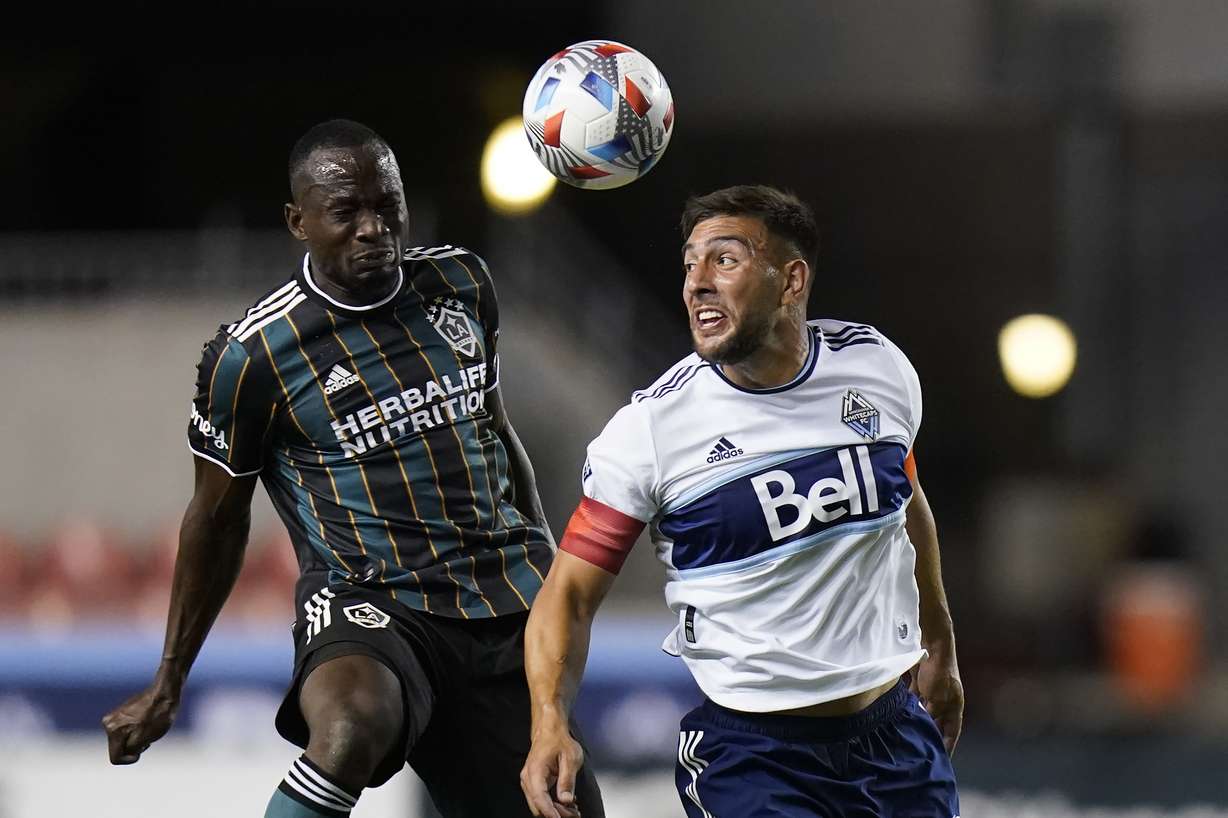 "The community out here is great," said Alderson, who has lived in Ogden for five years. "The fans are awesome. It's a lot of love out here, a diehard community, and the market that is exactly what MLS needs."
For their part, the Whitecaps have fit in better than the club's name that is not named for the tops of the mountains along the Wasatch Front each winter. Players and coaches have taken to their new environment well — some have even brought their families to join them during the indefinite stay in Utah's state capitol.
Goalkeeper Maxime Crepeau, a Canadian international, and his wife Cristina held a maternity shoot at the Little Sahara Sand Dunes in the spring. The couple then welcomed a baby girl in early June — a child born on Utah soil.
Jake Nerwinski, an American defender from New Jersey, brought his wife Allie to Utah with him, and the couple was recently seen visiting the shores of Utah Lake with their new puppy.
Whether it's enjoying Utah's scenic outdoor views or visiting downtown Salt Lake City, the Whitecaps have taken time to enjoy their new home, said defender Andy Rose.
"We haven't had a ton of time off, but we had a few days to get away and we went down to Sundance, Park City, Silver Lake. It's absolutely stunning around here," said Rose, the 30-year-old center back in his third season with the Whitecaps. "In a lot of ways, there's some similarities to Vancouver in that you can get outside and enjoy the outdoors, lots of things to see.
"We've enjoyed going downtown, finding little coffee shops, and trying to learn to just live life as much as normal as possible. We've really enjoyed it."
Eventually, Vancouver's trip to Utah will lapse — and that day may come soon.
The Canadian government recently announced that it will be lifting most international travel restrictions within the provinces beginning July 5, when permanent residents and certain foreign nationals who are fully vaccinated will no longer be required to quarantine for two weeks upon crossing the border.
That would presumably apply to the team's travel contingent. The Whitecaps said that all of their players, coaches, staff and travel contingent were fully vaccinated when the team opened up Rio Tinto Stadium to allow fans at its matches.
But no team, government or MLS official has given anyone from the Vancouver contingent — and certainly not head coach Marc Dos Santos — any word on when they'll be able to return to British Columbia, or their home at BC Place.
Several more family members will join players and staff members at the end of June, though Dos Santos admits things could change quickly. But as for right now, the team is prepared to remain in Salt Lake City.
"Nobody has told me anything or given me hope of going back right now," Dos Santos said. "The only things I hear and see are the things we all hear and listen and read about. So right now, I just don't know."
If Dos Santos seems frustrated by it, perhaps he is. But the Whitecaps have been living out of suitcases, or with mandatory quarantines for the better part of his Vancouver tenure. Hired from the now-defunct San Francisco Deltas of the second-division NASL, Dos Santos was named head coach in Vancouver on Nov. 7, 2018. Shortly after his first season in charge, the league was postponed in the middle of a worldwide pandemic before starting up again with the neutral-site MLS is Back tournament in Orlando.
Since then, the Whitecaps have called home to three or four different stadiums — and none of them were BC Place.
"We've been in this since Orlando," Dos Santos said. "I've been coaching the Whitecaps for 2 1/2 years, and a year and a half has been on the road. We relocated to Orlando, to Portland, to Salt Lake; is it fair to evaluate what our team is doing under all these circumstances? I'm telling you, it's very hard.
"It really tests your resilience as a person, as a coach, and as a human being. If we're able to go through this and stay strong, stay positive, then it will only make us better in the game and in life."
Wednesday's match will also test the Whitecaps, who dropped points in their new home for the second consecutive match (though as the visiting side Saturday against RSL). And it doesn't get any easier, as Vancouver travels to face league-leading Seattle Sounders on the weekend (7 p.m. MT, ESPN+).
But the club has adapted, and even left a gift for its new community: donating a sapling last month in celebration of Arbor Day, planted on Nick Rimando Way near the west parking lot at the stadium it currently calls home.
Long after the pandemic, and well after the Whitecaps have returned to Vancouver, a small part of them will remain in Utah. In moments both good and bad, the Whitecaps have become a part of the Salt Lake landscape — and even after Wednesday's emotional loss, the that's a gift that coaches and players have been grateful to receive.
×
Related stories
Most recent Soccer stories