Estimated read time: 2-3 minutes
This archived news story is available only for your personal, non-commercial use. Information in the story may be outdated or superseded by additional information. Reading or replaying the story in its archived form does not constitute a republication of the story.
FARMINGTON — With the duo wearing matching royal blue tops, the Utah Women's Amateur championship match between Lila Galea'i and Berlin Long could've been an intrasquad final between two future BYU teammates.
That will come soon enough. On Thursday, match point went to Galea'i.
The BYU freshman held off Utah junior golf standout Berlin Long in 19 holes in the championship match of the 115th Utah women's state amateur Thursday afternoon at Oakridge Country Club in Farmington.
Long took the first advantage on the opening nine holes, and went 2 up with a birdie on the par-4 15th hole. But Galea'i rallied late, winning consecutive holes that included a birdie on the No. 17 to force a playoff for the trophy.
"I just battled," said Galea'i, the former Class 5A state champion who graduated from Lehi in December and played in the Cougars' most recent spring season. "It wasn't easy, but I knew I just had to hang in there, and anything can happen in match play. I just had to be comfortable going into 19."
The BYU freshman scooped a 4-iron from the right side of the fairway to 60 feet, then two-putted to take the hole and the match, 1 up from Long.
"It was a good lie — better than the first time," Galea'i said with a smile on Instagram after clinching the trophy. "I've been working very hard lately. I've been working on my wedges a lot."
The Lone Peak standout and 2020 Utah Golf Association state champion previously held off four-time Women's Amateur champion Kelsey Chugg in Wednesday's semifinals. Long also bested former Corner Canyon star Emma Winfree, 2 up in the quarterfinals and earned victories over Jennifer Ensign, 3 & 2 and Madeleine Rasmussen, 3 & 1.
Galea'i held off former Bingham High star and previous Women's Amateur champion Tess Blair in 19 holes in Wednesday's semifinals. The rising BYU star also topped Cougar teammates Kerstin Fotu, former Bountiful standout Jobi Einerson and Bingham's Carissa Graft prior to Thursday's final.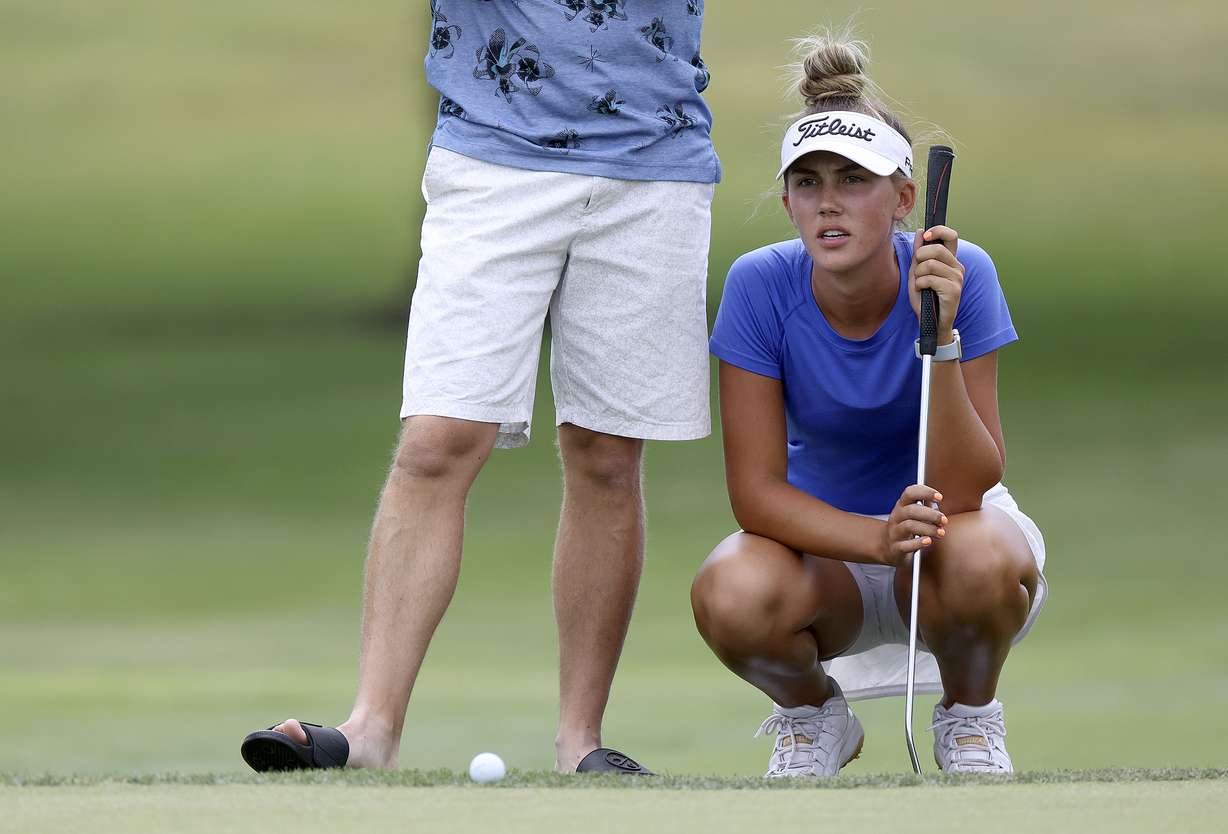 The championship was a rematch of the Utah girls 13-14 division junior amateur final four years ago — also at Oakridge Country Club. Reigning champion Grace Summerhays did not return to defend her title due to a conflict with U.S. Women's Amateur qualifying this week.
Long and Galea'i each lost to Chugg in extra holes during last year's women's amateur at Soldier Hollow Golf Course in Midway before the four-time champ eventually fell to Summerhays in the final.
×
Photos
Related stories
Most recent Golf stories