AMERICAN FORK — As soon as Berlin Long's 30-foot birdie putt on No. 18 dropped, she knew.
And if she didn't, the guttural scream from her father in the makeshift, socially distanced gallery was a pretty clear indicator.
For the first time in her high school career, the Knight sophomore with dozens of national junior golf accolades was a state champion.
Unofficially, at least.
Long's birdie on the par-4, 359-yard 18th gave her a 6-under-par 67, the low round of the day and the Utah Section PGA Class 6A individual state title at Fox Hollow Golf Club.
And though it won't be recognized by the Utah High School Activities Association, nor will the Knights' unofficial top-three finish of 341 in a round where the team scores were not kept, it still means something.
"It's definitely different, not having the team. But we were out here supporting each other," Long said. "I'm just glad we got to play."
Long edged junior golf rival Lila Galeai of Lehi, the 5A champion from earlier in the day, by one stroke. After a bogey on the par-3 12th hole, Long finished off her round with birdies on Nos. 13, 16 and 18 to finish 2-under 34 on the back nine and clinch the title.
So yes, even if the wind was howling and the tournament wasn't presided over by the UHSAA, it still mattered.
And then there was her father's scream.
"I knew that if I wanted to beat her, then I'd have to make it," Long said. "I just tried not to leave it short. Give it a chance to go in."
"I'm really happy that we were able to put it on, and give these seniors one last opportunity to play," Long said. "It was tough coming out with this wind, but the course is in good condition, and it was really fun."
Herriman sophomore Millie Terrion finished second with a 1-under 72, buoying a Mustang squad that placed two golfers on the top-10 all-state list in a meet that would've been decided by three strokes in the team race between the Mustangs, Davis and Lone Peak.
An unofficial tally of the three team's top-four golfers put Herriman ahead at 334, followed by the Darts (337) and Knights (341).
Victoria Castro led Davis with 77, tied for third with Corner Canyon's Victoria Romney. Davis' Caylyn Ponich rounded out the top-five.
Utah Section PGA Individual State Meet (Class 6A)
Top 10 finishers
Berlin Long, Lone Peak — 67
Millie Terrion, Herriman — 72
Victoria Castro, Davis — 77
Victoria Romney, Corner Canyon — 77
Caylyn Ponich, Davis — 80
Maybel Harris, Lone Peak — 81
Whitney Banz, West — 81
Savannah Romney, Corner Canyon — 82
Rachel Stewart, Lone Peak — 83
Haylee Harris, Herriman — 84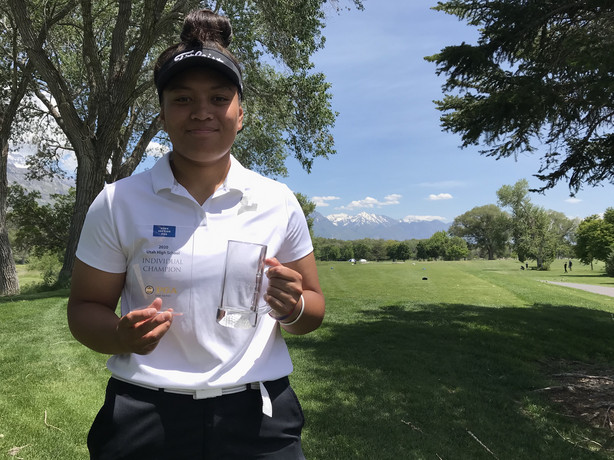 Lehi's Galeai, Timpview girls surge to top of individual 5A golf meet
AMERICAN FORK — If Lila Galeai felt like Wednesday's state golf meet was going to be a good day on the links, she didn't have to wait long for it.
In many ways, the reigning Class 5A state medalist was status quo by the end of the front nine when she teed off at Fox Hollow Golf Club.
And for Galeai, status quo also means winning another tournament.
The Lehi junior carded 5-under-par 68 to take top honors at the individual state meet hosted by the Utah Section PGA, earning a title of repeat champion in play if not title, at the meet not sanctioned by the Utah High School Activities Association.
×
Related Stories