LEHI — Grace Summerhays could feel her drives off the tee working all day, but it was barely enough to hold a 1-up advantage on Lila Galeai through most of the final round of the Utah State Junior Amateur championships.
Midway through the back nine, she found her putter, too.
Summerhays capped birdies on two of three holes midway through the back nine to turn a 1-up edge into a 3-up advantage through 13 to hold off Galeai, 2 and 1 Friday at Thanksgiving Point Golf Club.
It's the second state junior amateur title for Summerhays, who recently moved with to Scottsdale, Arizona, where her father Boyd works with PGA pro Tony Finau.
"I was hitting it good all day, but the putts weren't dropping," said Summerhays, who previously won in the 13-14 year old division. "Right around there, the putter started getting hot. It helped me make a couple of birdies that were really important. I think the putter was the main thing on the back nine."
Galeai, who has a pair of wins on the summer circuit and won the Utah Section PGA 5A state meet with a 68 at Fox Hollow, made up ground with a birdie on the par-4 16. But Summerhays drained a long birdie putt on the par-3, 167-yard 17th hole to clinch the win.
"It was a really tough match," Summerhays said. "Lila played really well, but I hoped to make a couple of really important birdies on the back nine. It felt good to make that birdie on 17 to secure it."
With much of the national golf circuit canceled due to the COVID-19 pandemic, Summerhays plans to stay in Utah for a few months to compete in several men's amateur tournaments. She'll also report to the Utah state women's amateur championship July 13-16 at Soldier Hollow.
She also hopes to qualify for the men's amateur Sept. 1-5 at Jeremy Ranch Golf and Country Club.
In the girls 13-14 division, Taylorsville's Ashley Lam held off Lehi's Aadyn Long, 2 up to claim the title. Uintah's Whitni Johnson beat Saydie Wagner, 6 & 5 in the 10-and-under division final.
Boys championship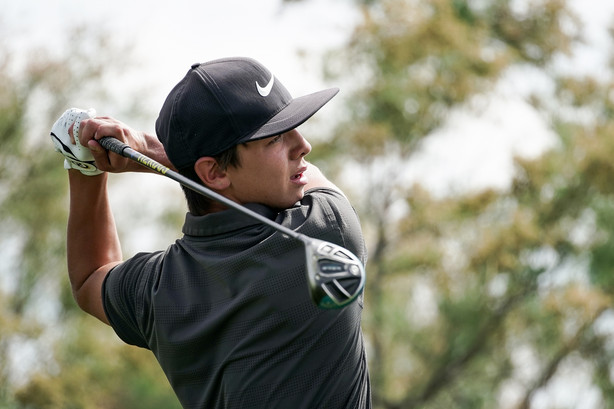 Tyson Shelley's first thought when he walked off the 14th green wasn't about him winning the 15-18 boys division junior amateur title.
Instead he found his mom and asked, "How's Austin doing?"
Turns out, both Shelley golfers did just fine.
Tyson Shelley topped Skyline teammate Simon Kwan 5 and 4 in the boys 15-18 division championship match at Thanksgiving Point, and younger brother Austin Shelley finished second to Rawson Hardy, 1 up in the 13-14 division.
Tyson Shelley got off to a good start Friday, going 2 up after five holds and increasing his lead en route to the win on the par-5 15th hole. That early advantage made all the difference against an opponent with whom he was incredibly familiar.
"Simon's a great player, but I knew if I could get a couple of birdies early in the match, I'd be all square or one or two-up," Shelley said. "That got me comfortable on the round, and just set the tone from there."
That Shelley beat a teammate from Skyline in the championship isn't really a surprise — or a nuisance — to him. He also beat teammate Sean Lam 3 and 1 in the quarterfinals of the same tournament.
"I think that says a lot," Shelley said of his teammates. "We're a good program, a good golf school, and this says a lot about our program and how we can compete really well throughout the state."
Ogden's Parker Bunn held off Kihei Akina, 2 up for the 13-14 division title, and Morgan's Jace Benson won the 10-and-under division, 6 and 5.
×
Photos
Related Stories