MIDWAY — By her own admission, Kelsey Chugg had no business trying to compete with most of the field in the quarterfinals of the Utah Women's State Amateur on Wednesday afternoon — certainly not in terms of distance.
Her own opponent, Lehi High's Lila Galeai, was outcrushing her off the tee with her driver — sometimes by close to 100 yards, she quipped.
The four-time champion had a few tricks of her own, though: Longevity and stamina being chief among them.
Chugg survived a pair of extra-hole match-play bouts, including holding off Galeai in 20 holes in the quarterfinals fo the 114th edition of the amateur championship at Soldier Hollow golf course.
"I just hung on," Chugg said after walking off her 41st hole of the day. "Then it started getting really windy, and it takes it out of you.
"I'm just getting too old," she said cheekily. "These young girls play 36 every day, probably."
Chugg trailed Galeai by a hole as they teed off on No. 18. And once again, Galeai blasted her off the tee.
But the 2017 U.S. Women's Mid-Amateur champion who plays out of Bonneville golf course pulled a five-wood from her bag, and then hit an iron shot close to the pin to force extras.
"I tried to just play my game. But early in the match, being outdriven by as much as I was, it was definitely bugging me," said Chugg, adding she's never seen a golfer drive the ball like Galeai. "I'm usually up there with the longest players, and she was screaming it by me.
"I saw her pull the driver out, and my coach talked me into the five-wood. We knew five-wood wouldn't go in, but let's get it there and leave it close. It worked out."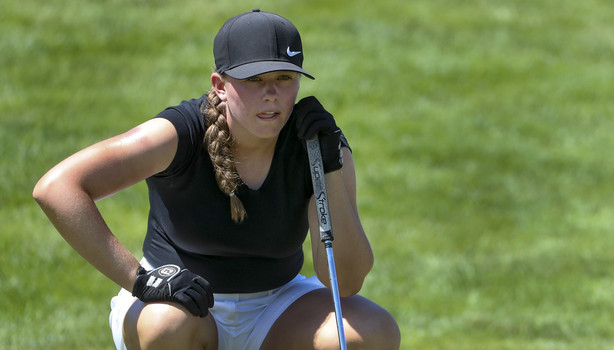 Chugg also went to extra holes in the Round of 16, draining a six-foot birdie putt on the 21st hole to survive Berlin Long. The Lone Peak sophomore rallied from 4 down with six holes left to force extra holes before Chugg held on.
Long had her own birdie putt lip out on the par-3 21st hole, sending the four-time champion Chugg to Wednesday afternoon's quarterfinals.
"I was just trying to be scrappy today, I guess," Chugg said. "The first match, I was leaking oil. In the second match, I had to hit good shots. She was so tough."
Stroke-play medalist Tess Blair survived Carissa Graft, 1 up to advance to face Chugg in the semifinals. In the other semifinal at 8 a.m. MT, Grace Summerhays will face defending champion Kerstin Fotu, who won four-straight holes on the back nine to top BYU teammate Naomi Soifua, 3 & 2.
Sunbin Seo drained a hole-in-one on No. 12 to pull within one of Summerhays in the quarterfinals. The Timpview High standout kept the one-stroke deficit on the reigning Utah girls junior amateur champion before running out of time on the No. 17 green.
Thursday's semifinals will tee off at 8 a.m. MT at Soldier Hollow.
https://t.co/esVPvBCGeGpic.twitter.com/ZsppqnEbrS

— Randy Dodson (@RandyatFairways) July 15, 2020
114th Utah Women's State Amateur
Soldier Hollow golf course
Round of 16
Tess Blair d. Jadan Gonzalez, 7 & 6
Carissa Graft d. Taitum Beck, 19 holes
Kelsey Chugg d. Berlin Long, 21 holes
Lila Galeai d. Laura Gerner, 1 up
Grace Summerhays d. Launa Wilson, 6 & 5
Sunbin Seo d. Poy Prasurtwong, 6 & 5
Kerstin Fotu d. Chanikan Yongyuan, 1 up
Naomi Soifua d. Rachel Lillywhite, 4 & 3
Quarterfinals
Tess Blair d. Carissa Graft, 1 up
Kelsey Chugg d. Lila Galeai, 20 holes
Grace Summerhays d. Sunbin Seo, 2 & 1
Kerstin Fotu d. Naomi Soifua, 3 & 2
×
Photos