AMERICAN FORK — If Lila Galeai felt like Wednesday's state golf meet was going to be a good day on the links, she didn't have to wait long for it.
In many ways, the reigning Class 5A state medalist was status quo by the end of the front nine when she teed off at Fox Hollow Golf Club.
And for Galeai, status quo also means winning another tournament.
The Lehi junior carded 5-under-par 68 to take top honors at the individual state meet hosted by the Utah Section PGA, earning a title of repeat champion in play if not title, at the meet not sanctioned by the Utah High School Activities Association.
At the very least, it gives her something to look forward to as a senior.
"Senior year is next year, and I have to make sure I don't take anything for granted," Galeai said. "I'll enjoy every moment with the Lehi girls I can."
Galeai shot 4-under 33 on the front nine, including a pair of eagles on the second and ninth hole after dropping in a 40-foot putt before making the turn with a demonstrative lead over second-place Sunbin Seo of Timpview.
The Pioneer junior added birdies on holes No. 10 and 16 to held ride out a comfortable win on a warm spring day with only a mild wind near the base of American Fork Canyon.
For a lot of the golfers, it was a rare moment of appointment as schools, sports and most of their youth society has been shut down in response to the COVID-19 pandemic. That's why the Utah Section PGA organized the event.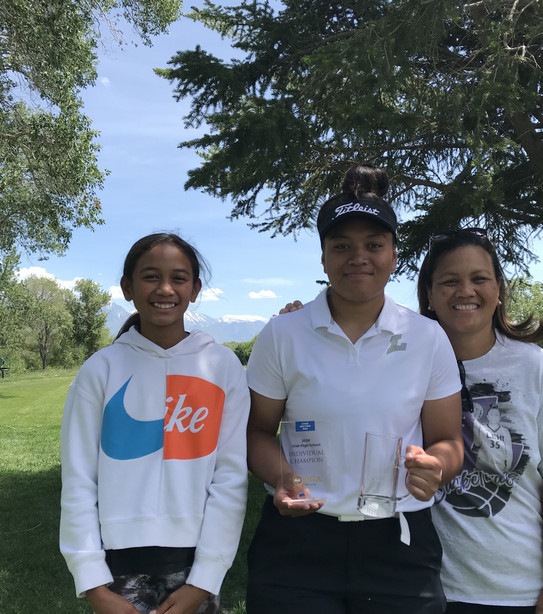 "When the high school season got shut down, everybody was super bummed," said Galeai, who was accompanied by her mother, sister and a horde of aunts, uncles and cousins, and as many spectators as could fit in the limited galleries employing social distancing. "But when I heard this was going on, I got super excited. I was looking forward to just playing and getting out."
For Timpview's girls golf team, it also proved validating.
Led by Seo, who tied for second with Skyline's Claire Whisant with a 1-over 73, the Thunderbirds placed three of the top five golfers in an event that did not tabulate a team score.
Timpview's Keilani Hanamaikai and Rachel Lillywhite each shot 81 to tie for fourth near the top of the leaderboard.
And like Galeai, Seo's strong round also started with an early advantage — but for a different reason.
"I got a two-stroke penalty early, and that made me just play for whatever," Seo said. "The relaxed mentality really helped me to just have fun."
The top 10 golfers earned All-State honors by the Utah Section PGA, putting the final stamp on a high school season canceled by the rise of a global pandemic.
"A lot of things have been going on, but I was really looking forward to this one," Galeai said. "It was a lot of fun getting out here with the girls."
Utah Section PGA Individual State Meet (Class 5A)
Top 10 finishes
Lila Galeai, Lehi — 68
Sunbin Seo, Timpview — 73
Claire Whisenant, Skyline — 73
Keilani Hanamaikai, Timpview — 81
Rachel Lillywhite, Timpview — 81
Savanna Einerson, Bountiful — 83
Sophie Hatch, Orem — 88
Madison McQuivey, Brighton — 88
Ali Efnor, Park City — 89
Lori Hwang, Alta — 89
×
Related Stories