MIDWAY — Grace Summerhays knew she had a chance to make history Thursday.
Her father, Boyd, also told her that Thursday would be her last chance at it.
No time like the present.
Summerhays became the youngest-ever winner of the Utah State Women's Amateur championship Thursday with a 3-and-1 win over local golf standout Kelsey Chugg in the final round of the 114th Utah State Women's Amateur Championship at Soldier Hollow golf course.
"This means a lot; I hadn't won yet, and my dad told me this was going to be my last year to be the youngest," the 16-year-old Summerhays said. "I was super excited and just glad that my game was there this week."
With the win, Summerhays joins a long line of family members to win the Utah State Amateur – including her older brother Preston, the back-to-back defending champion in the men's tournament.
Grace and Preston Summerhays aren't just the youngest winners of their respective state amateur titles in Utah golf history; they're also the only brother-sister duo to each own a trophy.
Because of it, he'll have to do the dishes tonight, Grace Summerhays joked.
"I've still got to win a couple more times," she added.
Chugg took the second hole to go one up, but Summerhays came right back with wins on the fourth, seventh and eighth holes. Chugg birdied the par-4 ninth to pull one back, and though the four-time Utah women's amateur champion squared the match with back-to-back wins on Nos. 13 and 14, the lead never changed hands.
"I knew that Kelsey would play well; she's won four times for a reason," Summerhays said. "I knew coming down the stretch, she would be clutch. But I knew if I made five birdies, I'd stand a good chance — especially with the wind.
"The main goal was just to make birdies and try not to mess up, but be aggressive."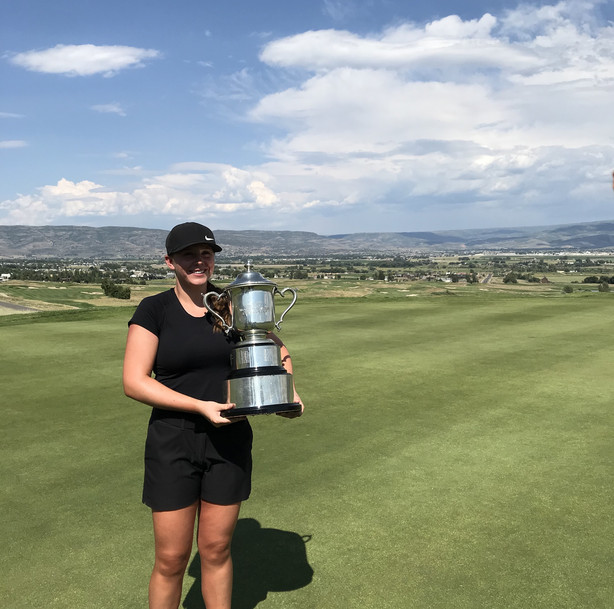 That wind played a key role in Thursday's final round — like it always does in the summer months at the Midway golf course.
"I think the wind out here makes the holes a lot tougher," Summerhays said. "It's a whole new course with wind."
Added Chugg: "It's exhausting. We played in it on the front nine today during this match, and it takes all the life out of you.
"You really have to focus and make sure you are picking good spots – or else you end up where I did on 16 and 17. It really requires you to hone in on things."
Despite her age, Summerhays proved a veteran in maneuvering around the course. Maybe it's because she played in last year's men's amateur at Soldier Hollow. Or maybe it's because she had already played plenty of rounds there — beyond the 36-hole days she spent in the first three days of the tournament.
After Summerhays' quarterfinal win over Timpview's Sunbin Seo on Wednesday, for example, she made her way back out on the course's back nine to drive, chip and putt into the winds of one of Utah's top courses near dusk.
That's just the way she is. Summerhays, a former swimmer, isn't just a golfer but a hard worker too.
"People that follow me on social media know we play a lot — but I don't even post a lot of what we do," said Boyd Summerhays, his daughter's caddy and swing coach. "For her to play 36 holes, even though it's mentally stressful, physically, it's easier. You can't do sun-up to sun-down every day, but she's done hundreds of those days in her life, where she literally trains sun-up to sun-down.
"It's just natural for us to train after each of her matches. That's normal for her."
Even at 16, that hard work is paying off.
"She's going to be great, and obviously she has what it takes to finish tournaments off," Chugg said of the younger Summerhays.
In the semifinals, Chugg took a 2-up lead on medalist Tess Blair just after the turn with wins on No. 10 and No. 11. Blair pulled a pair back, squaring the match on the par-4 15th hole.
But Chugg birdied the par-4 No. 14 and took a 1-up lead into the final hole before holding on for the upset victory of the stroke-play medalist with a pair of pars.
That set up Chugg's final bout with Summerhays, who held off BYU golfer and defending champion Kerstin Fotu, 1 up in the other semifinal.
Barely 16, Utah's Grace Summerhays (yes, of the @summerhaysgolf clan) became the youngest winner of the Utah Women's State Am. #UTGolfpic.twitter.com/6CKeDBhnsS

— KSL.com Sports (@KSLcomSports) July 17, 2020
114th Utah State Women's Amateur at Soldier Hollow GC
Semifinals
Grace Summerhays d. Kerstin Fotu, 1 up.
Kelsey Chugg d. Tess Blair, 1 up.
Championship
Grace Summerhays d. Kelsey Chugg, 3 & 1.
×
Photos
Related Links