Estimated read time: 11-12 minutes
This archived news story is available only for your personal, non-commercial use. Information in the story may be outdated or superseded by additional information. Reading or replaying the story in its archived form does not constitute a republication of the story.
SALT LAKE CITY — It was something few have ever seen in Salt Lake City.
Almost one year ago on May 30, 2020, angry rioters overturned a Salt Lake police car and set it on fire, vandalized numerous businesses and buildings in downtown Salt Lake City, including spraying graffiti on the grounds of the state Capitol and breaking windows at the Salt Lake City Police Department, and attacked police officers by pelting them with any object that could be thrown.
"Any claim that came out that this was mostly a peaceful protest is widely inaccurate. That day, officers were attacked with rocks, street signs, manhole covers, pepper spray, frozen water bottles, milk jugs, rags and bottles full of feces and urine, explosives, and anything else that could be used as a device to injure officers," said Joe McBride, president of the Salt Lake Police Association.
But while one side is marking the one-year anniversary of the Salt Lake riot by praising the brave men and women of law enforcement who stood on the front lines that night, Lex Scott, the founder of Utah's chapter of Black Lives Matter, is reflecting on the reforms that have been made in local policing following a summer of protests, and what work still needs to be done.
"We're not free 'till we're all free," Scott said.
Overdue appreciation
On Wednesday, McBride held a press conference to give "long overdue" thanks to the men and women in blue who responded to a statewide call for help by Salt Lake police on May 30, 2020, and stood their ground to protect the city and its citizens.
"The call went out and the call was answered," he said. "Officers from across this state poured into Salt Lake City. Without thought for their safety, without thought for their lives, they responded. The call they answered that day saved the lives of officers and of citizens in this city. Words cannot express how grateful we are for what you did for us on May 30."
But while praising the actions of officers that day, McBride also addressed the ongoing issue of low morale at the Salt Lake City Police Department after the riot and the approximately 290 protests and marches that occurred after May 30, and how the association believes not much has changed over the past year with the department's command structure. The feeling among the majority of Salt Lake officers is they can't do their job "without fear of consequence or without fear of being a political scapegoat or have some other kind of action taken against you," he said.
"As far as the police association is concerned, what we would like to see is we would like to see a much more vocal and involved leadership — one that is clearly in support of their officers and those officers who are doing what's right. As far as the command structure and what's going on, that's something they have to resolve," McBride said. "We want to see that the city truly supports their officers and allows them to do their jobs safely."
Related:
When asked who he believes is calling the shots for the police department, Chief Mike Brown or Mayor Erin Mendenhall, McBride responded, "Well, that's a question you'll have to ask them. It's difficult for us to say."
In a statement to Deseret News, Brown said he and the mayor have been asked that question several times over the past year and they continue to reiterate that Brown is running his department.
In her own statement, a spokeswoman for the mayor said, "The mayor leads the city and oversees the police department as she was elected to do. The police chief manages the department and sets policing strategy, as is the job of the chief."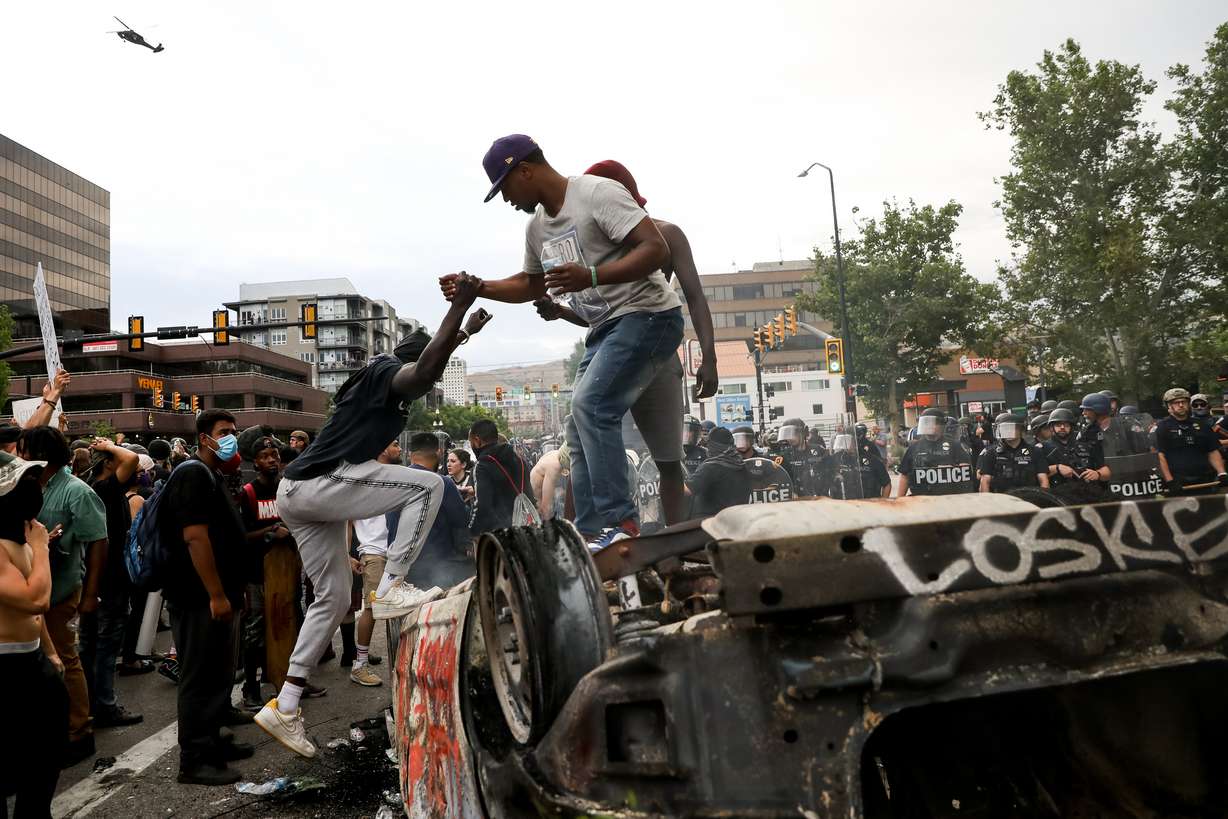 McBride said his police union plans on releasing an "After Action Report" in the coming weeks that looks at things that were not done right during the riot and ways that officers could have done things better. While he declined to release any details prior to the release of the report, McBride did say that "choices were made during that protest that put officers in danger" and said officers in riot gear stood shoulder-to-shoulder on the front line holding their ground for hours against protesters, but "with no direction."
On that day, McBride said the department knew that an organized protest to denounce the killing of George Floyd in Minneapolis had the potential to turn violent.
"The concerns and the fears that this protest would turn violent were not unforeseen by our department," he said.
Most nonessential police employees were told to stay home that day and officers were repeatedly told to stay away from the Salt Lake Public Safety Building, 475 S. 300 East, he said.
But when a Salt Lake police officer was driving her marked patrol car on 400 South and was surrounded by a group of protesters near 210 East who pounded on her windows, other officers had to rescue the officer from her car and pull her away from the crowd before people overturned the vehicle.
According to McBride, the Public Order Unit, whose job is to help with protests and riots, was ordered "against the advice of experienced Public Order Unit members and the command staff" to go recover the patrol car, even though only half the unit was available at that time.
"They were sent in without the necessary resources for a proper deployment," he said.
When those officers went in, they were also attacked and had to call for help, McBride said, prompting a response from patrol officers to assist their colleagues.
"Even with these additional officers, it was clear we were understaffed, under-equipped and in desperate need of help," McBride said.
It was then that one the "true leaders" in the department — whom McBride did not name — sent out a statewide 10-33 call, which is the police code for an officer's life being in danger.
"That code is not used lightly. When you hear that call come over the radio, it's usually bad," he said.
Officers from 35 agencies across the state responded downtown, some driving from as far as two hours away, McBride said. They stood together in riot gear for hours holding back the crowd.
"We waited for direction from the leaders of this city of what to do, but none came," he said.
When officers finally got the orders, they pushed the crowd along 200 East to 700 South.
McBride cited several examples of heroism by police during that riot. He talked about the 10 officers who protected the few civilian workers who were still at the police department when rioters began breaking glass doors and windows,
"Only one door remained between the civilians, the officers and those prostesters. Those officers stood their ground knowing they were the only thing that stood between the rioters and the civilians," he said.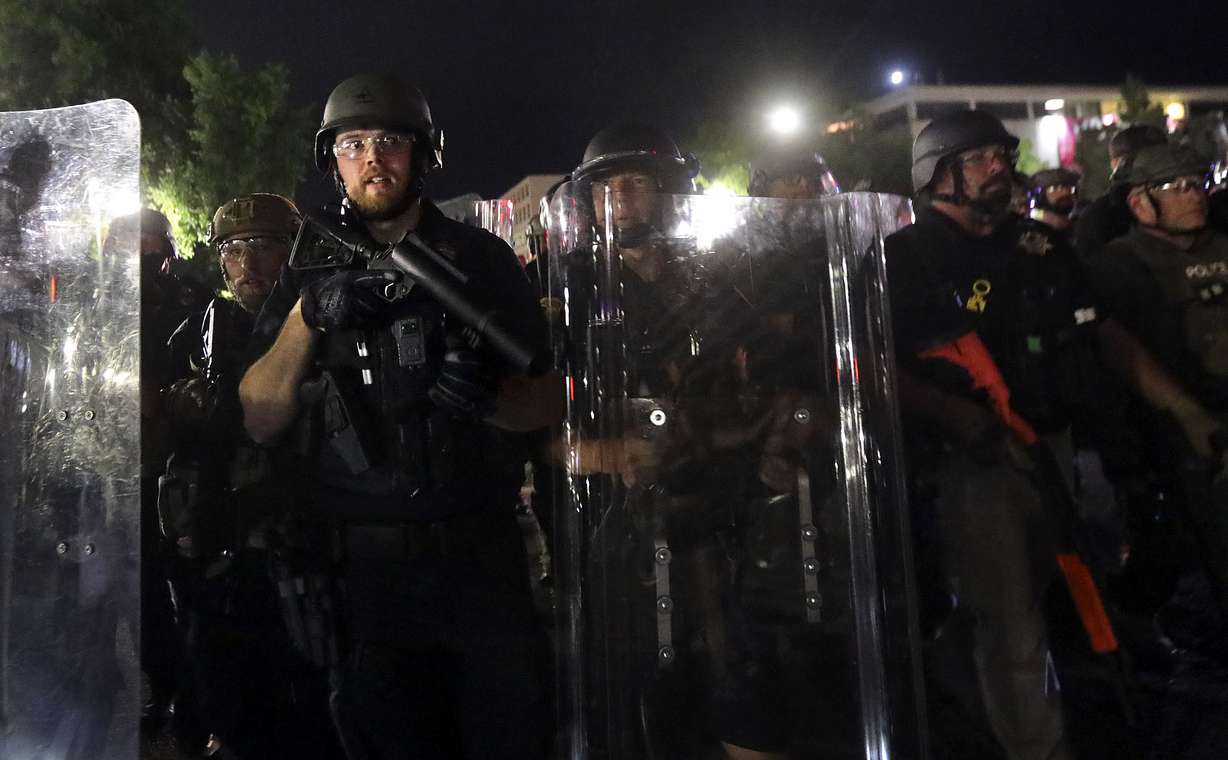 In another example, officers were asked to help an injured woman who was part of the group that had been harassing them.
"They ran to the line and asked for help. The same group that had been attempting to assault officers — who said things to officers that were absolutely despicable — were now asking for help. So what did the officers do? They created a protective bubble, a technique used by the Public Order Unit to rescue people. They used their bodies as a shield to circle the injured protester to carry her to safety and to get her medical help," McBride said.
In a third example, McBride talked about an officer from another agency who had responded to Salt Lake City to help, even though his family was grieving from his father passing away earlier that day.
McBride said that "as with any job, we recognize there are bad members of that profession. We do not want those people working with us. But the vast overwhelming majority of police officers in this city, and in the state of Utah, are good, selfless men and women.
"It's difficult for officers to be subjected to such violence and such hatred when you aren't the one who committed a bad act," he continued, again referring to the morale of officers.
A total of eight people were charged in state and federal court for either overturning, vandalizing or setting fire to the Salt Lake police car. This week, Jackson Stuart Tamowski Patton, 27, pleaded guilty in federal court to one felony count of civil disorder for his role in the incident.
Getting the right people to listen
In the days before George Floyd's murder, Lex Scott considered abandoning her yearslong work advocating for police reform.
"I was so numb to just watching this happen over and over again. You lose hope. I think I was at the point of giving up," she said Wednesday. "It was just too hard for me to face that — just to face the fact that you work for eight years and accomplish nothing."
However, the worldwide attention to police killings and calls for reform that followed Floyd's death invigorated Scott and fellow organizers.
"It feels nice being heard for once," Scott said. "However, it seems like the right people aren't hearing us."
Scott, however, does not condone the violence that occurred in Salt Lake City on May 30, 2020. In fact, she said it distracted from her group's peaceful gatherings and its message of urgent reform.
Those who participated in the destruction were not members of the chapter, she said. Still, their actions reflect poorly on the organization and the many protesters who chanted and marched in solidarity for hours that day without posing threats to anyone else.
As for the broad reforms that she had in mind for the state, Scott believes they largely stalled at the Utah Legislature this year.
The Legislature did boost deescalation training and upped reporting requirements after police use physical force, but more significant reforms failed, she said.
---
It feels nice being heard for once. However, it seems like the right people aren't hearing us.
–Lex Scott, founder of Utah's chapter of Black Lives Matter
---
Scott and other organizers are at work crafting two potential ballot initiatives modeled after two measures that proved unsuccessful in the 2021 Legislature, with a Thursday meeting dedicated to hashing out the specifics of the measures.
One would require police departments to release body camera footage within 10 days of police shootings.
The other would allow cities to create their own elected civilian review boards with oversight of police departments. In 2019, the Legislature banned such panels from having authority over police procedure or decisions.
"We're going to keep doing work on the ground floor here in Utah," Scott said, but added that federal legislation is crucial because it will ensure each state is on the same page.
"Congress is our last hope."
The proposed George Floyd Justice in Policing Act, approved by the Democratic-controlled U.S. House in March, is "everything I wanted and more," Scott said.
She's also heartened by President Joe Biden's statement earlier this week that an agreement will come together after Memorial Day.
The measure would make it easier for police officers to be sued and charged with crimes. It contains a ban chokeholds, limits the use of no-knock warrants and would create a nationwide database of officers with records of complaints and discipline.
The proposal hasn't moved forward in the Senate, where roadblocks include qualified immunity, which generally shields individual police officers from lawsuits.
"I know we will pass sweeping reforms in my lifetime," Scott said, her voice catching. "I'm just so tired of waiting."
Scott said Salt Lake City has taken a good step by creating a commission on racial equity in policing that is focusing in part on the role of school resource officers. Changes the city made to its lethal force policies are also "powerful and important," she said.
But she's calling for Salt Lake City's leaders to whittle the police budget and pour more public money into other sorts of public services.
Seeing the results
During a press conference on Thursday to talk about the success in reducing violent crime in Salt Lake City in 2021 due to local, state and federal partnerships, Mendenhall also talked about the successes the police department was seeing in reshaping the way officers do their jobs in some situations.
"We've never had this level of reform take place in our police department. And this department just turned 170 this year. The reforms we have put in place, we are seeing results on those reforms. Use of force is down 15% the last six months compared to the six months prior to that," the mayor said.
Incidents that may have been handled differently in the past are being safely resolved with deescalation techniques, Mendenhall said.
The mayor added that some of those officers involved in such situations have told her, "'This incident went this way because of this training we recently had around dealing with mental health crisis situations, dealing with deescalation in more ways.' So, we're seeing the results."
Mendenhall said the city will continue keeping track of the data regarding how situations are resolved and use it to improve policing within the city.
Contributing: Katie McKellar, Deseret News
×
Photos
Related stories
Most recent Utah stories