AROUND THE SHIELD — Former BYU quarterback Zach Wilson will have one week into his rookie season to try to prove the Jets did right by drafting him over their former incumbent when New York opens the 2021 NFL season against Carolina.
The Panthers are led by Sam Darnold, who threw for 2,208 yards and nine touchdowns and 11 interceptions in his third season in New York before being traded to the Panthers.
So the upcoming year's opening day matchup will either be the Darnold revenge game — or validation for the fresh-faced Corner Canyon alum who threw for 3,692 yards with 33 touchdowns and just three interceptions during a standout 2020 season that led to the No. 2 overall pick in the 2021 NFL draft.
The rest of the 2021 NFL schedule will be released at 6 p.m. MT. But here are five games local high school and college football fans should keep an eye on during Week 1, though.
All games are on Sunday, Sept. 12, unless otherwise noted.
Are you ready for Week 1?!

Week 1 tickets are now available! https://t.co/mjp9JMwBpM

📺: #NFLScheduleRelease -- TONIGHT (8pm ET) on @nflnetworkpic.twitter.com/t9OxqLKseW

— NFL (@NFL) May 12, 2021
Jets vs. Panthers, 11 a.m. MT, CBS
Wilson vs. Darnold is the headliner, and for good reason.
New York jettisoned Darnold to Carolina so the Gang Green could select Wilson with the No. 2 overall pick in the draft and start a rebuild under first-year head coach Robert Saleh and new general manager Joe Douglas.
Douglas has made plenty of mention of how he fell in love with Wilson's arm, mobility and potential to be the team's franchise quarterback. But he's also been aggressive in signing talent around him, starting with fellow first-round offensive lineman Alijah Vera-Tucker from USC and Ole Miss wide receiver Elijah Moore — and all the way down to undrafted free agent Tristen Hoge, who was Wilson's trusted right guard for most of his BYU career.
Darnold will be facing his former team, but Wilson will also likely be facing his former left tackle, after the Panthers selected Bountiful High alum Brady Christensen in the third round of the draft. Carolina is also home to former BYU receiver Micah Simon, who will try to make the full roster after signing a multi-year contract with the team thanks to a 4.3 40, and former Syracuse High linebacker Kavika Fonua, another undrafted free agent from BYU.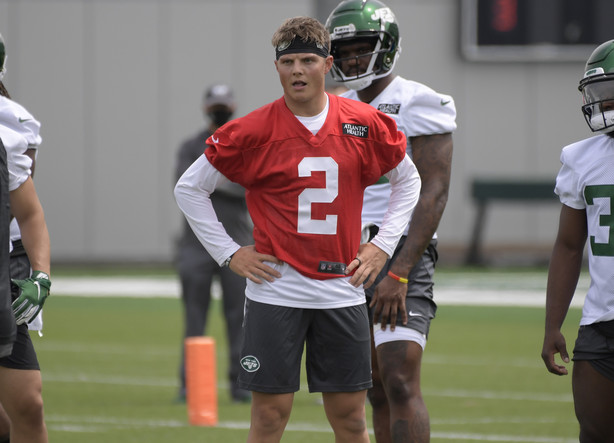 49ers vs. Lions, 11 a.m. MT, FOX
Jamaal Williams' move to the Motor City is also providing intriguing matchups for fans of former college standouts.
BYU's all-time leading rusher will open his Detroit career against the Niners and fellow BYU alum Fred Warner, who is coming off an All-Pro season with 118 tackles, two sacks, six pass breakups and two interceptions. San Francisco's roster also currently includes former BYU safety Kai Nacua, Utah offensive lineman Tony Bergstrom and Utes punter Mitch Wishnowsky.
Williams' time in Green Bay was truncated by the emergence of Aaron Jones at tailback. But his two-year deal worth up to $7.5 million will buoy the former Cougar talisman after a season where he ran for 505 yards and added 236 receiving yards in 2020.
Detroit is also home to Desert Hills High alum Penei Sewell, the former Oregon offensive tackle who coach Dan Campbell selected No. 7 overall because of his "grit" and competitive drive.
"He plays dirty, he's nasty, he gets after people," Campbell said of Sewell, who will miss rookie minicamp after testing positive for COVID-19 Wednesday. "And I would say this: When he makes a mistake, it's because he's trying to kill people. I would rather have a guy you coach backwards from there than a guy you're constantly having to pry, Man, finish your blocks, would you finish your blocks?"
Here's how we'll be kicking off the NFL's biggest season ever on FOX 🙌

The full 2021 NFL schedule will be revealed TONIGHT at 8pm ET / 5pm PT on NFL Network and FS1! pic.twitter.com/v0XRMM2f05

— FOX Sports: NFL (@NFLonFOX) May 12, 2021
Seahawks vs. Colts, 11 a.m., FOX
Two of the top defensive players to come out of the state in recent history will face off in Week 1 when Seattle's Bobby Wagner clashes with former Utah defensive back Julian Blackmon of Indianapolis.
Wagner, a Utah State alum, continued to prove he was one of the top middle linebackers in the modern NFL a year ago, when he compiled 138 tackles in 16 games for the 12-4 Seahawks.
Blackmon, a safety out of Layton High, played through a handful of injuries as a rookie in 2020 — and still finished with 42 tackles, three tackles for loss, six pass breakups and two interceptions in 15 games with the Colts — including 14 starts.
Also looking to join Blackmon and former Hunter tight end Noah Togiai on the Colts roster is former BYU linebacker Isaiah Kaufusi, while Seattle is currently home to fellow Brighton High alum Cody Barton and former Highland defensive tackle Bryan Mone, as well.
Ravens vs. Raiders, 5:15 p.m. MT, ABC/ESPN
The first Monday Night Football game of the season on Sept. 13 — and a return to form for ESPN, which will simulcast the game on ABC — features the unofficial official team of the St. George area as the Las Vegas Raiders play host to the Baltimore Ravens.
In addition to the proximity to the Beehive State — Sin City is located a short two-hour drive from the state line — the game will also feature several local connections, as well.
Former BYU tight end Matt Bushman signed with the Raiders as an undrafted free agent this year, a previous projected late-round pick who opted for Las Vegas almost as soon as the draft ended in April.
Bushman will be looking to make a roster that currently includes former Utah State defensive backs Nevin Lawson and Dallin Leavitt — a one-time safety at BYU. The two Aggie alums are joined by kicker Dominik Eberle, a four-year starter at Utah State who left the program as the all-time leader in points scored with 359 and spent the 2020 season on the Raiders' practice squad.
The Ravens also boast former Utah quarterback Tyler Huntley, who played in two games in 2020 behind Lamar Jackson, and former BYU running back Ty'Son Williams, who spent most of 2020 on the practice squad while appearing in one game on special teams.
EXCLUSIVE ANNOUNCEMENT: Monday Night Football's week 1 matchup will be the #Ravens vs the #Raiders! @Espngreeny@ESPN@NFLhttps://t.co/Ri3iILSj2Xpic.twitter.com/bkUSdUqFm2

— Good Morning America (@GMA) May 12, 2021
Packers vs. Saints, 2:25 p.m. MT, FOX
If Green Bay doesn't resolve the drama surrounding quarterback Aaron Rodgers, who has reportedly asked out of his contract with the Packers, this game could turn into former Utah State starter Jordan Love against former BYU quarterback Taysom Hill.
Of course, it could just as easily feature another quarterback acquired via trade in lieu of the Packers' second-year, former first-round draft pick. And Hill hasn't officially won the starting job from a competition that will wind through the offseason involving Jameis Winston.
It might even involve quarterback Ian Book, the all-time wins leader at Notre Dame whom the Saints drafted in the fourth round.
New Orleans' roster also features former Utah free safety Marcus Williams and former Judge Memorial linebacker Kaden Eliss.
×
Related Stories