SALT LAKE CITY — Oregon offensive tackle Penei Sewell didn't make the trip to the NFL draft in Cleveland, opting instead for a celebration closer to home with his family and friends.
His journey to the NFL has been long enough.
The 2019 Outland Trophy winner didn't walk across the stage to shake NFL commissioner Roger Goodell's hand, but the moment wasn't any less sweet as he celebrated at a sponsored AirBnB with family. He shed some tears while surrounded at a rental home with his parents Gabe Sr. and Arlene, his siblings and close family, and the island tradition of Pizza Hut for big occasions.
At one point, Sewell's hands moved to the jewelry around his neck with the world "Samoa" emblazoned in bling and the flag of American Samoa — his homeland — on the back.
The 6-foot-6, 325-pound offensive tackle heard his name called over the podium by Goodell on Thursday night, when he was selected as the No. 7 draft pick by the Detroit Lions in Cleveland, Ohio. And then, he whooped, hollered, and spent his emotions, just a kid from the island making his dream come true.
"Every time I would think about this moment, I go back to the kid in the islands, in that shack with all my family," said Sewell, still clutching the necklace as he met with reporters an hour later via video conference. "I had that same group that was sleeping on the floor. Now look at us: I'm in a position to change my family's dynamic.
"To be a part of the NFL and the Detroit Lions organization is nothing but a dream come true."
The feeling back in Detroit was mutual.
This was our reaction to getting our guy @peneisewell58 🤩

Reply with yours. pic.twitter.com/lCApNCOj8j

— Detroit Lions (@Lions) April 30, 2021
It might not be a "sexy" pick like a quarterback or flashy wide receiver. But Sewell was exactly what the Lions needed, general manager Brad Holmes told reporters late Thursday night, and one of three players they had identified as being "through the roof" if they could select one.
"I think Penei is pretty flashy, himself," Holmes said with a laugh. "It's termed often as not-as-sexy when you go with a big lineman, and sometimes it's safe and sound. But I think it will be a very attractive pick when he's rolling with our offensive line during the season and is making an impact."
In joining former BYU and Corner Canyon quarterback Zach Wilson, Sewell's selection gives the state of Utah two top-10 NFL draft picks for the first time in the league's modern history. He's also the first draft pick in the history of Desert Hills High School, which was founded in 2008.
A native of Malaeimi, America Samoa, Sewell moved with his family to St. George in 2012 as he and his brothers — including University of Utah safety Nephi Sewell — could focus on football. The move paid off for Gabe and Arlene's boys, who also sent Gabe Jr. to play at Nevada, Nephi to Utah, and Noah Sewell to Oregon.
Football was the Sewell's life for their past and present — Gabe Sr. was recently named the head coach at Orem High after leading the Tigers to the Class 5A state title with an interim tag. Now the game will be a big part of their future, too.
"It's a way of life for me," Penei Sewell said. "It's not just a game. It's something that I've always remembered; if I had a first memory of anything, it's the game of football. I fell in love with it forever ago, and I'm willing to do whatever it takes to keep playing the game."
In the Lions, Sewell joins a veteran offensive line that includes Taylor Decker at the other tackle spot and Pro Bowl center in Frank Ragnow. He should step in immediately at left tackle, providing Detroit with a pillar around which to build for years to come. He'll also lean on Decker, Ragnow, Dan Skipper and Halapoulivaati Vaitai, among others, to form one of the most talented offensive lines in the league.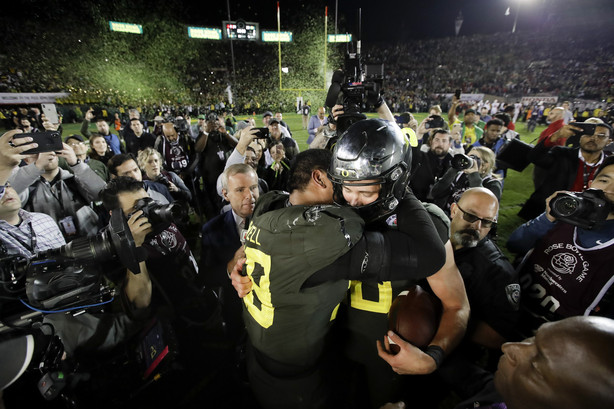 "To join a room like this is a blessing," Sewell said. "To be a young dude and to join a veteran group with so many years, it's easier to approach the game. I can go to them for advice, and soak up as much knowledge as possible. Being a sponge around those guys will help me."
The Sewell brothers of Nephi and Penei lead Desert Hills to over 4,000 yards of offense and a state title in 2017, when Penei Sewell rose up ratings lists to become a four-star prospect and No. 1 recruit in the state by ESPN, Rivals and 247 Sports. Tabbed the No. 53 overall prospect in America and No. 2 offensive guard by 247 Sports, Sewell enrolled at Oregon over offers from Alabama, Arizona State, BYU, Nevada and Utah, among others, and was an immediate starter.
After a freshman All-American season by USA Today, Sewell became the first-ever sophomore to win the Outland Trophy, given to the nation's top lineman. A consensus All-American and Morris Trophy winner in the Pac-12, Sewell opted out of the 2020 season due to coronavirus concerns — he made the decision before the league decided to opt back in to a truncated, conference-only campaign in October — and left Oregon having allowed just one sack in 1,376 snaps in two seasons.
With Sewell in the starting lineup, the Ducks were 17-3 over two seasons and dropped to 4-3 with losses to Oregon State, Cal and Iowa State in 2020. As good as the Ducks have been, the Outland Trophy winner has changed Oregon football for the better.
He's hoping to do the same to the Lions.
"I'm ready to come in every day and run through a wall to accomplish my team's goals," Sewell said. "I'm ready to sacrifice anything and everything for my dreams."
Ditto for Detroit.
"He's going to be integral to our franchise for years to come," Holmes said. "He's just a transcendent talent. I can't remember a guy with feet like him in a long time. It's not just athletic ability; he's got the toughness that we're looking for. He comes from a football family, his dad's a coach, and his brothers are college football players.
"We love the make up, and we couldn't be more jacked about landing Penei."
×
Related Stories