Estimated read time: 7-8 minutes
This archived news story is available only for your personal, non-commercial use. Information in the story may be outdated or superseded by additional information. Reading or replaying the story in its archived form does not constitute a republication of the story.
PROVO — As Zach Wilson strutted across the stage at the 2021 NFL Draft in Cleveland in his freshly minted, custom-fit Armani suit, the moment finally hit him.
After three years at BYU and a lifetime of memories, the Corner Canyon product who grew up a Utah fan had finally made it to his professional career.
With the No. 2 pick in the draft, the New York Jets expectedly made Wilson's dreams come true — and with it, a bit of history.
Wilson is the highest-drafted BYU football product in league history, and the highest-drafted player from a Utah high school in all time. The 6-foot-3, 210-pound quarterback broke a record that had stood since 1962, when the Los Angeles Rams selected Logan High product and Utah State defensive tackle Merlin Olsen with the No. 3 pick in the draft.
He was also the first player in Cleveland to slap palms and man-hug with NFL commissioner Roger Goodell. Led by former Utah coach Urban Meyer, the Jacksonville Jaguars selected former Clemson quarterback Trevor Lawrence at No. 1 overall. But the long-haired wonder who has been the projected top pick since his junior year in high school did not make the trip to Cleveland, instead opting to celebrate draft night at home with his family and close friends.
"There's not another team I'd want to play for besides the Jets," Wilson said on NFL Network shortly after being drafted. "We're going to be a special team. We're going for the Super Bowl."
"I can't wait," Wilson told reporters a short time later via video conference, "to be able to represent that city."
The Jets are happy to have him — even if there wasn't much suspense in making the pick. New York general manager Joe Douglas admitted after the draft that the organization has planned on selecting Wilson with the No. 2 pick since he watched the former BYU starter's pro day in March. Prior to that, the Jets held several rounds of Zoom interviews with Wilson and other prospects — but even then, there was something different about the football-obsessed film junkie from Draper.
During the pro day, Douglas — along with scouts and GMs from 30 other NFL teams — saw that difference up close.
"I think the pro day really helped solidify the decision," Douglas said. "We spent a lot of time with him on the Zoom call, and watched a lot of tape from his unbelievable junior year. But ultimately, that pro day really cemented it.
"A big part of it was just watching his tape with him, and detailing and outlining all the intricate details of his offense. Coach (offensive coordinator Mike) LaFleur did a great job running those meetings, but Zach really stood out. His recall, his focus, his intensity, his passion; it all stood out."
San Francisco selected former North Dakota State star Trey Lance with the No. 3 overall pick and third-straight quarterback pick, and Florida tight end Kyle Pitts was the first non-QB selected, going to Atlanta with the No. 4 selection. LSU wide receiver Ja'Marr Chase rounded out the top-five to the Cincinnati Bengals, where he will be reunited with former Tigers teammate Joe Burrow, the second-year quarterback in the Queen City who becomes the first NFL player to be joined by a fellow top-five college teammate in the NFL's common era.
But Wilson "checked all the boxes," said first-time head coach Robert Saleh, who previously served as the defensive coordinator of the 49ers where he coached Wilson's former teammate Fred Warner.
"The things that we value out of quarterback play, he checks every box," Saleh said. "Arm strong? Check. Accuracy? Check. Fearless in the pocket? Check. He makes the right decisions to get the ball where it needs to go and doesn't turn the ball over.
"He's a special young man, and his mental horsepower is through the roof. We're really excited to have him a part of the New York Jets."
The Jets then made one of the bigger moves of the mid-first round, trading two third-round selections and their No. 23 overall pick to move up to Minnesota's spot at No. 14 and select USC offensive lineman Alijah Vera-Tucker. The 6-foot-4, 315-pound guard played in 31 games, including 19 starts in his three-year career with the Trojans.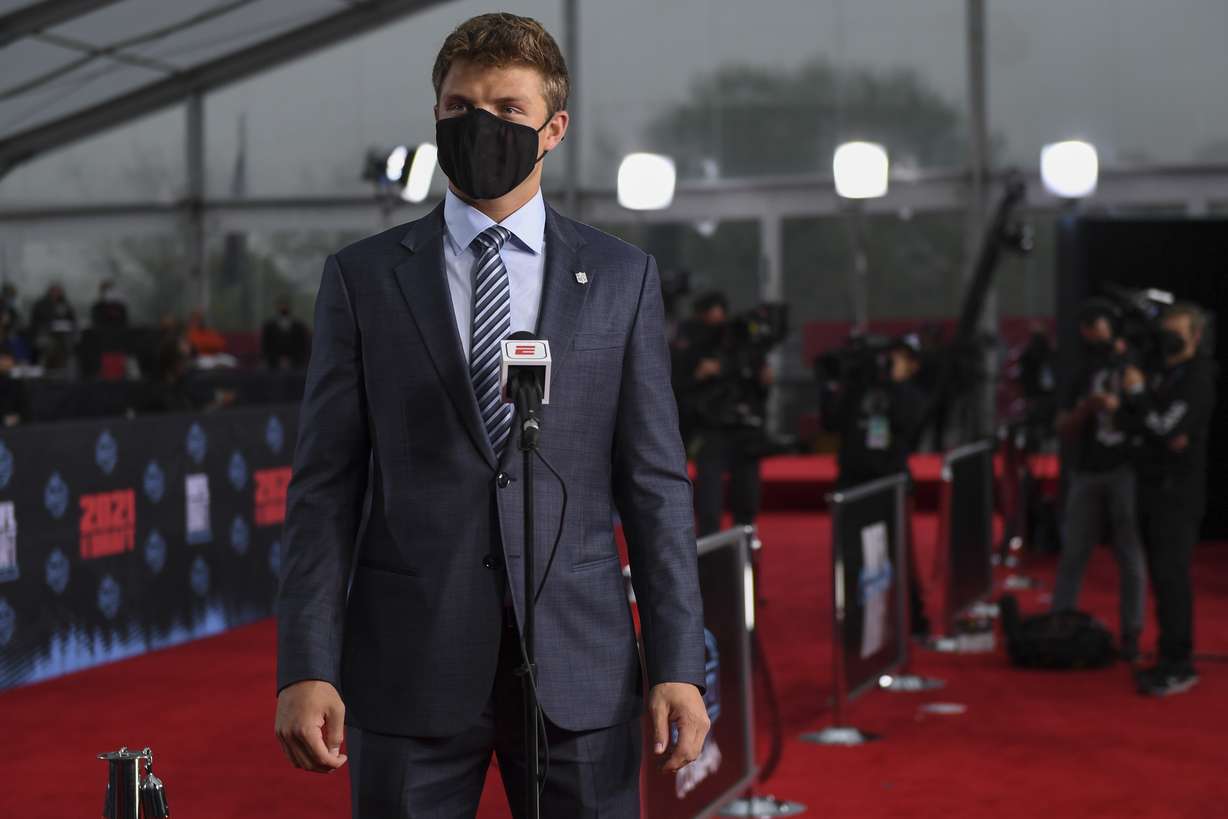 During his career in Southern California, Vera-Tucker played both left guard and left tackle, and started all 13 games at 2019, when he was named to the Associated Press Pac-12 first team and the Trojan's offensive lineman of the year. That season was also marked by USC's 20-17 overtime loss at BYU — and two years later, he'll be tasked with protecting the same former Cougars quarterback in the Big Apple.
The 2020 Morris Trophy winner given to the top offensive lineman in the Pac-12 as voted on by the conference, Vera-Tucker joins the Jets after they traded two third-round picks acquired from the Seattle Seahawks, while also acquiring a compensatory fourth-round pick at No. 143 overall.
With his selection, Wilson also joins a fraternity of BYU quarterbacks with huge professional expectations. The Corner Canyon grad edged out BYU's former top QB pick of Jim McMahon, the Roy High alum who was selected No. 5 overall by the Chicago Bears in 1982 (another BYU grad, Steve Young, was the No. 1 pick in the 1984 supplemental draft — but the 1983 Heisman Trophy runner-up first went to the LA Express in the USFL prior to that league ceasing operations).
Wilson is the first BYU player selected in the first round since Ziggy Ansah was the fifth pick by the Detroit Lions in the 2013 draft. The quarterback beat out a talented class of college quarterbacks, including Ohio State's Justin Fields, Alabama's Mac Jones and Lance, among others, to follow up top pick Lawrence — the Clemson signal-caller who was selected by Urban Meyer and the Jaguars, a move that has been projected since Lawrence's junior year of high school, if not earlier.
"The whole situation is so surreal for me," Wilson said. "I'm soaking in every moment. This is a blast; it's a dream come true."
Wilson's rise was more meteoric, to say the least. The former BYU junior rocketed up draft boards after an 11-1 season that saw him complete 74% of his passes for 3,692 yards and 33 touchdowns with only three interceptions.
Questions have arisen over the quality of Wilson's competition last fall; after the Pac-12, Big Ten, SEC and other leagues initially opted out of nonconference play due to the COVID-19 pandemic, the Cougars had to rebuild their schedule on the fly.
The rebuilt schedule helped Wilson showcase his arm, his speed, and his quick release — to say nothing of rebounding from a 7-6 sophomore campaign where he threw for just 2,382 yards and 11 touchdowns with nine picks following offseason shoulder surgery.
In three years at BYU, Wilson completed an average of 68% of his passes for 7,652 yards, 56 touchdowns and 15 interceptions. He also ran for 15 more scores, and leaves Provo as the most accurate single-season quarterback in program history — a mark previously held by Young prior to the San Francisco 49ers legend's own Super Bowl-winning career.
"Something I feel that separates me is just my passion for the game," Wilson said after his pro day in March. "I really put a lot of time into what I do. Throughout all the years and stuff, I really dedicated my life to football. It's crazy, when people ask me what I do outside of football — football is really my life. It's everything I've got going on.
"I'd be happy to go with any team that drafts me."
Now that team will be the J-E-T-S, a franchise looking to rebuild under new head coach Robert Saleh and general manager Joe Douglas. Both have interviewed and watched Wilson extensively — Douglas came away particularly impressed by the BYU signal-caller's pro day in Provo.
They felt so confident in Wilson's ability that they jettisoned former starter Sam Darnold to Carolina on April 5, paving the way for "Broadway Zach" or "Wall Street Wilson" or whatever nickname the ruthless New York media market will give him.
"These guys need a good quarterback and a good leader," Wilson said. "I think I have those qualities. ... I can't wait to get to New York City."
The work starts tomorrow. But the BYU product promises he won't forget where he came from — be it BYU, Utah or the Draper neighborhood where he won a state title at Corner Canyon.
"I think it's huge, remembering where you came from," Wilson said. "I think I've had an incredible journey, and it shows it's possible for anybody coming up in my shoes.
"It means the world to come from BYU."
Contributing: Dennis Waszak Jr., Associated Press
×
Photos
Related stories
Most recent BYU Cougars stories