AROUND THE SHIELD — It's only been a week, but former BYU star and New York Jets quarterback Zach Wilson is already back to work, with the Jets opening rookie minicamp Friday in New Jersey.
If that didn't take long, consider that Wilson is already a week into getting to know his current teammates, too — including one former teammate.
As soon as running back Michael Carter, the North Carolina running back who was selected in the fourth round last Saturday, heard his name called by general manager Joe Douglas and others, he had a new text message from his QB1. Wilson — who was only two days into his own career with New York — wanted to welcome him to the club, and the No. 2 overall pick was soon on the phone talking with his fellow rookie.
"The more I talk to him, I can see what the people say about him, about his energy," Carter said of Wilson, who was in New Jersey by the weekend after a late night at the NFL Draft in Cleveland. "He's unafraid to speak up, and he's a genuine person, in terms of leadership.
"People want to follow people who want the best for them. I can tell that right off the bat."
Fellow first-round pick Alijah Vera-Tucker, the offensive lineman from USC whom the Jets traded up to select in part to protect Wilson in the pocket, added that most of what he knows about Wilson has little to do with football.
Day 1 for the No. 2 overall pick.@zachkapono1 | @nyjetspic.twitter.com/ZRpEeDGuG1

— NFL (@NFL) May 7, 2021
And that's OK.
"First off, he's a good guy," Vera-Tucker said. "I talked to him a lot the last couple of days. He's a good guy, I know he's a hard worker, and I've seen what he does on the field. That's all you can ask of him."
Rookie minicamp is less about football and conditioning and more about getting to know a new staff, a new scheme under offensive coordinator Mike Lafleur and a new environment for New York, one of just three NFL teams that opened rookie minicamp Friday (the Colts and Raiders were the others).
"Out of all the rookies, not just Zach, we really want these guys to not only get introduced to the staff and the scheme — but also introduce them to us and what they want us to know about them," first-year Jets coach Robert Saleh said. "This is a no-pressure, come out, introduce yourself to the scheme and to us, and get a good feel.
"It's not a conditioning contest out there. It's just about finding out what it's like to be a professional."
Even Saleh took notice of the baby-faced assassin from Draper who was QB1 under center Friday, though.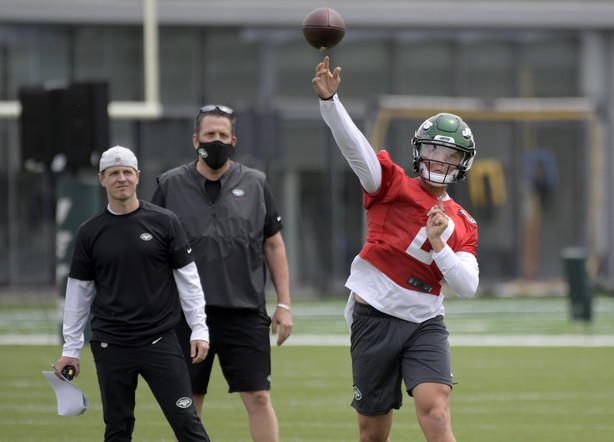 "He's a guy who loves football. And when you love football, you're going to do everything you can to help yourself not only get better at it but to protect it," Saleh said. "That means your off-the-field stuff is going to be right.
"To have your quarterback with that mindset, it's awesome. But it's something we want to see out of every single one of our guys."
Of course, Wilson's new teammates know one thing about the former Corner Canyon signal-caller just after watching college football over the 2020 season. Sporting a red noncontact jersey with a No. 2 emblazoned on the front, Wilson immediately found a connection with fellow rookie and second-round pick Elijah Moore, the former Ole Miss receiver whom the Jets selected with the No. 34 overall pick.
Moore knows a bit about Wilson — "I saw him throwing a lot of touchdowns" last year, he said of the BYU signal-caller's 33 touchdowns with just three interceptions. The quarterback also wants to get to know his receiver.
"He wrote me on social media, said he was pumped," Moore said. "He then texted me and said how fired up he was.
"Just by talking to him on the phone, I could tell he's a general. His passion came out through the phone."
Here's a look at other team activities as the league's 32 teams open the 2021 offseason.
---
Atlanta Falcons
Rookie minicamp: May 14-16
Mandatory minicamp: June 8-10
Local players to watch: Zac Dawe, DL, BYU/Pleasant Grove; Alani Pututau, DL, Snow College/South Sevier
Carolina Panthers
Rookie minicamp: May 14-16
Mandatory minicamp: June 15-17
Local players to watch: OT Brady Christensen, BYU/Bountiful; WR Micah Simon, BYU; LB Kavika Fonua, BYU/Syracuse
Chicago Bears
Rookie minicamp: May 14-16
Mandatory minicamp: June 15-17
Local players to watch: DT Khyiris Tonga, BYU/Granger
Indianapolis Colts
Rookie minicamp: May 14-16
Mandatory minicamp: June 15-17
Local players to watch: LB Isaiah Kaufusi, BYU/Brighton
Kansas City Chiefs
Rookie minicamp: May 14-16
Mandatory minicamp: June 15-17
Local players to watch: S Zayne Anderson, BYU/Stansbury
Las Vegas Raiders
Rookie minicamp: May 7-9
Mandatory minicamp: June 15-17
Local players to watch: TE Matt Bushman, BYU
Los Angeles Rams
Rookie minicamp: May 14-16
Mandatory minicamp: June 15-17
Local players to watch: DB Troy Warner, BYU
New York Jets
Rookie minicamp: May 7-9
Mandatory minicamp: June 15-17
Local players to watch: QB Zach Wilson, BYU/Corner Canyon; OL Tristen Hoge, BYU
Tampa Bay Buccaneers
Rookie minicamp: May 14-16
Mandatory minicamp: June 7-9
Local players to watch: CB Chris Wilcox, BYU
Tennessee Titans
Rookie minicamp: May 14-16
Mandatory minicamp: June 15-17
Local players to watch: OL Chandon Herring, BYU
Washington Football Team
Rookie minicamp: May 14-15
Mandatory minicamp: June 15-17
Local players to watch: WR Dax Milne, BYU/Bingham
×
Photos
Related Stories