Estimated read time: 5-6 minutes
This archived news story is available only for your personal, non-commercial use. Information in the story may be outdated or superseded by additional information. Reading or replaying the story in its archived form does not constitute a republication of the story.
PROVO — The New York Jets made the second-biggest blockbuster trade of the NFL offseason Monday, paving the way to select a local quarterback prospect as the new face of the franchise.
Broadway Zach, come on down.
As Sam Darnold trades in Jets green for Carolina Panthers blue, New York held on to the No. 2 overall pick in the draft in a move that appears to usher in the selection of former BYU quarterback Zach Wilson on the first day of the NFL Draft.
The Corner Canyon product would be the highest-ever draft pick from BYU if he goes to the Jets, and the first selection in the first round from the school since Ziggy Ansah was drafted No. 5 overall by the Detroit Lions.
In exchange for Darnold, the Panthers dealt three draft picks to the New York, including a sixth-round selection — No. 226 overall — in April. The Jets will also receive a second-round and fourth-round pick in the 2022 draft.
Ironically, the Panthers recently signed one of Wilson's former BYU teammates — wide receiver Micah Simon — after the pass catcher's 4.34 40-yard dash he ran during BYU's pro day.
But this move was always about clearing space for Wilson, even if Darnold, a third-year NFL starter, is on a relatively inexpensive annual salary of $4.774 million in the final year of his rookie contract. Carolina could also exercise a fifth-year option of $18.858 million; the team has until May 3 to do so.
Darnold entered the league with promise, completing 57.7% of his passes for 2,865 yards, 17 touchdowns and 15 interceptions while leading the Jets to back-to-back home wins over Denver and Indianapolis en route to a 4-12 record.
The San Clemente, California, native didn't get worse over the next two seasons, throwing for 3,024 yards and 19 touchdowns with 13 picks in year two and 2,208 yards and nine touchdowns with 11 interceptions a year ago. But the Jets never got better, capped by last year's 2-14 record that landed the No. 2 pick in the draft.
His ability to lead an NFL franchise has been much discussed, but if anyone needed a fresh start while still in their rookie contract, it was Darnold.
That may explain why the eyes of Jets brass and personnel have been consistently on Wilson, especially under first-year head coach Robert Saleh. General manager Joe Douglas flew to Provo for Wilson's pro day — along with scouts and executives from 30 other NFL teams – and he was even spotted having a lengthy discussion with Wilson following a throwing workout that helped skyrocket the 6-foot-3, 210-pound signal-caller's draft stock.
"Great staff; love those guys. Joe Douglas is a good guy, and it was great to see him out here," Wilson told New York reporters on a Zoom call following his pro day. "They've got a great thing going.
"My Zoom interactions with them have just kind of been like any other team: They're just trying to pick your brain, see what you're about and the way you process things."
Wilson had a spectacular junior season, completing 73.5% of his passes for 3,692 yards and 33 touchdowns with just three interceptions in the Cougars' 11-1 season that included a schedule rebuilt on the fly due to the COVID-19 pandemic. The year launched the junior into Heisman Trophy conversations before he declared for early entry in the NFL draft, just two and a half years after taking over the starting role full-time midway through his freshman season in Provo.
A mostly healthy Wilson threw for 1,578 yards and 12 touchdowns with three interceptions in half a year as a freshman, when he completed 65.9% of his passes in 2018. He followed that up with an injury-riddled campaign of 2,382 yards, 11 touchdowns, nine interceptions, and a 62.4% completion percentage in 2019.
But the headband star from Draper came back with a vengeance in what turned out to be his final year of college football, and Wilson now aims to take advantage of his new position.
Wilson is the No. 7 overall prospect on Mel Kiper Jr.'s big board, and the No. 3 quarterback behind Clemson's Trevor Lawrence and Ohio State's Justin Fields. But questions of consistency have swirled around Fields — right or wrong — and most mock drafters project Wilson to go No. 2 to the Jets, including Kiper's ESPN colleague Todd McShay.
New York's trade with Carolina simply confirms the notion that no team will trade with the Jets to snag the No. 2 pick. With the 49ers moving up to No. 3 via a trade with Miami — presumably to challenge Jimmy Garoppolo for the starting job — the Jets will definitely need to use that spot on a franchise signal-caller.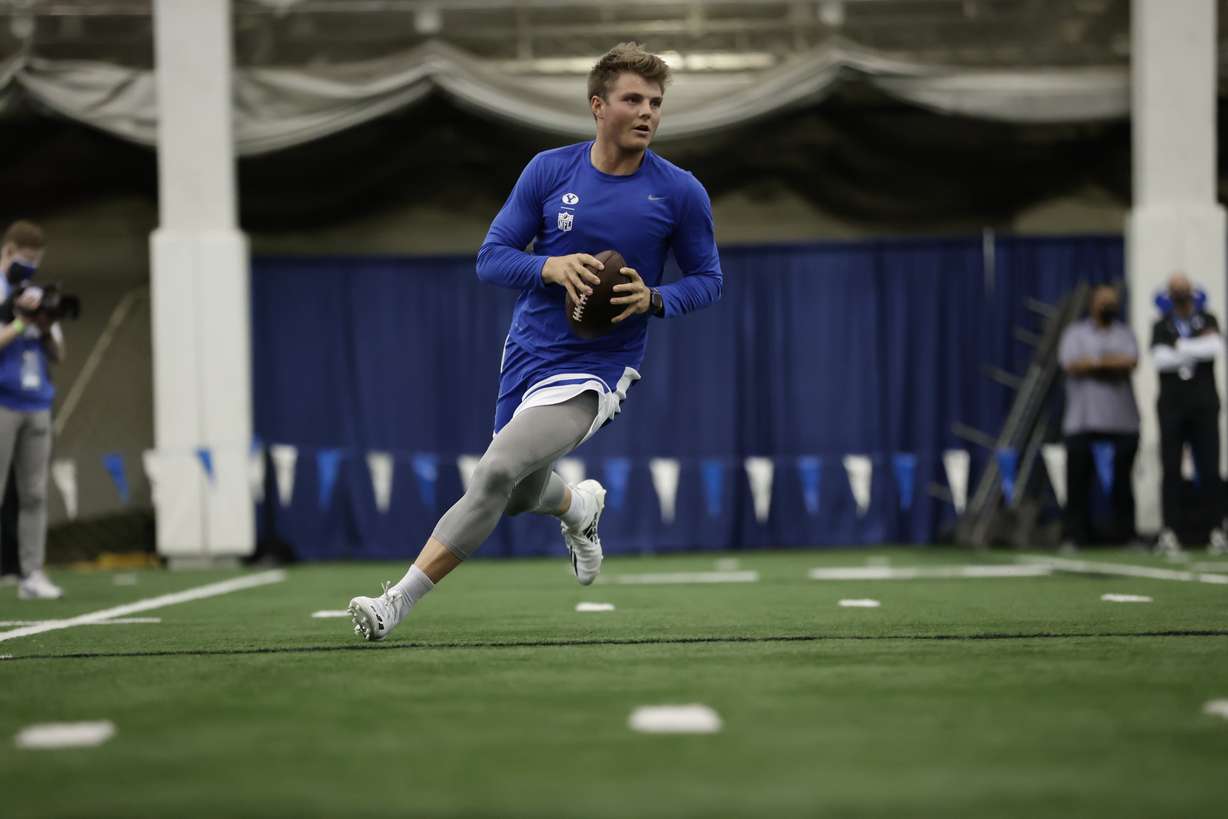 Enter Wilson.
"He fits so well with the modern NFL, showing the ability to make plays on the run, the arm strength to drive the ball vertically and the instincts to tuck and run for big gains when necessary," McShay wrote of Wilson. "But similar to the Jags (Jacksonville drafting Lawrence at No. 1), the Jets have to get Wilson support. They brought in Corey Davis, Keelan Cole Sr. and Tevin Coleman over the past few weeks and have nine total picks to work with."
Make it eight picks now. But that could be enough to fill out the New York roster around Wilson, who also scrambled for 642 yards and 15 touchdowns in three seasons with the Cougars. He'll need some help — a quarterback, after all, is only as good as his offensive line. But Wilson showed during his pro day that he can make all the throws.
"The quarterback position is changing," Wilson said. "You want someone who is athletic and mobile in the pocket, and can make all the throws, but also extend and make all the angles."
Will he able to make those throws in the Big Apple?
We're about to find out.
×
Related stories
Most recent NFL stories