Estimated read time: 3-4 minutes
This archived news story is available only for your personal, non-commercial use. Information in the story may be outdated or superseded by additional information. Reading or replaying the story in its archived form does not constitute a republication of the story.
Editor's note: This is part of a series at KSL.com featuring some of Utah's coolest cars. If you own a customized vehicle — from sports cars to semitrucks — email jormond@ksl.com with a photo of the vehicle and a brief description for consideration.
LINDON — In 2007, Jeep came out with the Wrangler Unlimited, a stretched Jeep with four doors that still had a removable roof. That wasn't enough for one Lindon designer, so he built his own three-row version — and he was just the guy for the job.
Craig Cheney is a product designer who works on everything from shoes to cars. He has five kids, which means he's out of the Jeep line unless you count the Grand Cherokee L, which is more upscale and keeps its roof on at all times.
So, it was time to fabricate. "Fabricate" means designing, cutting, welding and sometimes cursing as you make something that didn't use to exist. In this case, it was a Wrangler with seating for seven.
Cheney started with a new Gladiator four-door pickup. In December 2019, he bought one with the Rubicon package to get the locking differentials and offroad equipment. Because he lives in Utah, he wanted fabric seats, the Cold Weather package and an upgraded alternator and battery for camping.
Cheney said he wanted the conversion to look like it came from the factory. He found seats and interior parts from newer Jeeps and cut and welded his Gladiator so they'd bolt in. He had a roll bar from a wrecked Unlimited shipped out from Detroit, cutting and welding the bar to fit.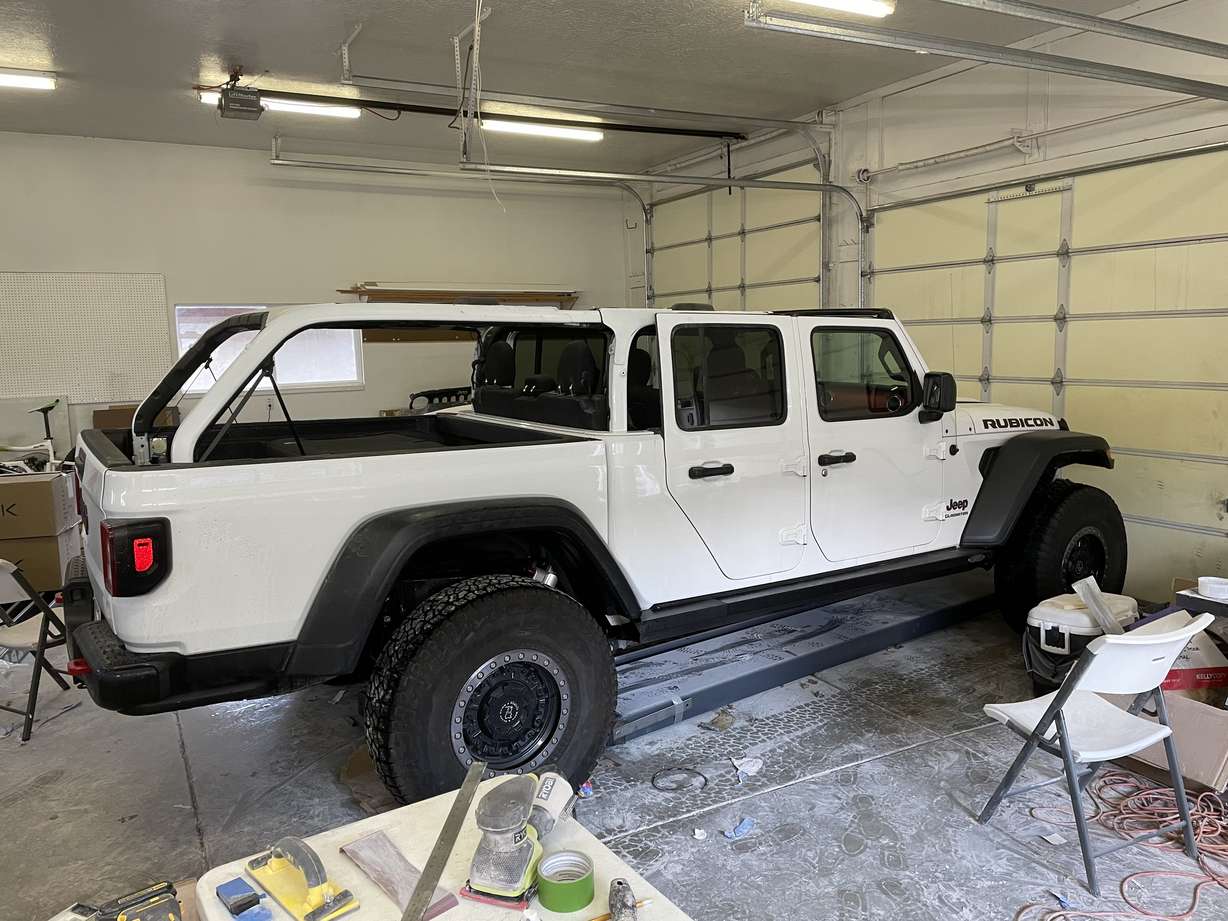 For the roof, he started with a brand new Wrangler 4-door top, then cut it and elongated the fiberglass to cover the full length of the bed. Halfway through the job, he decided to make the rear area taller for headroom and looks after he thought it looked too long and skinny. It now rises 1 1/2 inches starting at the second row, giving a nod to the old Land Rover Defender 110 and going for a vibe like a safari vehicle.
Cheney said he did all the work himself except for the last coat of paint, and got some help from his older kids.
He also got help from the floorboards down. A few companies across the Wasatch Front helped by sponsoring the suspension, tires and side steps, which — unlike running boards — can be helpful in serious crawling situations. Cheney said he can scrape and pivot on them.
Cheney said the build rides great. He skipped the big knobby tires, going more adventurer than crawler, and drove some of the family to the Moab Easter Jeep Safari. He reported getting good feedback from those who even noticed it was a custom job.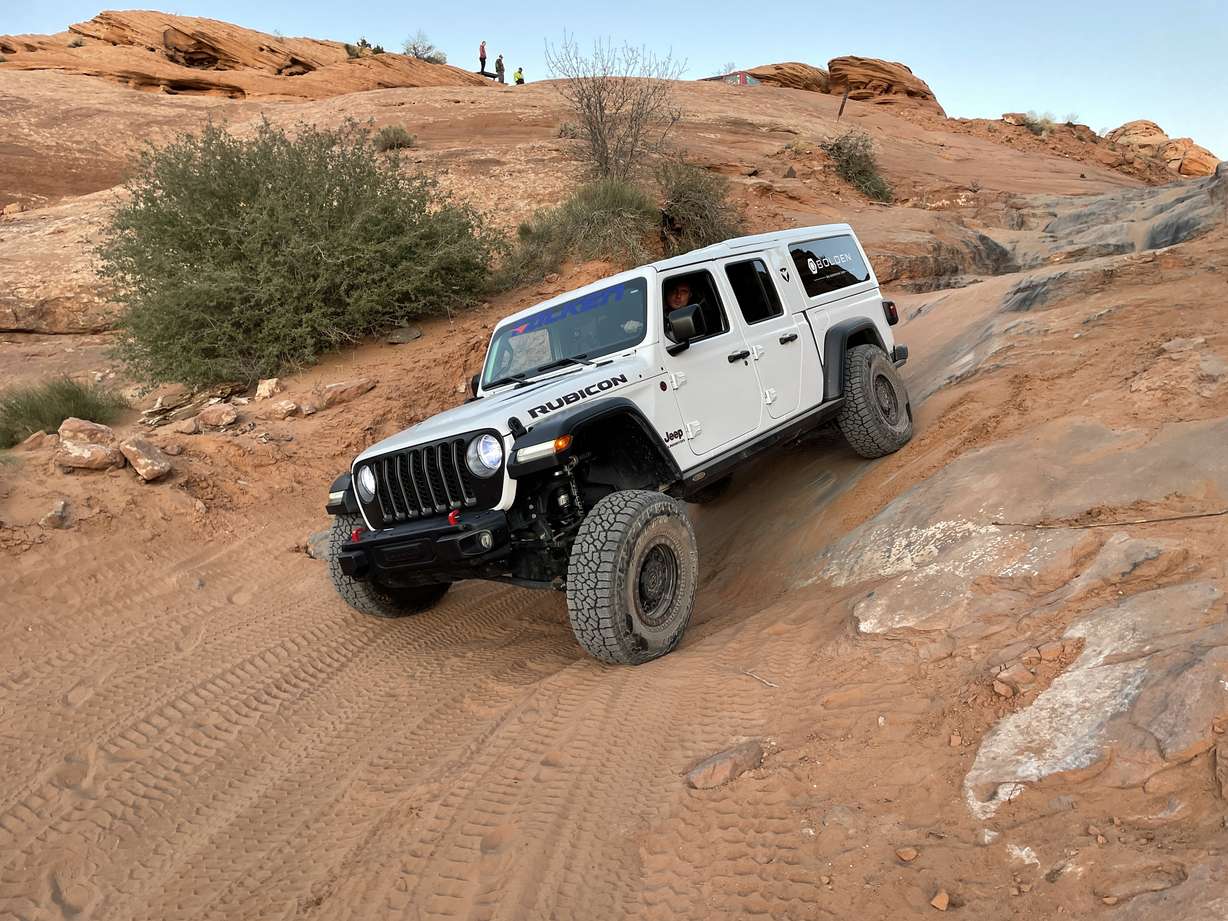 Doubters ask why he didn't just buy a Suburban, which Cheney points out is now built more for street use than offroading. Jeep had some factory reps there who appreciated his work but did not ask for the blueprints, he said.
The big change from truck to three-row SUV took about five months to complete, but Cheney said Jeeps never are truly complete: There's always something new to add or upgrade.
For now, the family loves riding in it. They have a minivan for getting around and just take the Gladiwagon (I just made that term up; he calls the project "Spartan") on fun trips, saying it feels like a roller coaster for seven.
Cheney is still getting sponsors and contributors and said there is a high likelihood the project will be at SEMA, the Las Vegas convention for companies making aftermarket parts for vehicles.
More Cool Cars:
---
×
Photos
Related stories
Most recent Utah stories