Estimated read time: 4-5 minutes
This archived news story is available only for your personal, non-commercial use. Information in the story may be outdated or superseded by additional information. Reading or replaying the story in its archived form does not constitute a republication of the story.
Editor's note:This is part of a series at KSL.com featuring some of Utah's coolest cars. If you own a customized vehicle — from sports cars to semitrucks — email jormond@deseretdigital.com with a photo of the vehicle and a brief description for consideration.
TOOELE — You know that pocket watch or other family heirloom you keep in a box? You could've had something much more fun if only your ancestors had more room for it. Case in point: The Busicos.
In 1941, Vincenzo Busico bought a Dodge Luxury Liner from Paulos Brothers in Tooele. His daughter Louise said it cost just over $1,000 and a salesman drove it to Tooele from Salt Lake City.
It was a family car, serving a family of 10. Louise and her siblings learned to drive in it, but she took a break from driving she backed out of the garage and dented the right side while also ripping off a side of the garage.
Vincenzo drove the old Dodge until 1962, selling it to Louise on June 24, 1963, when she was in her early 30s.
Joe Busico said his mother was always a car girl, but no one's sure just how long she drove it. It ended up in a Tooele garage for years. In 1973, Louise's high school senior son Joe took it out of the garage. He aired up the tires, wiped down the windows and drove it a week. Joe said old cars weren't cool then, muscle cars were, so he put it back in the garage. It sat there another 46 years.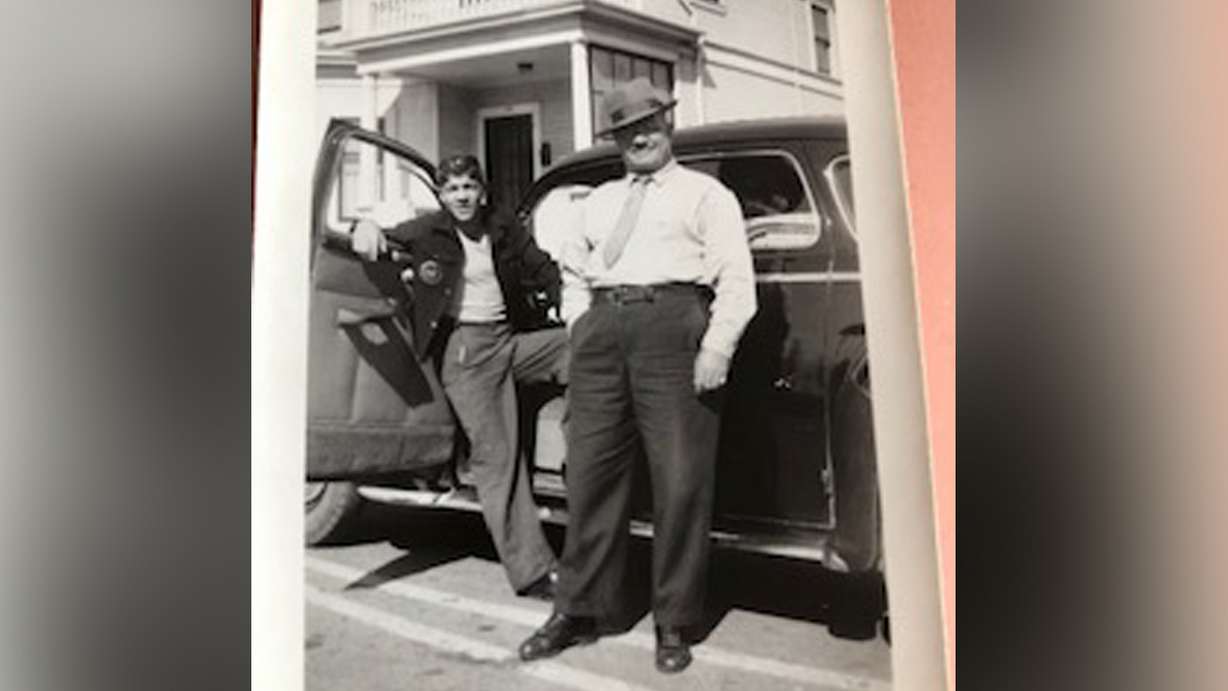 On May 16, 2019, generation-three Joe showed the old Dodge to his generation-four kids. The kids decided their dad should do something with it, so he found Resurgence Automotive in West Jordan. Now 78 years old, the vehicle hadn't been started in 46 years; it made the trip on a flatbed.
Resurgence repaired the radiator and master cylinder and basically cleaned it up. Joe said they had to manufacture a part for the shifter since you can't find parts for it. The parts they did find were ornamental for the wheel coverings.
Robert Staker at Resurgence asked if they had run the car. Joe said no and that he hadn't put gas in it since 1973. They popped a battery in it, and it fired right up. They also gave it new spark plugs but kept it as original as possible.
Joe quotes Staker as saying, "This is not a restoration car; this car is a survivor."
There was some discussion about whether the '41 needed paint, but they decided to wait until they buffed it out. Joe gave Robert the deadline of July 27, 2020 — Louise's 89th birthday.
The buffing-out worked, the interior looked good after just some cleaning, and the Dodge was ready to surprise Joe's mother.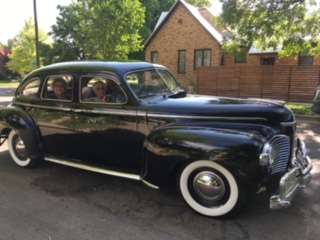 The family took Louise to dinner for her birthday and were sitting on chairs out front when the Luxury Liner drove up. At first, she didn't know what it was. When Joe honked the horn, sister Mary Lou said, "That's for you!" and Louise replied, "Oh my heavens!"
The family said Louise was in total shock from what it looked like. Joe said it was an amazing reaction, and the car was in better condition than one recently featured in Hemmings Magazine.
Joe said the family now drives the Dodge on Sundays in the summertime and stores it in Tooele in a different garage. It has a "3-on-the-tree" shifter and just 76,210 miles. They use it for special events and photo ops like weddings; the family also had plans to take it to car shows, but most were canceled because of the COVID-19 pandemic.
The Busico fourth generation loves the car. Every now and then, the family will take it to the grocery store. Joe said it's like a parade with honks, waves and people taking pictures. During one outing, a "little old guy with a walker" made a 50-yard hobbling to stand there, look at it, ask the year, shake his head and say, "Do you know what you have here? No, you don't know what you have here."
There are a few spots here and there to get cleaned up, but the burn hole in the headliner will remain. It was caused when the sun hit Aunt Edith Morrell's makeup mirror she left on the back deck.
The famous garage dent was the only thing fixed. Louise is happy that memory is gone, but the rest will live on.
More Cool Cars:
---
×
Photos
Most recent Lifestyle stories