PROVO — Khyiris Tonga dreamed about this moment all his life.
Even when the 6-foot-4, 320-pound defensive tackle elected to postpone his NFL future by returning to BYU for his senior season a year ago, he always knew he'd wind up in the league.
Tonga will get the chance soon enough with the Chicago Bears.
The Bears drafted the former Granger High star in the seventh round, picking Tonga with the No. 250 overall pick Saturday. He's the third BYU player drafted in 2021, joining first-round quarterback Zach Wilson and third-round offensive tackle Brady Christensen.
"It was probably the greatest feeling," Tonga told the Bears media after the draft. "I'm super happy I got the call, talked to the coach, got to be with my family after. It was a great day for me."
One pick later, the Tampa Bay Buccaneers made it four, selecting cornerback Chris Wilcox with the No. 251 overall pick. In all, five players from BYU were drafted sometime over the past three days — the school's highest total since 2002.
Wilcox parlayed his reputation as a lockdown corner in BYU's secondary into a seventh-round draft pick, marking the Cougars' most picks in a single draft since 2002.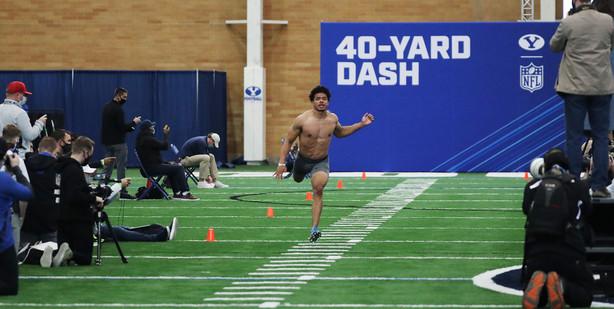 The 6-foot-2, 200-pound defensive back was buoyed by a 4.35 40 he ran during BYU's pro day. Micah Simon turned a similar 40 into a free-agent contract with the Carolina Panthers, and Saturday was Wilcox's turn to do his own part. And that speed was something the Bucs — who were one of the 31 teams present at Wilcox's workout — searched from the draft.
"We definitely wanted to get faster," Buccaneers general manager Jason Licht said. "We wanted guys who play with big heart, with big hair-don't care, have a lot of energy, and love football. And we wanted to stress special teams.
"We feel pretty good about what we've done."
Of course, Wilcox thinks he's more than just a speed guy.
"I'm a tall, fast corner — and I cant hit, as well," he said after Saturday's draft. "I'm a very physical corner, so I can shut down on side of the field. If someone's trying to run to our side, I definitely shut that down.
"I'm going to get better as far as ball production. But I know I'm going to be able to bring a lot to the team."
He also knows special teams is the entry point for a late-round pick, and expects no different from the reigning Super Bowl champions. Prior to taking over as a full-time starter at cornerback, where he played in 41 games over five years and wracked up 88 tackles, three tackles for loss and eight pass breakups, Wilcox was a punt returner and gunner while he adjusted to BYU.
"That's how I started off," he admitted.
Wilcox's former teammate was considered a third- or fourth-round pick before he was selected in the seventh round; Tonga even opted out of the draft a year ago to return to BYU in the middle of a pandemic and improve his stock. So still being on the board midway through the seventh wasn't easy for the West Valley City native.
But it was worth it, in the end.
"It was tough. There was a lot going on in my mind, and I'm just happy that I got the call," Tonga said. "Now everything is at peace in my head, and I'm ready to work."
A three-star athlete by ESPN as a senior in high school, Tonga chose BYU over Arizona State, Oklahoma, Oregon State and Utah, and went on to produce 130 tackles, 15 tackles for loss and 7.5 sacks in four years with the Cougars.
The 300-pounder with a penchant for horse meat and surprise trips to McDonald's played 50 games at nose tackle, but wanted to do more to bolster his stock a year ago, despite being a draft prospect. Tonga credits a long chat with his father George in convincing him to return for his senior season and not join the 2020 draft class following an emotional 38-34 loss to Hawaii in the Hawaii Bowl.
"When we talked, he told me no matter what I do, he'll support me," Tonga said at the time. "But then this: he laid out all the facts of coming back and how it will help me in the future. He helped me understand the bigger picture, beyond football, about my education, about my post-football life, my career.
"I was just being stubborn at the time."
He did that in anchoring BYU's defense during an 11-1 campaign and the Cougars' best season in more than a decade. Alongside Wilson, Christensen, wide receiver Dax Milne and others, Tonga and BYU rebuilt their 2020 schedule on the fly and cruised to 11 victories while holding opponents to an average of 14.4 points per game during remarkable 2020 season.
In addition to his football career — which now will extend until at least the Buccaneers' training camp — Wilcox is an accomplished music producer. He co-produced "No face no case" by Vinny West, a hip-hop track with more than 9 million views on YouTube that spawned a Tik Tok trend, and plans to become an audio engineer when the game has run its course.
But that won't be today. For now, Wilcox has a job to do.
"Some guys play video games, and I make music on the side," Wilcox said. "It's something I've had a hobby for since my freshman year of high school.
×
Related Stories