Estimated read time: 4-5 minutes
This archived news story is available only for your personal, non-commercial use. Information in the story may be outdated or superseded by additional information. Reading or replaying the story in its archived form does not constitute a republication of the story.
PROVO — Khyiris Tonga had one foot out the door in the days, weeks and months leading up to BYU football's Hawaii Bowl to end the 2019 season.
The junior defensive tackle had been saying for years that he was going to be a three-and-done player, a college football standout putting in the minimum time required to get to the NFL and make his dreams come true.
He was on the verge of declaring for the draft, even before BYU's 38-34 loss to Hawaii that dropped them to a (by his and other teammates' own admissions) mediocre 7-6 for the second straight season.
Then he talked to his dad, George.
"When we talked, he told me no matter what I do, he'll support me," Tonga recalled Friday morning on campus. "But then this: he laid out all the facts of coming back and how it will help me in the future. He helped me understand the bigger picture, beyond football, about my education, about my post-football life, my career.
"I was just being stubborn at the time."
Over the next six months, Tonga (along with his BYU teammates) will jump into offseason conditioning, a revamped weight training system, and workouts designed to help the Cougars improve on back-to-back 7-6 seasons.
He's also taking a loaded schedule, determined to graduate with his communications degree by the time his eligibility is exhausted and he heads off to the NFL. When his football career is over, Tonga is planning a career in sports media.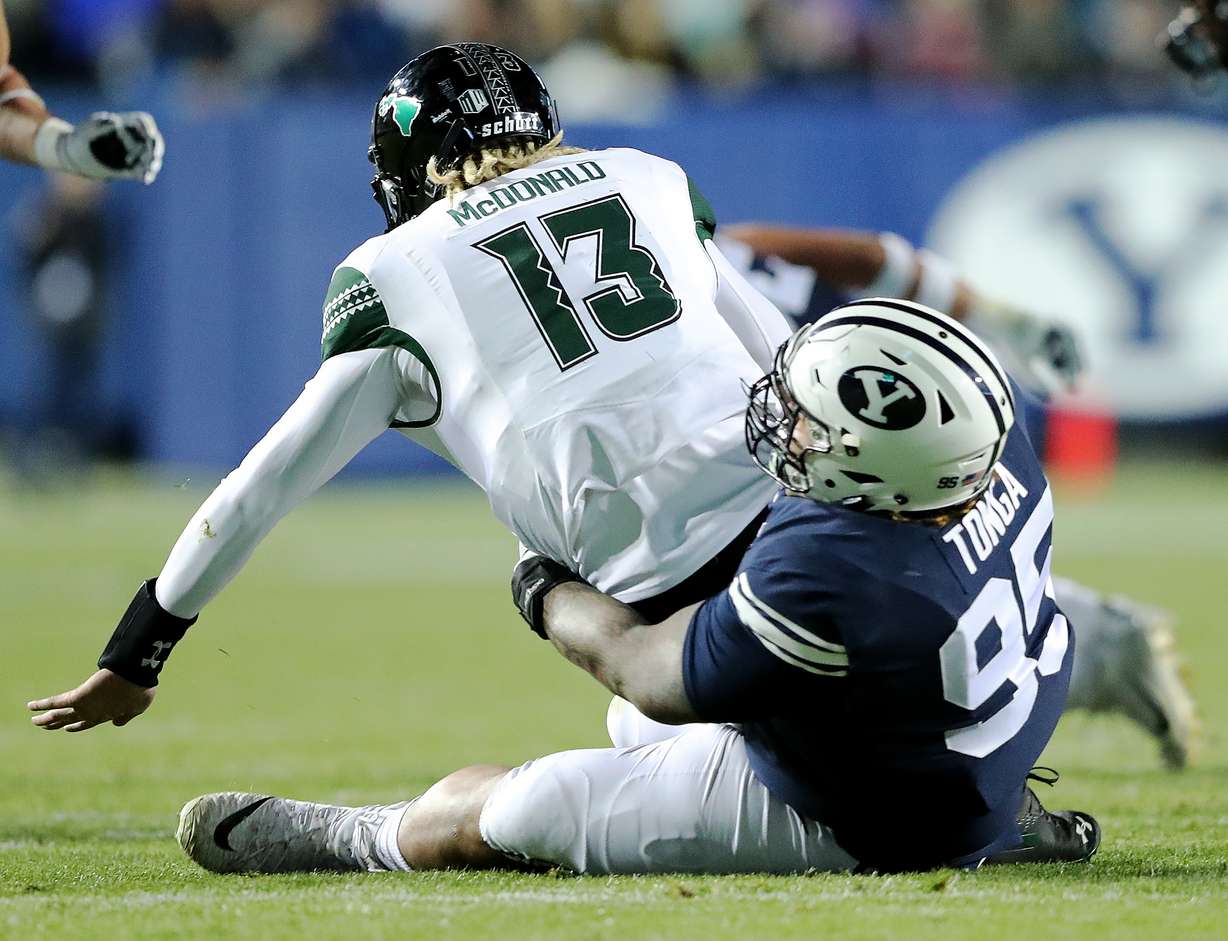 It was Tonga's father, an unabashed Utah fan (so was Tonga until recently), who convinced BYU's 6-foot-4, 320-pound defensive menace with 94 tackles, 12.5 tackles for loss, and five sacks in three seasons to delay his NFL plans for one final season in Cougar blue. When the younger Tonga fired up a post on his social media Dec. 31 to tell the world about his decision, he still wasn't completely sure he had made the right choice.
A day later, as the calendar turned to 2020, he knew. BYU was where he wanted to be.
"I was fighting it hard," he said. "Me and my dad were going back and forth; I told him I can't come back. He told me to think about it. I put a lot of prayer into it and realized this was the right thing for me."
Another junior who "fought" with the same decision was tight end Matt Bushman. But the 6-foot-5, 245-pound former Freshman All-American had a key ally in his decision-making corner, beyond even his wife, Emily: his father-in-law, former BYU All-American and NFL tight end Chad Lewis.
Lewis laid out the facts for his son-in-law, telling him he'd support whatever decision upon which he concluded. His unique perspective about BYU and the NFL played a critical role in that process, Bushman said.
But in the end, it came down to Bushman's heart — and his heart was still in college football.
Bushman, whose wife played volleyball at BYU but has since graduated, has the rest of his life to fulfill a career. He only has one more season to be part of a community that has embraced him since he arrived on campus.
"Everyone says the NFL turns into a business, and that takes away the love of the game," said Bushman, a 1,719-yard pass catcher with nine touchdowns and just two fumbles in three years. "I think that's the biggest thing: being with the boys, being with your brothers, and feeling the atmosphere around it. It's awesome to be able to give back to the community, to get to know our True Blue Heroes, and to have a platform where we can help and learn from other people."
Bushman had his most productive season at tight end in 2019, hauling in 47 passes for 688 yards and four scores — from three separate quarterbacks. Because of that, he feels like he can do even better as a senior.
If he does, he'll build on an immense legacy as just the third-ever tight end in BYU history with 500 or more yards in three straight seasons. The others are former All-Americans Gordon Hudson and Dennis Pitta — two former NFL players in their own right.
And just like those two predecessors laid a foundation for Bushman, he wants to leave something for the Cougars' blossoming tight end room behind him — one that includes freshmen Isaac Rex, Hank Tuipulotu, Masen Wake and Carter Wheat, among others.
"That's definitely one of the responsibilities of seniors, to lead by example on the field and help the younger guys learn the offense," Bushman said. "We have goals to be the best tight end room in the control, the most balanced, the most physical, the best play-making abilities. We're trying to set that standard."
×
Related Stories