Estimated read time: 7-8 minutes
This archived news story is available only for your personal, non-commercial use. Information in the story may be outdated or superseded by additional information. Reading or replaying the story in its archived form does not constitute a republication of the story.
SALT LAKE CITY — Salt Lake City Mayor Erin Mendenhall on Thursday unveiled an ambitious plan to start building a master-planned tiny home community to house the homeless — and have some homes ready for move-in before winter sets in this year.
To pull it off, the mayor announced a new partnership with a familiar nonprofit that she lauded as having a proven track record of helping those who are homeless, battling substance abuse or who carry a criminal record to turn their lives around, all "while being a positive neighbor": The Other Side Academy.
"This is a huge step forward in this project," Mendenhall said in a news conference outside the Salt Lake City-County building. "We're moving at light speed here, given the scope and urgency of the challenge we've had to do that. It's gone from concept to execution in less than a year. And I think that's a testament to the commitment of this capital city and to our partners to confront the reality and the complexity of the issues we face surrounding homelessness."
The Other Side Academy, a provider that already operates a residential program in the Central City neighborhood of Salt Lake City, is a "partner that is devoted to the success and empowerment of its current students," the mayor said.
"They have a proven track record of successfully managing a peer-based community while being an asset to their neighborhood and this city," Mendenhall said. "And I know that devotion and passion for success will carry over into their work on The Other Side Village."
Mendenhall's announcement comes after the Deseret News first reported the mayor was eying building a tiny home community modeled after one in Austin, Texas, called Community First! Village, which was built by the nonprofit Mobile Loaves & Fishes after decades of hard-fought not-in-my-backyard battles.
The Texas tiny home village has attracted nationwide attention for its charming neighborhood feel, its quirky houses of all shapes and sizes, its paved roads, manicured lawns, gardens and patio areas. But it's not just a subdivision of tiny homes with the feel of a KOA campground. It's also a community with wrap-around social services, shared bathroom and cooking spaces, a marketplace, and workshops where tenants can learn trades like vehicle repair, carpentry, pottery, painting and metal work. The tenants there earn their living with jobs like gardening, mowing and landscaping.
"We have needed to think creatively to get outside of the box and to get more people sheltered, and a tiny home community is one way that we can better serve our residents who are unhoused," Mendenhall said. "The ambition of our creativity should match the enormity and complexity of challenges facing our residents who are unhoused in Salt Lake City.
"There's no silver bullet. There's no one-size-fits-all solution for homelessness," she said. "But this bold and new and first-in-our-state model could create an important addition to the suite of services that we currently have to offer those experiencing homelessness."
Cost and location
The Texas village is also expensive. Its cost is upward of $45 million, with plans to expand beyond 51 acres. When the Deseret News visited the community in October last year, the village spanned 27 acres and included about 100 RV/park homes and 130 micro homes. It was expected to eventually house an additional 310 homes.
For The Other Side Village in Salt Lake City, it's envisioned to eventually house 400 to 500 on 30 to 40 acres. The mayor wants a portion of those homes, not all, to be open by this fall.
But the location and total cost of the project are details that still need to be figured out, Mendenhall said.
"Those are questions we can't answer just yet," the mayor told reporters, though she noted the city could possibly fund it using $87 million Salt Lake City is slated to receive from the latest round of federal COVID-19 relief dollars from the American Rescue Plan Act.
"As we get closer to determining where this village will be in the city, we will have a better sense of the costs," Mendenhall said.
"I will say," the mayor added, "there has been a tremendous amount of interest from the community at large. Not only, I think, philanthropic interest, but the building community, the architectural community, wanting to be a part of this."
A website, theothersidevillage.com, has already been launched to begin taking donations.
Additionally, The Other Side Academy announced a $50,000 pledge to help kick-start the pilot project.
---
The ambition of our creativity should match the enormity and complexity of challenges facing our residents who are unhoused in Salt Lake City.
–Salt Lake City Mayor Erin Mendenhall
---
Joseph Grenny, chairman and founder of The Other Side Academy, said the intention is to set up The Other Side Village to be "self-reliant" and not need subsidy for ongoing operations. He noted The Other Side Academy was self-reliant within nine months of opening. At Community First! Village in Texas, residents are required to pay rent, ranging from about $230 a month up to $440 a month, depending on the unit type.
To determine The Other Side Village's future location "with all haste," Grenny said, a search team has been convened, comprised of former Salt Lake County mayor and real estate developer Peter Corroon, Clark Ivory, of Ivory Homes, the Miller Family Foundation, members of the Pioneer Park Coalition and others.
Mendenhall said she wants the site that's chosen for the first pilot homes to be permanent — and have room for expansion.
"So it's a significant piece of land size that we're looking for," she said.
When it's built, Mendenhall said she also hopes it will "inspire and motivate other parts of the state of Utah to build similar tiny home communities."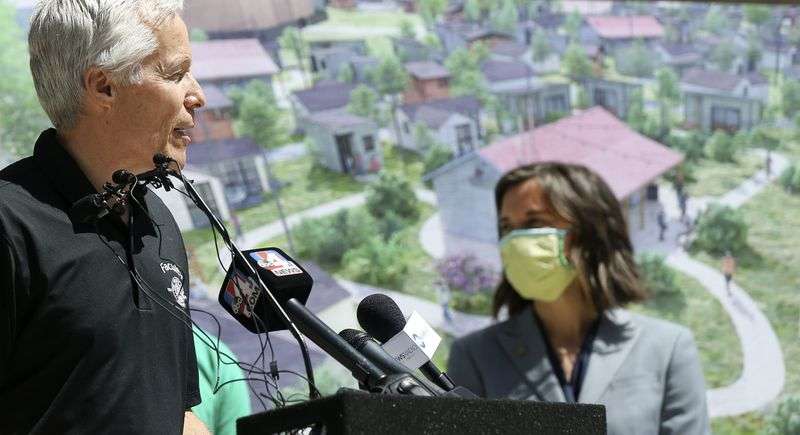 "We need this kind of housing throughout the state of Utah."
The Other Side culture
Grenny acknowledged simply building the "infrastructure" for a tiny home neighborhood alone "doesn't solve the problem" of homelessness.
"Tiny homes are a great concept," he said. "But tiny homes without the right culture could be a tiny disaster at some point."
Grenny said the reason his nonprofit decided it had a role to play in this project "is because we know some things about building a strong, inclusive, loving and virtuous community."
"The seven men and women standing behind me," Grenny said, pointing to several Other Side students who joined Thursday's news conference, "collectively spent 45 years living on our streets. Five years ago, they and about 100 of their brothers and sisters moved into a historic home in downtown Salt Lake City."
Describing how Other Side's average student has been arrested over 25 times, and almost all have long histories of addiction, crime or homelessness, Grenny said, "you'd think having 100 people with such profound challenges move into a historic downtown neighborhood would be a recipe for disaster."
"But it wasn't," he said. "Since we began, our neighborhood has become more beautiful. The crime rate has dropped. And neighbors are regular beneficiaries of our students' services."
Grenny acknowledged "this kind of announcement can create apprehension for those who have images of tent cities and disorderly or even criminal behavior."
"To any with these concerns, we say look at our history," he said. "In the past five years, we have had governors, senators, mayors and business leaders from around the world spend hours and days with our students. All leave with one impression above the rest: that our students live at a higher level of morality, integrity and selfless service than most any group in our state."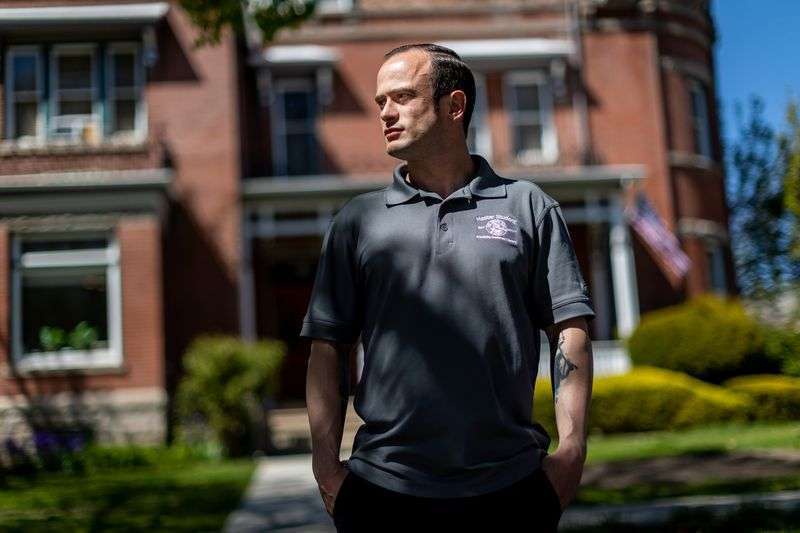 He joked that Other Side's residential program is more "chaste and sober than a BYU dorm" and "more cooperative and respectful than a legislative session. And we are more productive than a hive of bees."
Jesse Goertzen, 31, was among the Other Side students who attended Thursday's announcement. Having attended the academy for over four years, Goertzen had earned the title of "master student."
But before he came to Other Side, Goertzen said he "destroyed" his life with "drugs and bad decisions I made over a 10-year period, which led me to be homeless."
Goertzen said after he heard about The Other Side Academy from his sister, it still took him a year to be ready to voluntarily take on the program. But once he did, he said it changed his life.
"We all just hold each other accountable to a higher level than any of us have ever been held to," he said, describing how it's that principle of peer accountability that makes The Other Side successful.
But it's not for everyone, Goertzen noted. "You have to want it. If you're in jail, you have to write a letter. Or if you're on the street, you have to show up yourself. You can't have your family members sign you up. You can't have the judge sign you up. ... They're going to have to want it."
×
Related links
Related stories
Most recent Utah stories