Estimated read time: 13-14 minutes
This archived news story is available only for your personal, non-commercial use. Information in the story may be outdated or superseded by additional information. Reading or replaying the story in its archived form does not constitute a republication of the story.
Editor's note: This is the second in a series looking into the state of tourism in Utah following COVID-19. Be sure to read part one.
ST. GEORGE — Utah's national parks felt about as vacant as they ever have since they were designated by the federal government as the threat of COVID-19 became more apparent.
Characteristics of the virus were still widely unknown to everyone by the time it hit the U.S. with full force in mid-March last year. The Department of Interior even shut down access to all federal lands for several weeks near the beginning of the pandemic.
The parks later reopened but visitation was sluggish through the summer months, which is abnormal because it's typically the peak time of visits to Utah's parks. For that reason, it's really no surprise then that visitation to Utah's five national parks dropped from years past during 2020.
It's estimated there were about 7.77 million visits to Utah's five parks in 2020, according to preliminary National Park Service data; the data is expected to be finalized any week. If true, that's about 2.9 million below visits recorded in 2019. The differential varied from park to park; Zion National Park received 897,014 fewer visitors in 2020 from the year before, according to the data.
But to say visitation dropped at Utah's national parks in 2020 doesn't quite tell the full story of the situation parks faced at the end of the year and the start of 2021. Regional tourism industry experts at places near Utah's national parks, like the Greater Zion Convention & Tourism Office, spend the second half of the year advertising open space during the pandemic and the results are impossible not to notice.
Broken down into months, the 2020 data show that people were and still are very much eager to return to Utah's national parks — and they are doing so at record-breaking paces in months not historically associated with high visitation.
"I think everybody was ready to get out and find space. Open space is where they felt safe and secure and not confined to their homes," said Kevin Lewis, director for Greater Zion, in an interview with KSL.com. "National parks, state parks and open land became really sought after locations, so the visitation just climbed steadily."
It's a sign that some parts of Utah's tourism sector — severely impacted by the coronavirus — can rebound faster than others; however, experts say it comes with a potential cost. It's also led to renewed concerns over vandalism and safety on public lands.
A decrease in visitation across national parks
Considering that national parks all across the country were temporarily closed at a point in the beginning of the COVID-19 pandemic, it's not shocking that all of Utah's Mighty 5 parks experienced large total decreases in visitors in 2020 compared to 2019.
None were as notable as Zion, which was the fourth-most visited national park across the entire National Park Service system in 2019. Its brief closure led to just 40,396 visitors in April — by far the fewest visitors for that month in the 40-plus years of public visitation data. Arches and Canyonlands were closed throughout April 2020, while Bryce Canyon and Capitol Reef brought in a combined 16,237 visitors that month.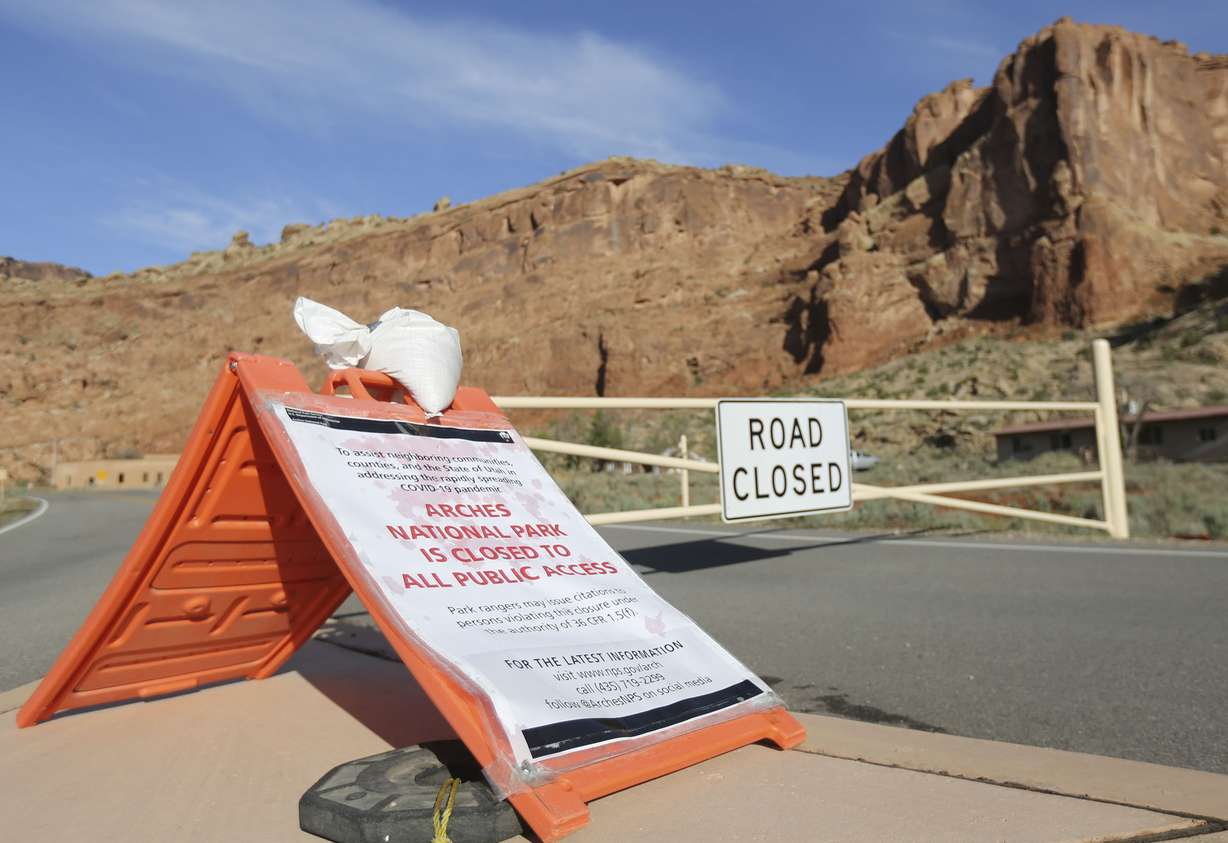 It wasn't just April, though, as all five parks reported low attendance throughout most of the summer. That's abnormal for a park like Zion, which typically surges during June, July and August. For example, it brought in 1.76 million visitors during those three months in 2019 and brought in close to or over 500,000 visitors a month across all three of those months over the past few years.
That wasn't the case in 2020. The park reported 1.28 million visitors over those three summer months, which accounts to about 482,894 fewer than the year prior. It ended up with about 3.59 million visitors throughout 2020 after it received 4.49 million visitors in 2019.
The four other parks in Utah experienced similar lags in visitation even though the parks had reopened by that point, according to preliminary visitation data.
Arches listed its 2020 visitation as 1.24 million compared to 1.66 million all of 2019
Bryce Canyon's visitor numbers fell to 1.46 million in 2020, which was 1.13 million fewer than 2019
Canyonlands visitation fell from 733,996 visitors in 2019 to 493,915 in 2020
Capitol Reef drew in 981,038 visitors in 2020 compared to 1.23 million in 2019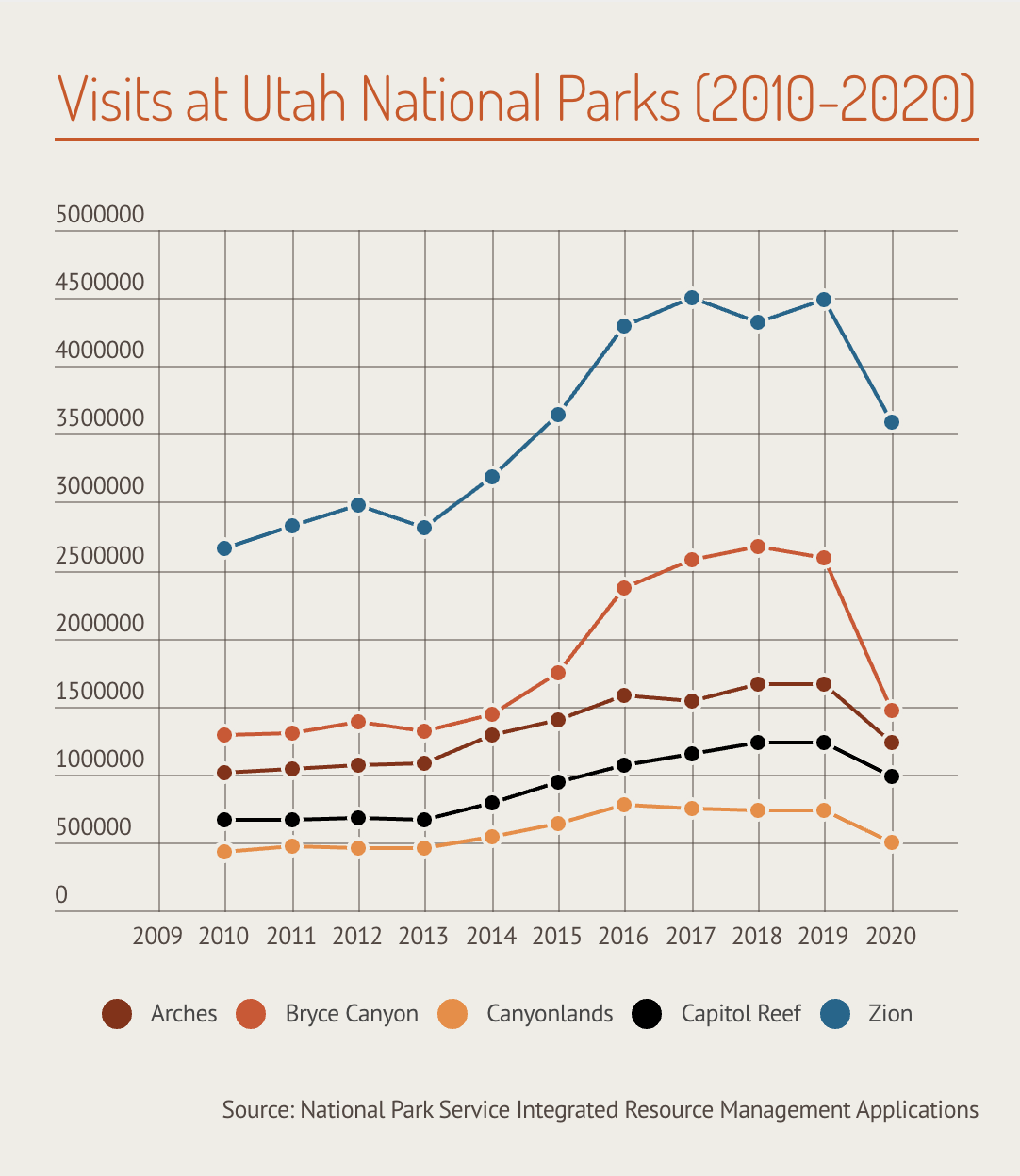 But Utah's national park visitation numbers weren't anomalous when it came to national parks as a whole last year. The preliminary National Park Service data submitted to the agency by officials from all its national parks, monuments and other facilities show similar trends.
Great Smoky Mountains between North Carolina and Tennessee — the annual champion of national parks visitation — led that category again in 2020 with a tick short of 12.1 million visitors. Still, that was nearly 500,000 below its 2019 total.
A more significant decrease was reported in the country's second-most popular national park of 2019. Grand Canyon National Park reported 2.96 million visitors in 2020 — over 3 million visitors below its 2019 figures. One huge blow to visitation there is that no visitors were allowed inside in April 2020, which is a month that drew over 500,000 visitors every time over the three previous years.
Rocky Mountain National Park was the only other national park that drew in more visitors than any of Utah's Mighty 5 back in 2019. More than 4.6 million people visited the Colorado park in 2019; in 2020, the total fell to 3.3 million.
Yosemite, which rounded out NPS's 2019 Top 5 with 4.4 million visitors that year, ended up with nearly 2.3 million visitors in 2020. It was closed throughout April and May.
Utah's national parks rebound
These numbers are a bit deceiving as to what's happening now. That's because many Utah parks began to experience record-level attendance in the fall. In fact, all five parks reported visitation figures higher than in previous years.
Arches reported more than 80,000 more visitors in October, November and December 2020 than those same three months in 2019
Bryce Canyon reported fewer visitors in September and October than 2019 but nearly 25,000 more visitors during the November and December months
Canyonlands reported 55,000 more visitors during the final three months of 2020 compared to 2019. That also includes surpassing 20,000 visitors in December for the first time on record
Capitol Reef had a topsy-turvy attendance rebound. It reported more visitors in June 2020 than 2019 but fewer visitors for every post-pandemic month until November and December. It reported nearly 50,000 more visitors during the final two months of the year compared to 2019
Then there's Zion National Park, which perhaps best exemplifies Utah's national parks rebound. More than 1.6 million visits, or 45% of its total 2020 visitation, came during the final four months of the year. That's compared to 1.33 million in 2019, which was close to 30% of that year's visitation total.
For tourism experts, some aspects of the rise weren't surprising. For instance, Lewis said that data showed Zion was already on the verge of becoming a year-round destination prior to the pandemic. The pandemic exacerbated the trend to an extent. The park reported 559,342 visitors in October, which shattered the 2019 record of 429,604. The October figure was also the fifth-highest of any month on record since visitation records became available in 1979.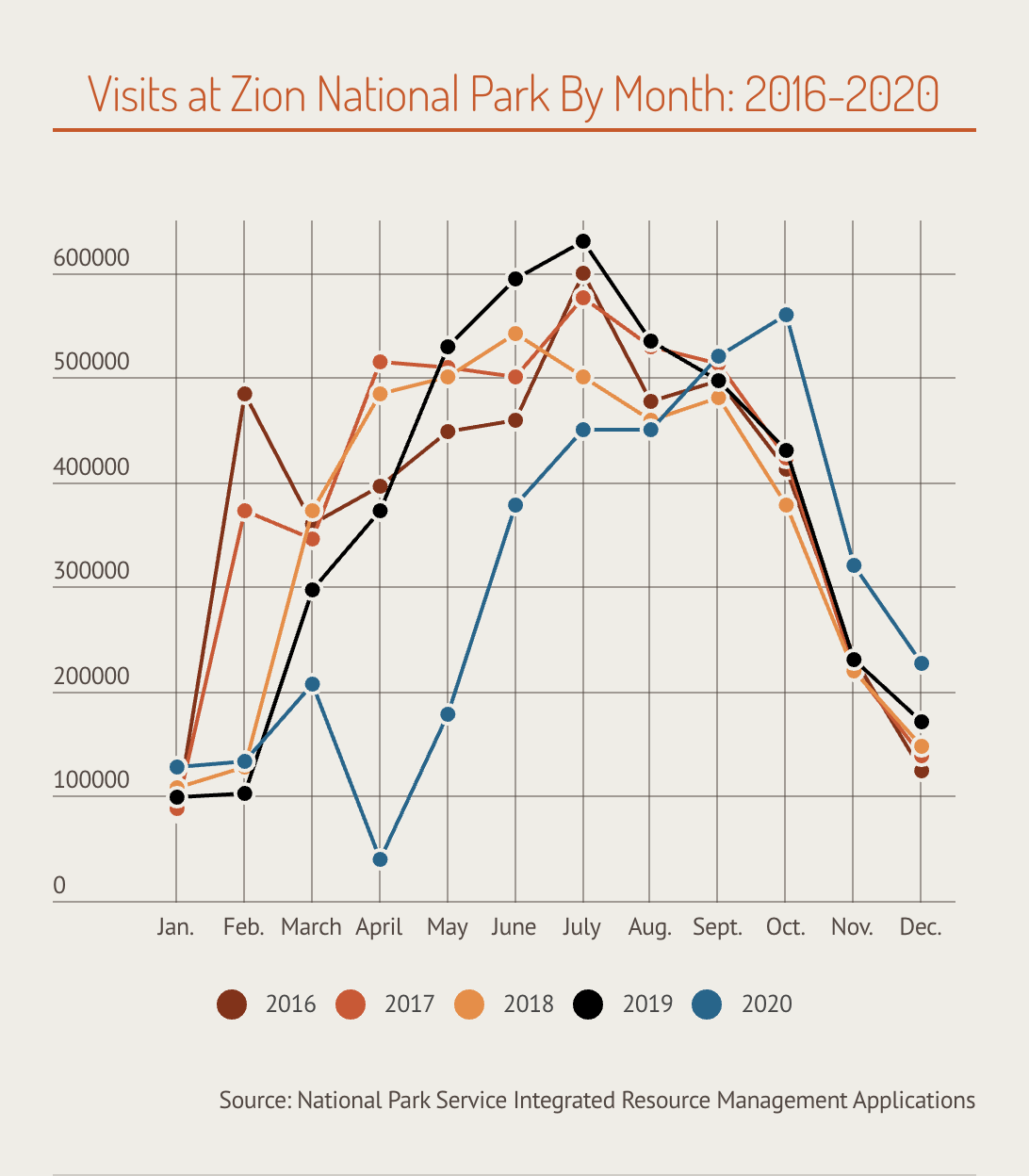 Early January 2021 data shows that visitation at Zion and other Utah parks isn't slowing down. Zion National Park reported 172,747 visits last month. Once confirmed, that would best January 2020's record by over 45,000. It would also be just the third time the park ever received more than 100,000 in a January.
Bryce Canyon and Capitol Reef national parks also reported preliminary record numbers for January 2021. Capitol Reef reached over 20,000 for the month for the first time in history.
The economic side of the rebound
Here's another way to show the national park tourism rebound that goes beyond comparing national parks. In its preliminary report of the tourism industry's 2020 situation released last week, the University of Utah's Kem C. Gardner Policy Institute compared hotel occupancy rates in Springdale — located just outside of Zion National Park — and Downtown Salt Lake City.
Both places reported year-over-year hotel occupancy rates beyond -80% in late March through April 2020 compared to the same time in 2019. It's been a completely different story for each since then.
Springdale's hotel occupancy rates reached baseline 2019 levels in August. It ended 2020 about 40% higher than December 2019. Downtown Salt Lake City rates, on the other hand, remained below -20% throughout the remainder of the year — closing out the year closer to -60%.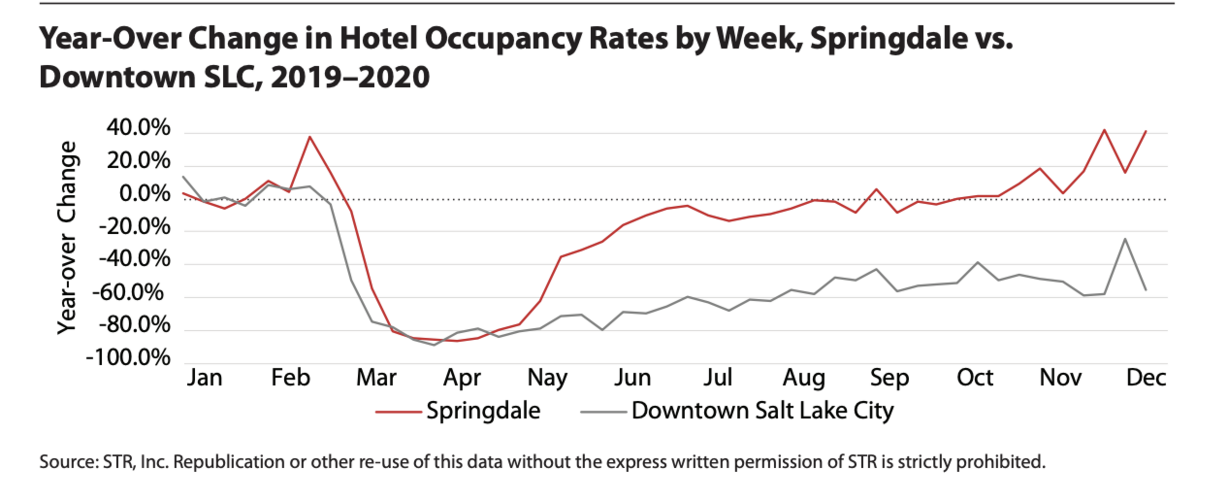 Industry experts say the difference is that interest in national parks and outdoor recreation remains high while nearly all conferences and conventions that would be held in or around Salt Lake City, which helped fill up hotels in the area, continue to be held virtually, if at all. Lewis added that Washington County also hosts similar conventions and sporting events, and that side of tourism still took a hit.
"The overall economic impact for those first two months (of the pandemic) was about $105 million in lost economic impact," he said.
It was a poor outlook until the people came to Zion.
Lewis told KSL.com last week that he expected the Washington County tourism industry would come very close to breaking even for 2020 based on how the second half of the year went. Tax collection from transient room tax, one of the industry's key economic indicators, was only down 4.6% through November 2020, and the region reported a strong December.
With current bookings ahead of the spring seasons, some hotels in the region are projecting as much as 30% growth from levels in spring 2019. It signals that some parts of the county's tourism industry, like national parks, will likely rebound faster than event-based tourism, like sporting events, that is likely to continue to lag in 2021.
It also appears the region could rebound faster than the statewide industry as a whole, which still doesn't expect to return to pre-pandemic levels until at least 2024.
Related:
The people coming to the state's southwestern region aren't exactly the same from previous years, either. Since COVID-19 disrupted airline travel and even entry into the U.S. for foreign visitors throughout most of the year, there were a lot more people coming to the region from northern Utah and neighboring states.
"You found an audience that was closer to the area, regionally, six to eight hours away. People were coming in to get out of areas that were closed down to find activities and things to do, and take advantage of the open spaces," Lewis said, adding that the county easing off on closures to outdoor activities helped.
Texas was another popular place visitors were coming from, as were northeastern and northwestern portions of the country, according to Lewis.
It's worth mentioning that Zion National Park's mask and social distancing mandates were only instituted this month as a result of an executive order issued by President Joe Biden. The park had mask and social distancing guidelines for months prior but weren't able to enforce those policies beforehand.
And while Lewis and other state tourism experts enjoyed the rebound of people visiting national parks, they also became concerned about negative consequences that appeared.
The negative impact of park visitation surges
Zion National Park officials began to describe record levels of graffiti, trash and human feces in the park by the tail end of 2020. A key component to that — aside from rising amounts of park visitors — was reduced patrols in some areas of the park.
KSL.com reached out to park officials for this story. They declined to speak about anything related to visitation data until the numbers they submitted were authenticated by federal officials. That said, the park did issue a news release about graffiti and vandalism issues in December.
"No one comes to the park expecting to see graffiti but nearly every day, staff find words and shapes carved, drawn, painted (with mud, dirt, pigment, paint), or scratched on rocks and more recently even carved within moss," park officials wrote at the time.
They added: "Graffiti and other forms of damage to park resources are harmful and illegal. Repair of vandalized sites is costly and time consuming. Often, a damaged site can never be fully restored to its original condition."
---
That was a little disheartening to see people who were trying to get away from confinement and things like that and didn't appreciate the places they were going to.
–Kevin Lewis, director of Greater Zion Convention & Tourism Office
---
Other parks have reported graffiti issues before and after the pandemic. On top of that, there was a spike in search and rescue attempts at Zion or in the surrounding county — many tied to inexperienced hikers.
Washington County Search and Rescue reported 174 response calls in 2020, which dwarfed 2019's 130 calls. It was bad enough that there was talk of a possible legislative proposal for state transient room tax income to cover search and rescue efforts, according to Des Barker, a legislative strategist for the Utah Tourism Industry Association.
Barker said the association supports the effort if it's limited to Washington County but not on a statewide scale at this point. The bill Barker referenced is now listed as "abandoned" on the state legislature website.
All of that was the downside of the sudden rush back to national parks.
"We noticed a different kind of visitor — maybe visitors who are not as experienced in natural landscapes and how to take care of them and act within those areas," Lewis said, pointing to growing graffiti cases. "That was a little disheartening to see people who were trying to get away from confinement and things like that and didn't appreciate the places they were going to.
"I don't want to say that the majority of people that were doing that," he added, "but there were certainly some that maybe didn't understand how to take care of those resources."
It's partly why there's been a greater focus on the many other state and federal parks across Utah.
Going beyond the Mighty 5
National monuments in the state experienced a mixed bag of visitation in 2020. Dinosaur National Monument along the Utah-Colorado border, for example, reported nearly 35,000 fewer visitors from 2019 to 2020. Cedar Breaks National Monument in Iron County, on the other hand, reported over 260,000 more visitors in 2020 than 2019.
Then there were state parks, which demolished all previous visitation records. The Division of State Parks reported a tick over 10.6 million people visited its 44 parks in 2020. That's a significant jump from 7.4 million in 2019.
Vicki Varela, the director of the Utah Office of Tourism, told KSL.com that state officials had already begun to shift some of its focus to other federal and state public land areas across the state in recent years after interest in Utah's national parks swelled.
The agency wanted people to come to Utah for the Mighty 5 and stay for the many other parks nearby they believe are national park-level quality experiences, too. One example are the slot canyons outside of Zion National Park like Kanarraville Falls in Iron County.
That shift may also have factored into why Utah's state parks experienced record numbers in 2020. Utahns and tourists alike are exploring new parks and open spaces to recreate even when the data show national parks dropped in total visitation last year.
"The good news is that the visitation trends, as a whole, is showing that's what's happening," Varela said. "It tells us, first of all, that people really want what Utah has to offer. Utahns and visitors who are coming from surrounding states want our wonderful outdoor recreation (and) our spectacular vistas."
×
Related stories
Most recent Outdoors stories