Estimated read time: 13-14 minutes
This archived news story is available only for your personal, non-commercial use. Information in the story may be outdated or superseded by additional information. Reading or replaying the story in its archived form does not constitute a republication of the story.
SALT LAKE CITY — Utah's tourism industry reached $10 billion in revenue for the first time in 2019, according to a report by University of Utah's Kem C. Gardner Policy Institute released earlier this month.
For Utah tourism leaders, the report shows how strong the industry was in the Beehive State before COVID-19 derailed it. It also results in a major question: Will Utah tourism ever recover from the pandemic?
It's a question state and local tourism officials addressed last week with its annual industry meetings. For the most part, the answer is yes — but it's going to take some time. It'll likely also take longer for some parts of the state than others, said Vicki Varela, managing director for the Utah Office of Tourism.
"Fortunately, our public officials really believe in the tourism industry and they were willing to invest CARES Act funding to help us start positioning ourselves for recovery," she told KSL.com, adding that $12 million in funds were directed to maintain advertising to draw in tourists to Utah "when the time is right."
Even though tourism is expected to recover from COVID-19, it may take years for that to happen. Here's a look into how Utah's tourism continued to blossom into March 2020, how COVID-19 brought record growth to an immediate stop and why industry leaders believe it can eventually recover.
2019: 'Feels like it was a decade ago'
The Gardner Policy Institute releases a tourism industry report every year. It takes time to crunch the data, so the report usually comes in around September — months after the previous year came to a close.
The travel and tourism industry is among one of the state's top 10 industries thanks in part to outdoor features like Utah's national parks and its world-class slopes. The report, written by Gardner Policy Institute senior research analyst Jennifer Leaver, points out that tourism employs one out of every 11 Utah jobs and contributes to more than $1 billion in state and local tax revenue annually.
It's an important industry because it provides revenue toward Utah schools with a lower burden on Utah taxpayers, Varela explained.
"In 2019, travelers directly spent a record $10.06 billion in Utah, generating an estimated 141,500 total Utah jobs, and $1.34 billion in state and local tax revenue," Leaver wrote.
Tourism spending increased by 3.3% from 2018 to 2019. About $8.6 billion of the spending, or a little over 85%, came from nonresidents coming into Utah.
Skiing and snowboarding was the largest attraction to drive tourism spending. It brought in $1.55 billion alone last year. Utah's national parks led to another $1.2 billion. Attendees from conferences and conventions in Salt Lake County accounted for about $331 million, while the Sundance Film Festival in Park City brought in $177 million.
Leaver pointed out that 2019 began with the longest U.S. government shutdown in history, but that didn't dissuade park visitation one bit. Utah's five national parks drew in a record 10.7 million visitors last year — the six-straight year it has experienced growth in visitation. Zion National Park led the way in visitation again with nearly 4.5 million visitors in 2019, which was a 3.9% increase from the previous year.
State parks also experienced a rise in visitation. There were more than 7.4 million visitors at state parks in the 2019 fiscal year, which was 10.6% higher than the previous year. Dead Horse Point State Park accounted for the most visits, drawing in a little more than 972,000 visits last year. That was a 27% increase from 2018. Sand Hollow (827,527), Jordanelle (598,154), Antelope Island (523,590) and Willard Bay (517,106) state parks rounded out the top five.
The ski/snowboard data, however, is where signs of how devastating COVID-19 was to Utah tourism begin to appear.
Unlike park visitation and business conferences, the ski/snowboard season data crosses over into the current year. That means $1.55 billion is a mix of late 2019 into early 2020. The 2019-20 season was a slight drop from $1.66 billion spent during the 2018-19 snow season. Skier visits also dropped from 5.1 million to 4.4 million between the two seasons.
The 2019-20 snow season was still underway when Utah Gov. Gary Herbert issued a state of emergency related to COVID-19 on March 6. By mid-March, Utah's ski resorts closed down for the year. It was an abrupt and jarring halt to what was a promising year, said Bill Malone, president and CEO of the Park City Chamber of Commerce.
"Our ski business for the '19-20 season was on its way to becoming a record year for us," he said. "Those last 30 days of the ski season basically represented a loss of approximately $150 million in spending, based on our calculations."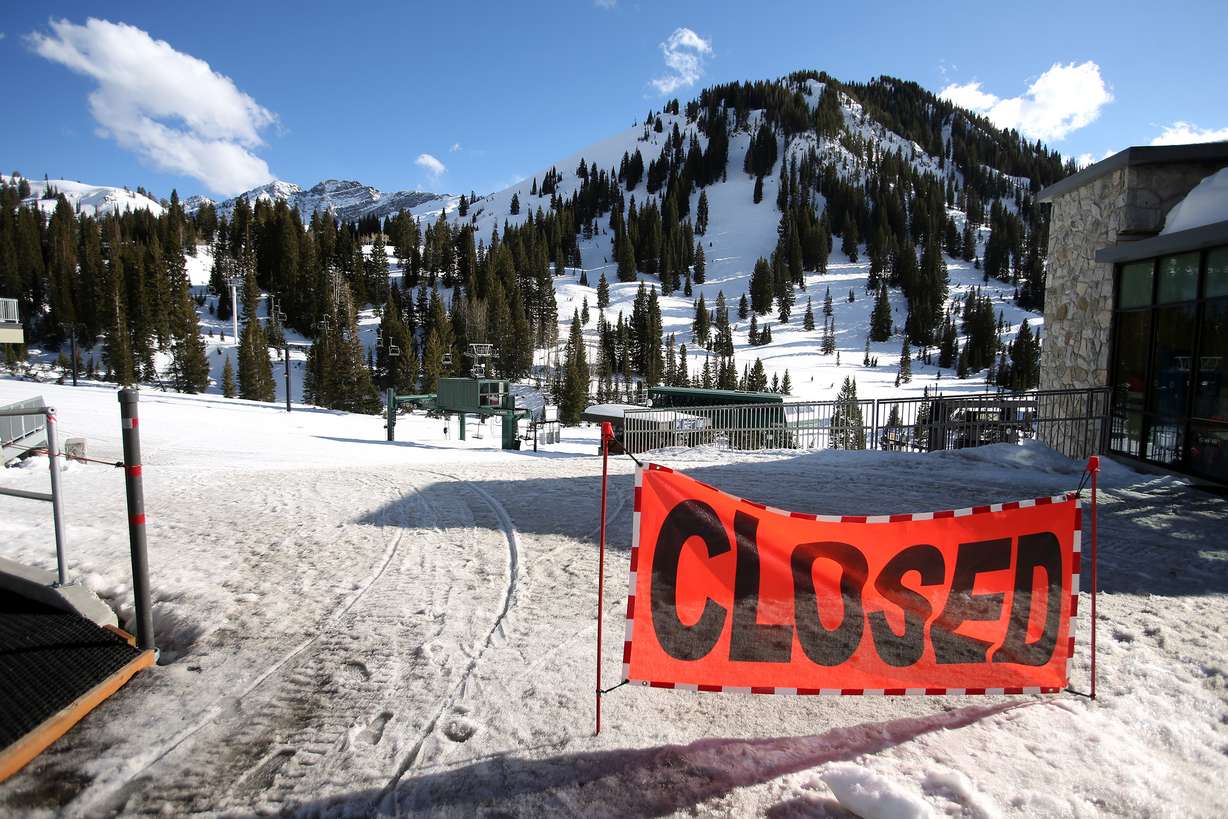 Leaver wrote that 2019-20 was "likely poised" to be a record year for Utah ski resorts. It still ended up as the second-highest spending figure in Utah tourism history, even though the year was cut short.
Park City's estimated $150 million hit was just the start. COVID-19 has since carried over into other tourism industry losses for the region. When he scanned the Gardner Policy Institute's report, Malone remarked that last year's tourism situation doesn't even feel like it was last year based on where the industry is now.
"2019 feels like it was a decade ago right now," he said. "It feels like quite a long time just the way time has passed the last few months."
COVID-19's 'devastating' impact on tourism
It's still way too early to know what will be on the policy institute's report about 2020, but in all likelihood, there's going to be a drastic drop off in state revenue and taxes collected from tourism due to COVID-19.
For starters, it's a given that international spending will be down due to travel restrictions to and from the U.S. In June, the U.S. Travel Association predicted a 64% drop in international arrivals to the country, the report stated. International visitors accounted for $812 million in direct Utah tourism spending last year.
The remaining $9.25 billion came from direct domestic tourism spending, which will also take a blow from COVID-19 restrictions. The association expected a 30% drop in domestic trips. While Utahns accounted for more than half of domestic tourism spending in 2019, they only accounted for less than one-fifth of direct domestic tourism spending, according to the policy institute report.
Neighboring and nearby western states accounted for about a quarter of all domestic spending, or about 60% of outside states. That may help soften some of the blow. But decreased airline travel, as well as shutdowns of certain destinations and events that would draw crowds will likely impact revenue.
Visitation to parks will certainly decline, as well. For example, Zion, Utah's most popular national park, is already far behind visitation compared to this time last year. Only 40,396 visitors came to the park in April because it was closed for a considerable amount of time. That's compared to 372,349 visits in April 2019. In fact, 2020 resulted in the fewest visits in April dating back to at least 1979, which is as far as available park visitation records go.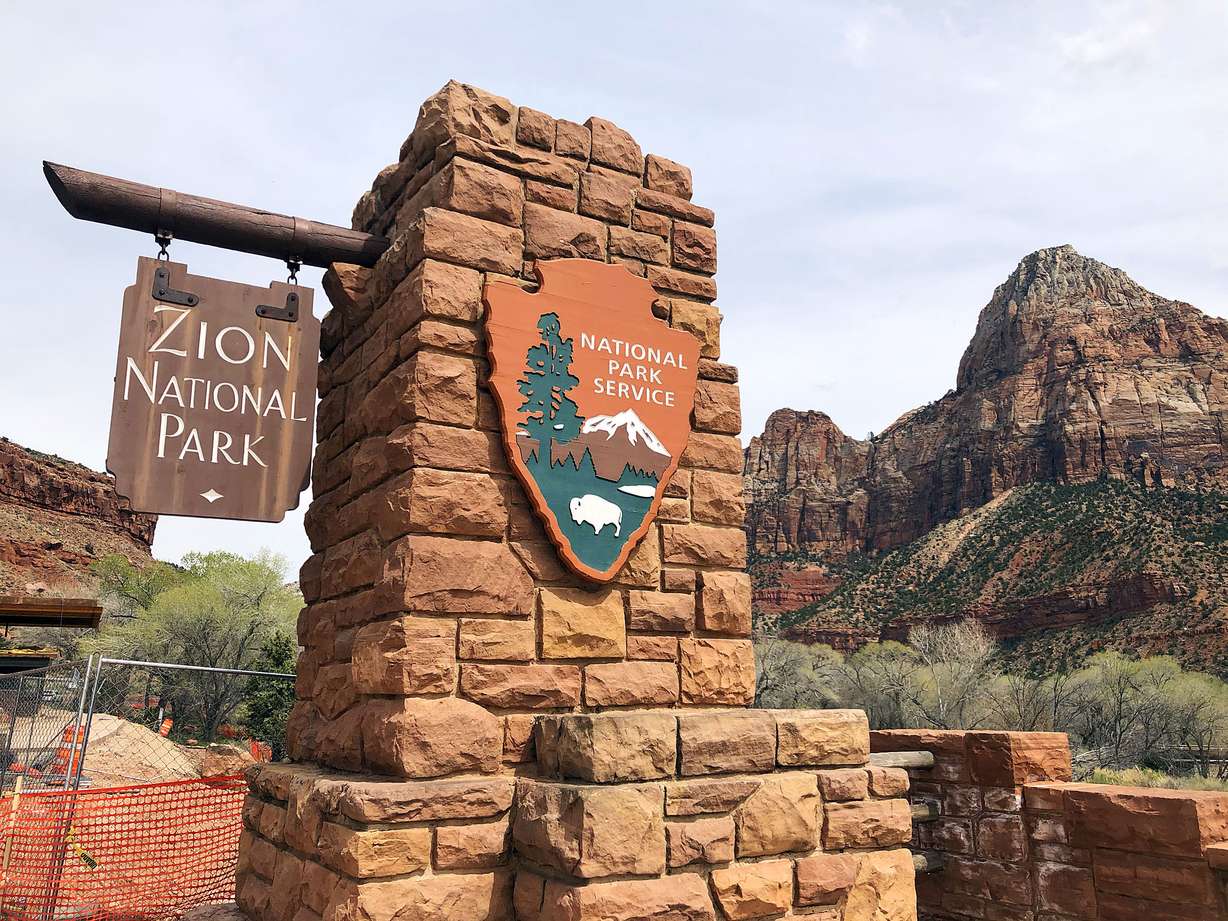 Zion National Park reports 1.96 million visitors through August this year; that's a 38% decrease from 3.16 million through August in 2019. Zion seemed to be on pace to have more visitors in 2020 than 2019. Park visitation in January and February increased 30% from 2019 to 2020.
Gardner Policy Institute officials have also worked with the state in collecting economic data during the COVID-19 pandemic. Their research quickly pointed to tourism as one of the hardest-hit industries in the state. Tourism industry jobs and counties where tourism is a key economic driver were among the worst-affected by the pandemic.
A May report listed Grand, Summit, Garfield and Wasatch counties — counties in and around national parks and resorts — with having the highest percentage claims of unemployment insurance at that time. A June report noted a 21% decline in leisure and services jobs from 2019.
Utah's employment rate has improved greatly since the pandemic began. It was 4.1% through August, which is second-best behind Nebraska's 4% rate, according to the U.S. Bureau of Labor Statistics; however, there are indications that tourism spending is still behind any economic recovery in the state.
In an economic snapshot released on Aug. 24, the Utah Governor's Office Management and Budgeting reported that accommodations and the arts/entertainment/recreation sectors — two industries that fall under the tourism umbrella — have suffered the worst in year-over taxable sales by industry since the pandemic began. It's a strong indicator that people aren't spending in the tourism sector.
Accommodations, for example, experienced at least an 80% drop in taxable sales in April. The sector improved by June but was still at least 40% below in year-over change. According to the Gardner Policy Institute report, accommodations accounted for $2.2 billion in 2019, which was about one-fifth of the state's tourism revenue.
Arts/entertainment/recreation also experienced severe declines in taxable sales that ranged from at least a 60% dropoff in April to about a 30% decline in June.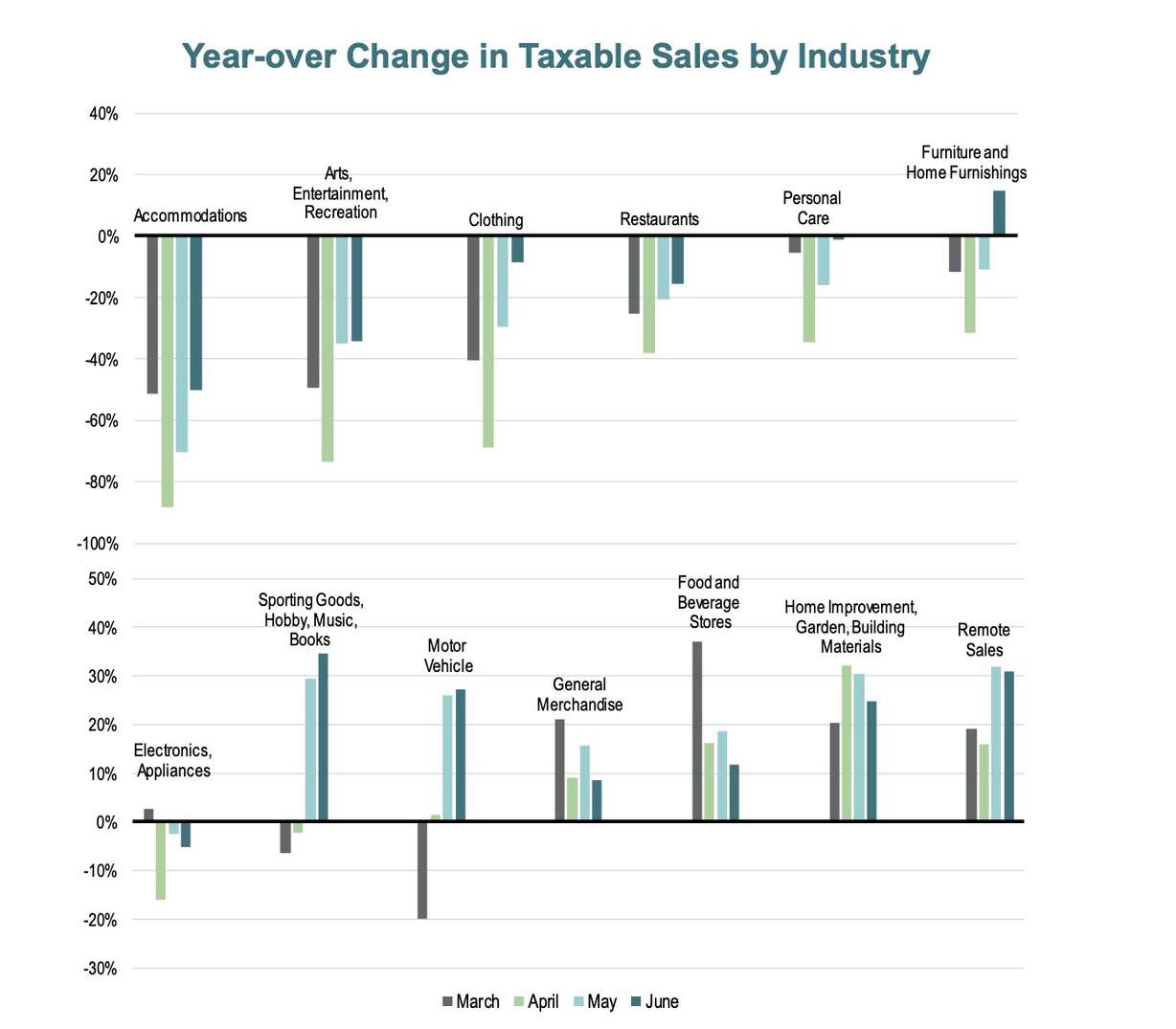 Clothing, restaurants and personal care industries also reported declines in year-over taxable sale change from March through June. Some sectors, like food/beverage stores (which also is calculated as a part of the tourism industry report), home improvement/garden/building materials and remote sales, experienced major increases in taxable sales over the same time period.
U.S. Travel Association also published a report Thursday that found year-over-year travel spending in Utah declined between 20% to 40% in August and September depending on the week. At -30% on the week ending Sept. 19, Utah was listed as being the eighth-best market in the U.S., which also goes to show how COVID-19 has decimated the entire travel industry.
The drop in tourism-related sales isn't just because of travel, snow season and national parks. Malone points out that Park City, Salt Lake City and the ski resorts in between are marketed for company retreats, business conferences, wedding destinations and special events in between snow seasons. It became a lucrative tourism opportunity, but COVID-19 provided a disastrous blow there, too.
"That business disappeared pretty quickly over the course of the summer," he said, noting that luxury properties in the area had nearly reached a point where they couldn't accept any more wedding bookings because it was so popular.
"But pretty much the wedding business dried up, obviously, as well," he added.
It's forced state and local tourism specialists to redraw how they market the state and regions now, and in the coming months, until travel confidence stabilizes. As Varela and Malone each pointed out, there was strong marketing for global travelers — groups that aren't coming to Utah because of the state and country's COVID-19 situation.
In a way, Utah has returned to a more of a road trip destination like it was marketed prior to mainstream airline travel. The state and Wasatch region have found some success there but it's still a work in progress.
"COVID-19 has been devastating for tourism and (it's) the most devastated industry in the state," Varela said. "Tourism depends on people going places and people haven't been going places."
How Utah plans to rebuild tourism
State and local tourism leaders don't expect to recover as quickly as other industries. That's because it'll likely take time for visitors — from across the U.S or abroad — to feel safe around others in public settings again. It's difficult to do that when the COVID-19 puzzle still isn't solved.
Utah tourism industry leaders met last week at the same time state health officials reported its largest case rate growth to date, which further complicates that process.
As Leaver noted in the Gardner Policy Institute report, the U.S. Travel Association expects it may take as much as three years for domestic U.S. travel to return to 2019 levels and four or five years for international travel. It's an opinion shared by state and local experts, who are hopeful that tourism will be stronger than ever once the industry recovers.
---
There are economic studies within our industry that indicate that we will be able to increase our international market shares. It's going to take us several years into 2024 but we can see a path to make that happen.
– Vicki Varela, managing director for the Utah Office of Tourism
---
The work to do that is already underway. For example, the Utah Office of Tourism got the approval to continue global print, TV and social media "inspirational messaging" when other states decided to pull out of global marketing for the time being, Varela said. The messages are aimed to remind people living outside of the U.S. that Utah possesses revered outdoor splendor rather than try to draw them to the state now.
"When (global travelers) do get that itch to travel and start to figure out what international destination inspires them, we want that to be Utah," she said. "There are economic studies within our industry that indicate that we will be able to increase our international market share.
"It's going to take us several years into 2024," she continued, "but we can see a path to make that happen."
In the meantime, there is a larger emphasis on road travel. Utah's Mighty Five national park campaign shifted a bit to showcase regions around those parks, such as state parks and other open land space where people can have "amazing off-the-beaten-path" adventures, she said.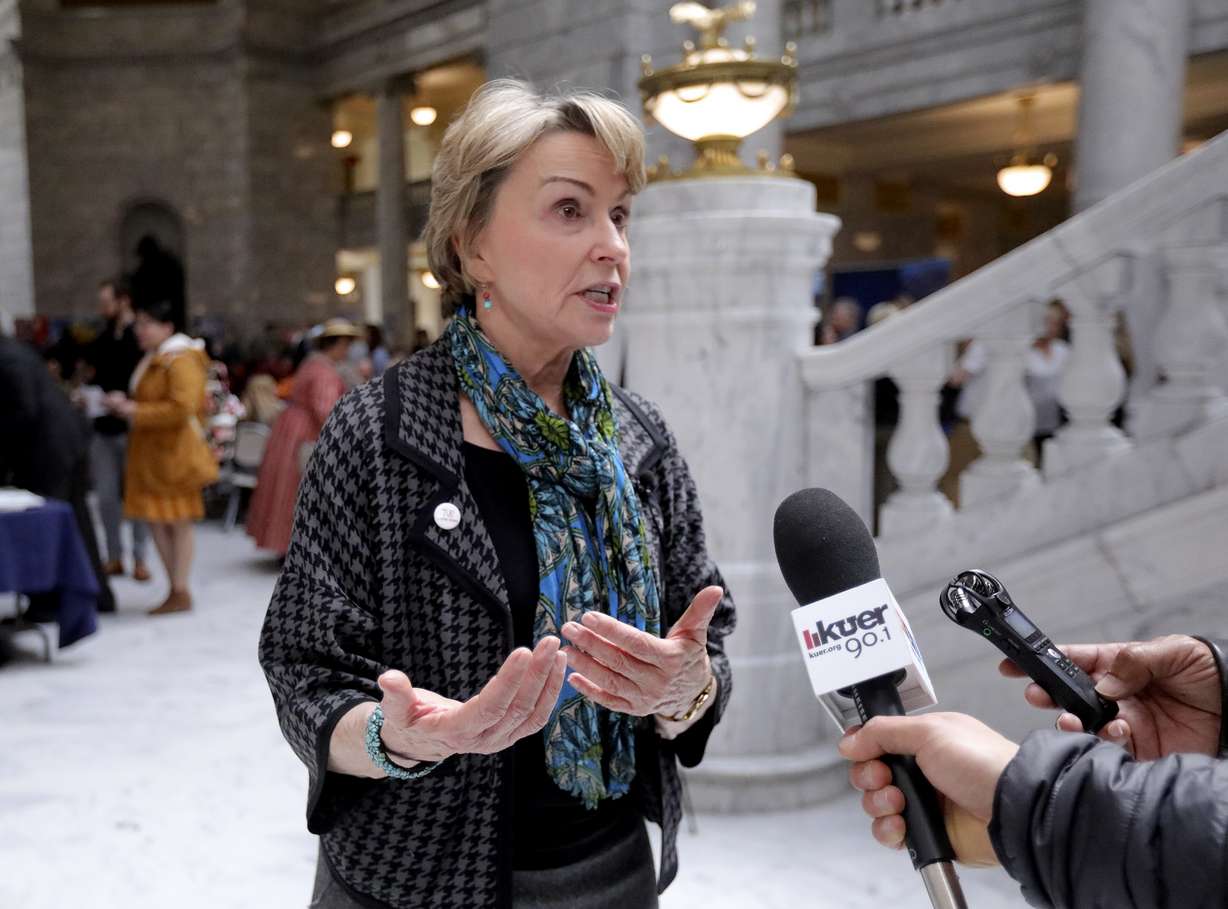 It's a key part of state tourism marketing now because — due to the COVID-19 — the demand for outdoor adventure and ways to go outside without being surrounded by people is perhaps higher than ever this year, even if there are fewer people willing or able to come to the state. Case in point, rangers were forced to close some state parks early because they had become overcrowded earlier this year.
There are also ski/snowboard, cultural events and urban marketing campaigns underway with the focus of visiting Utah while also being safe during the pandemic.
Of course, during a pandemic, there is always a concern that outside visitors can bring the coronavirus with them or take the virus back with them and lead to outbreaks elsewhere. It's why some states require people coming from Utah to quarantine 14 days after arriving — and why Utah did the same for a handful of states with the worst outbreaks early in the pandemic.
Varela said the state does include messaging about how visitors can stay safe and not spread COVID-19. That concern, she continued, is also why she believes tourism in rural counties, especially ones near national parks, will recover quicker than urban counties.
"Some of the regions in southern Utah, where there have been very few COVID cases and where there's lots of wide-open space, will be the quickest to recover," she said.
So what about the Wasatch Front and Wasatch Back? Utah's ski resorts do plan to reopen this year and many of them have already released their COVID-19 safety plans. Malone said he's "somewhat optimistic" skiers and snowboarders from outside the state will return to Utah's slopes this year, especially with those safety measures in place.
The important snow season's economic fate this winter will likely come down to travel confidence, though. Not many international travelers are expected; if nonresidents don't feel safe traveling to Utah, COVID-19 may continue to slam resorts.
In terms of the long haul, Malone believes Park City, Utah's slopes and conference/mass gathering tourism will eventually recover. Despite the drastic hardships, industry experts say the question isn't if Utah tourism will recover, it's when.
The "when" will likely depend on people flying into Utah again. It might also take time for businesses to feel comfortable booking retreats, although Malone said there are businesses that have already booked events in the Park City area for 2021. That's an encouraging sign for industry specialists.
"It's going to take a while to get back to the pace we were experiencing in 2019," Malone said. "Other than that, I look at the infrastructure here. It's terrific. People built the hotel product, the resort product, the dining and culinary experience. I think all of that will remain popular.
"We just don't know the speed in which the rebound will be."
×
Most recent Business & Tech stories