Estimated read time: 10-11 minutes
This archived news story is available only for your personal, non-commercial use. Information in the story may be outdated or superseded by additional information. Reading or replaying the story in its archived form does not constitute a republication of the story.
Editor's note: This is the third in a series looking into the state of tourism in Utah following COVID-19. Be sure to read parts one and two.
SALT LAKE CITY — When then-Gov. Gary Herbert lifted a COVID-19 restriction that limited who could visit Utah's state parks last April, unprecedented scores of people flooded state parks across Utah.
The rush in visitors mixed with efforts to combat the spread of the novel coronavirus forced officials at Sand Hollow, Gunlock and Quail Creek state parks in southwestern Utah to stop allowing visitors in the parks on some days because it filled up so quickly. It was something nobody could ever remember happening before.
"I think some of our state parks may have been caught off guard a little bit," said Kevin Lewis, director for the Greater Zion Convention & Tourism Office. "When they opened up again, boy, people were just so anxious to get out, and so it took them (the parks) a week or so to grapple with that and put things into place to make sure they were open responsibly."
The popularity in state parks didn't stop in the weeks or months afterward. Even though Utah's five national parks are now open and reporting record-breaking attendance numbers over the past few months, the popularity of Utah's 44 state parks hasn't subsided.
A record 10.6 million people visited state parks in 2020. Not only is it a 33% increase from the previous year, it's the first time in park visitation records that more people visited Utah's state parks than its national parks.
One of the factors is Utah's state parks never closed due to the coronavirus like national parks or other federal parks. Herbert's order on state parks only limited them to visitors from the county the parks are located in. It lasted for a few weeks in late March and early April — the time period national parks were closed off.
The larger factor, however, might just be from the Utah Office of Tourism's recent focus to highlight places outside of the state's "Mighty 5."
Utah's state parks getting more popular
Visitation to state parks had already grown significantly over the past few years, so it didn't really shock anyone that state parks broke visitation records in 2020. The bigger surprise was by how much.
That may have been influenced by the fact national parks were still closed when Utahns — with a lack of many other activities available at that time — were allowed again to go to any state park they wanted.
"There was a surprise in the amount of people once the floodgates opened, so to speak," said Devan Chavez, a spokesperson for Utah State Parks. "Once those restrictions were lifted, I mean we were quite, quite busy right out of the gate."
The number of visitors to state parks last year wasn't just 33% — or about 2.6 million total visitors — more than 2019, it's nearly double figures collected in 2016.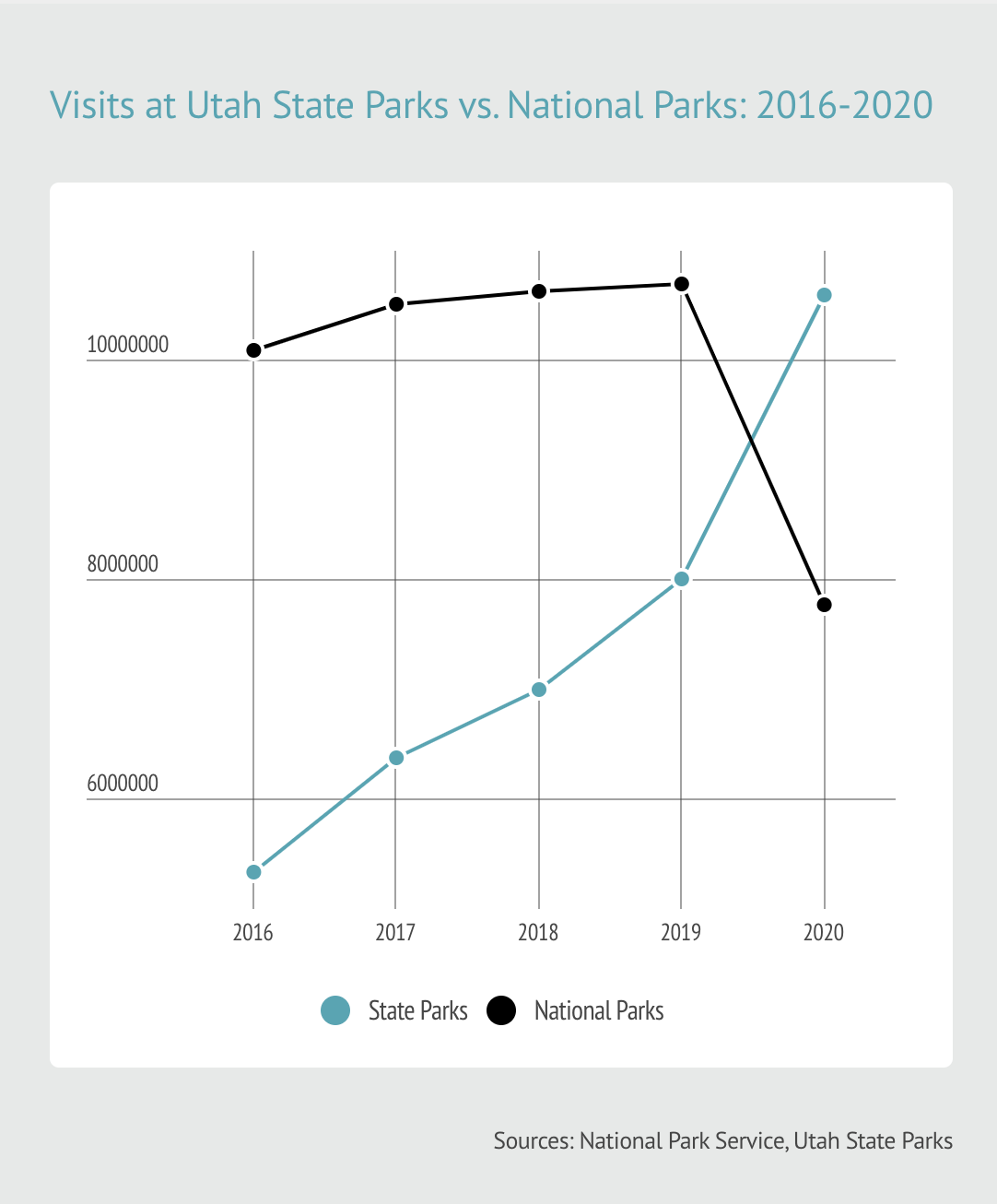 Utah State Parks actually compiles its data in fiscal years, which begin every July 1 and end on June 30 the following calendar year. Through that standard, the current 2021 fiscal year has already produced the fourth-highest fiscal year for park visitation on record. In fact, its numbers through December already surpassed the entire 2017 fiscal year in total park attendance by about 621,000.
State parks experienced more visitors in March 2020 than the previous year. There were about 275,000 fewer visitors in April 2020 compared to April 2019; however, when Herbert lifted the state's park restriction at the end of that month, visitation numbers soared to uncharted levels.
---
Once those restrictions were lifted, I mean we were quite, quite busy right out of the gate.
–Devan Chavez, Utah State Parks spokesperson
---
More than 1 million visitors were recorded at state parks every month between May and September. The five months of 1 million or more visitors was a record; another record was that 1.96 million people visited state parks in June 2020. That's the closest the agency has gotten to ever receiving 2 million visitors in a month, according to records that date back to the 2003 fiscal year.
Even though there was a decline in visitation at Utah's five national parks based on preliminary National Park Service data, the number of people visiting state or national parks combined only fell slightly as a result of the state park surge. The final number was nearly 18.4 million, which was about 332,500 fewer than 2019's total.
It shows exactly what tourism and outdoors experts said all along: People didn't stop going to Utah's parks after the pandemic, but rules and regulations altered which parks people went to.
"I think that a lot of those visitors who were still looking to get outdoors — that were wanting to go to national parks, national recreation areas, or other facilities — managed by other agencies were looking for alternatives," Chavez said. "We were one of the alternatives that were open for both residents and nonresidents alike."
Last year's surge in visitors didn't change which state parks people went to compared to previous years, but it did shake up the order of popularity.
The most popular state parks of 2020
Parks with water were a major draw, which isn't a surprise because that was already a common trend in State Parks data. Considering Utah recorded its eighth-warmest year on record in 2020 and some parts — especially in southwestern Utah — broke heat records last year, water-based recreation was even more popular in 2020.
So who led the pack in 2020?
Sand Hollow State Park in Washington County topped all parks in visitation throughout the year, drawing in a little more than 1.3 million visitors — the first time a park surpassed 1 million, according to State Parks data. While it was the second-most popular state park in 2019, it experienced a growth of a little more than 450,000 visitors in 2020 to push it over the top.
In fact, only Zion and Bryce Canyon national parks had more visitors than Sand Hollow among all of Utah's 50-plus state and national parks or monuments last year. Jordanelle in Wasatch County, Willard Bay in Box County County, Antelope Island in Davis County, and Dead Horse Point in Grand County rounded out the top five most-visited state parks last year.
The 10 most-visited state parks in 2020:
Sand Hollow (Washington County): 1,315,666
Jordanelle (Wasatch County): 977,251
Willard Bay (Box Elder): 881,286
Antelope Island (Davis County): 815,445
Dead Horse Point (Grand County): 792,098
Deer Creek (Wasatch County): 707,835
Bear Lake (Rich County): 638,798
Snow Canyon (Washington County): 597,881
Wasatch Mountain State Park (Wasatch County): 476,968
Goblin Valley (Emery County) : 309,038
Source: Utah State Parks
Like Sand Hollow, Jordanelle also experienced a large explosion in visitors last year. State Parks data show that visitation there grew by nearly 325,000 total from 2019 to 2020, or a 50% increase. Willard Bay and Antelope Island experienced 37% and 54% increases, respectively.
Meanwhile, Dead Horse State Park was the reigning visitation champion but experienced a visitation decline in 2020 that began right after the COVID-19 pandemic began. In all, State Parks reported over 185,000 fewer people visited the park in 2020 from the previous year; however, it did end the second half of 2020 as Utah's third-most visited state park as visitation to nearby Arches and Canyonlands national parks begins to recover.
The 10 most-visited state parks in 2019:
Dead Horse Point (Grand County): 978,380
Sand Hollow (Washington County): 864,750
Jordanelle (Wasatch County): 652,705
Willard Bay (Box Elder County): 645,382
Antelope Island (Davis County): 528,866
Snow Canyon (Washington County): 509,347
Bear Lake (Rich County): 458,343
Deer Creek (Wasatch County): 433,856
Wasatch Mountain (Wasatch County): 360,274
Goblin Valley (Emery County): 305,325
Source: Utah State Parks
Of the 10 most popular parks of 2019 and 2020, only Goblin Valley State Park in Emery County experienced a drop-off of visitors last year. Its year-over-year decline was much lower, at less than 4,000 total. It remained the 10th most-visited state park last year.
Dealing with newer visitors
Record growth can be burdensome. In the case of the state parks' spike last year, park rangers found themselves dealing with some of the same issues that arose in national parks: groups of first-time recreators. Any time that happens, there's a risk of that inviduals who don't follow the rules or expectations as well as experienced recreators do.
Chavez said there wasn't a "jaw-dropping" uptick in graffiti or littering across all of Utah's state parks in 2020; rather, some parks experienced issues more than others.
Gunlock State Park in Washington County was a prime example. When the park immediately experienced a large rise in visitors in April, there were quite a few "new recreators" that weren't familiar with where facilities were or where they were allowed in the park.
"People were parking and walking in different areas that weren't necessarily where they were supposed to be parking and walking into," Chavez said.
That's on top of a decision park official made to turn off the waterfalls in the park after a video went viral showing scores of visitors crowding the manmade feature at the height of the coronavirus spread concerns.
To counter this at Gunlock State Park and other similarly affected parks, the state agency created new signage and placed park rangers in newly-affected areas of parks. In some cases, they worked with Utah Highway Patrol to ensure visitors knew where they could park. More dumpsters or trash cans were added in some cases.
Officials also began social media outreach and placed officials at parks to educate visitors about guidelines like Leave No Trace. The agency even teamed up with federal counterparts like the National Park Service, the Bureau of Land Management, and the U.S. Forest Service to create a recreation safety and responsibility page featured on Utah's coronavirus website.
The education campaign seemed to work. State parks experienced a massive decline in graffiti, littering and other issues tied to expanded visitation.
"It didn't stick around," Chavez said, of the issue. "It was around for a little while and then it went back to normal, besides the crowded visitation portion of it."
The economic benefits of park growth — and look to the future
Tourism experts still believe it will be a few years until Utah's tourism sector fully recovers from the economic effects of COVID-19. Utah Office of Tourism Managing Director Vicki Varela's estimation last September that rural counties closer to park recreation would recover economically faster than urban counties when it comes to tourism has taken form.
That's because park visitation, as a whole, was able to return while other sectors like the business conference side of tourism still lag.
Related:
Much like national parks in 2020, state parks drew in plenty of regional visitors as a result of Utah's tourism industry shifting from trying to draw in international travel to being more of a road trip destination. Many state parks were visited by people coming in from Arizona, California and Nevada — or from other parts of the state.
Even as people are now returning to national parks in droves, there are signs that state parks' popularity hasn't changed heading into 2021. Officials say the trend will only continue upward once spring and summer arrive.
"Now that people know about these places, they're continuing to explore them (and) visit them," Chavez said. "We're still seeing record-breaking visitation in a number of state parks currently going on right now."
The growth in popularity is partly why Gov. Spencer Cox proposed $125 million for future open space, trails and parks in a budget proposal earlier this year. Four-fifths of that would be for trails and other outdoor recreation amenities throughout the state. About $18 million of it would go toward camping and infrastructure improvements around Bear Lake, Escalante, Palisade and Quail Creek state parks.
"As state parks experience record visitation, (user fee) revenues should continue to be reinvested to improve and expand the visitor experience," Cox's staff wrote in the budget proposal.
Maintaining or improving land on state parks isn't just important for the protected land itself; it allows parks to continue to thrive amid visitation spikes, state parks officials and tourism experts say. And that's important for the nearby counties, communities and businesses who rely on people visiting parks for economic stability.
"More visitors to the park means more visitors to the local economy," Chavez said. "That means more people visiting the local pizza joint, stopping to buy gas, stopping by the local coffee shop."
×
Related stories
Most recent Outdoors stories